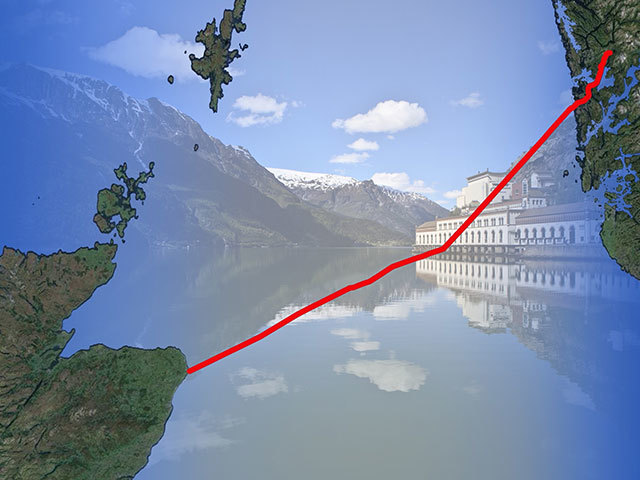 The developers of a giant Peterhead to Norway energy link have allayed fears that a 'no deal' Brexit could cost the north-east millions in lost business.
UK think tank, Green Alliance, released a report this week claiming energy interconnectors were "only as good as the market trading rules that govern them".
But those behind the giant North Connect supercable have said the project remains "sensible and viable", whatever the Brexit outcome.
The new transmission link will see the renewable energy markets of Scotland and Norway trade energy across the North Sea.
Last week, developer plans were accepted to lay the 415-mile cable from Peterhead to the Norwegian west coast, due to begin in 2023.
Owned by Vattenfall, Agder Energi, Lyse and E-CO Energi, the interconnector is licensed to carry 1.4 gigawatts (GW) of capacity between the two countries.
The Green Alliance Better Connected report claims a 'no deal' outcome from Brexit negotiations could see the loss of £2.2 billion a year through severed energy policy links.
The thank tank claims that post-Brexit the UK may not be able to set policy rules but could still "influence technical standards" if it stays within the EU's standards bodies and internal energy market.
A spokeswoman for North Connect said: "The Green Alliance has an interesting interpretation of potential scenarios post-Brexit.
"Ultimately, North Connect aims to increase the use of renewable energy in the UK, reducing carbon emissions, but also helping keep the cost of energy to consumers as low as possible, whilst enabling security of supply.
"Whilst the outcomes of Brexit for the UK and European energy markets is yet to be seen, we hope and expect that the UK will stay very much open for business.
"NorthConnect, under a number of scenarios proposed by both sides of the Brexit debate will remain a sensible and viable project."
Plans for the entire development are estimated to be £1.5 billion, with a significant proportion of that money going to Norway.
Last year year, a Norwegian independent stakeholder said the North Connect project could net the country a £1.2bn social economic surplus.
According to plans released in September, the project would create up to 600 jobs during the construction phase, with more than half of those lasting more than 18 months.
Recommended for you
X

Peterhead Port named 'ideal' CCS transport site