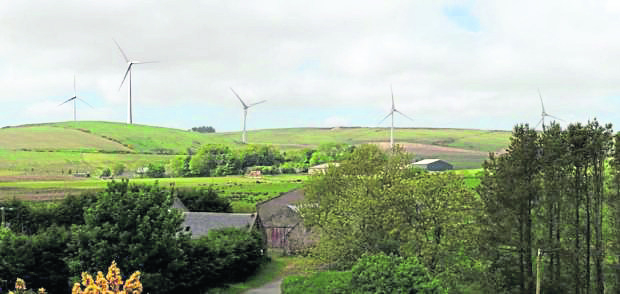 Plans to extend a controversial wind farm near a north-east village have divided community opinion.
Green Cat Renewables want to add two turbines to a development at Deuchries near Aberchirder.
The council received 75 objections to the original three-tower proposal, with opponents arguing it would be an eyesore.
But Aberchirder Community Council threw their weight behind the idea.
The planning application was approved in 2014 and the turbines became operational last year. They provide power for around 4,000 homes.
However, the new proposals to add two 390ft turbines to the overall scheme has split two community groups.
Aberchirder and District Community Association (ADCA) support the scheme, but Alvah and Forglen Community Council are against it.
Both have submitted their views to the council.
In a letter to the local authority ADCA secretary Bob Peden set out the reasons his organisation backs the initiative.
He said the two additional turbines would be "less intrusive" and would have no real impact on the landscape.
Mr Peden added: "We support the application on the grounds that the visual impact will be less than it might seem.
"Given that the area around Deuchries is already full of turbines, the two proposed would be much less intrusive than if they were the only ones."
However, Alvah and Forglen Community Council believe the development would have a negative effect on the scenery.
The group's chairman James Bayne said the area around the proposed extension is already at "saturation point".
He added: "The community council unanimously agree that the turbines would have an adverse effect on the landscape at Alvah and Forglen and the surrounding area.
"The community council concluded that the proposed turbines would add to an already congested skyline of wind turbines. The area has already reached saturation point."
As well as the turbines, there would be a pair of substations, a network of buried cables, drainage work and an upgrade for the existing farm track.
Green Cat said the expansion was "modest" and it would also boost a scheme that supports groups in Aberchirder.
The village's scout group used it to buy a minibus last year.
Recommended for you
X

Moray MP hits out at wind farm pledge of £700k community cash