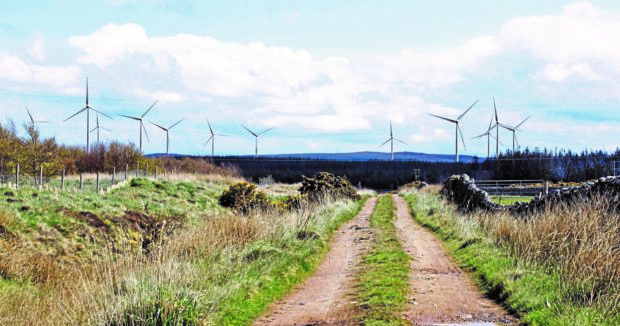 Wind farm developers have sparked fury after revealing plans to extend a controversial Highland development – which went through two public inquiries – before construction even begins.
Infinergy and Boralex are to erect 21 turbines on a forested area just south of Reay in Caithness after securing planning consent from Scottish ministers
at the second time of asking.
But the joint venture partners have also been finalising a proposal for up to seven more turbines on an adjoining site – a move described by protesters as "greedy".
The proposed extension has enraged opponents who are preparing a fresh campaign against it.
Brenda Herrick, of Caithness Windfarm Information Forum, said yesterday: "After we have had the two public inquiries, they have the nerve to stick in an application for an extension. It is unbelievable.
"They must know how unpopular they are in this area with the latest public inquiry attracting 288 letters of objection and a 1,500-strong petition.
"But they are greedy for the profits these developments make."
She added: "Apart from the expense of staging two public inquiries, the planning fees don't come anywhere near to the cost to the planning authority."
Mrs Herrick has written to UK Energy Minister Andrea Leadsom protesting about the scale of wind farm development in the far north and backing a moratorium on new plans.
Scottish ministers rejected the Limekiln scheme in 2013 but, after a second pubic inquiry, gave the green light back in June.
Infinergy and Boralex are making preparations to install the 21 turbines, which will be between 126 and 133 metres.
The proposed extension, covering four square kilometres, which is immediately east of the existing site.
The developers are consulting on their bid for seven more turbines, with a blade-tip height of 149.5m.
If granted, they say a community benefit fund would exceed £400,000 a year.
Residents are being invited see the proposals for themselves during
drop-in sessions organised in Reay's Victoria Hall between 3-7pm on November 20 and 2-7pm on November 21.
Recommended for you
X

Northern Ireland can be renewable energy 'world leader', SDLP leader claims