Prime Minister David Cameron has revealed his vision of using the North Sea to drive a "second energy revolution".
He announced yesterday that more than 20 leading energy firms had signed up to work with the UK Government to co-ordinate investment in North Sea-based renewables schemes.
In a speech to international energy ministers, Mr Cameron said he wanted the public and private sector to come together so Britain could "lead the world" in offshore wind and carbon capture and storage (CCS) technology.
The government and business network – involving giants such as National Grid, Scottish Power, Siemens and Vattenfall – has been given the name Norstec.
Details of ways they can work together will be discussed at a RenewableUK conference in London in June.
Mr Cameron, who has recently been criticised by environmental groups for not delivering the "greenest ever" government he promised, suggested there could be a repeat of the boom which followed the discovery of North Sea oil and gas.
He said: "For Britain, one of the biggest opportunities is in the North Sea.
"Since the 1960s, North Sea oil and gas has given Britain – and many of our neighbours – a real competitive advantage.
"This came about because of the ingenuity of the private sector together with strong pro-active support from government.
"Today, that same partnership between government and business has the potential to make the North Sea once again a source of investment and comparative advantage.
"This remarkable European energy asset has the potential to lead the world in offshore wind and carbon capture and storage."
Various North Sea-based green energy schemes have recently been proposed, with Peterhead Power Station earmarked as the site of a pioneering CCS base, and 11 giant wind turbines planned for a test centre in Aberdeen Bay. This week, an application was lodged with Marine Scotland for up to 277 turbines off the coast of Caithness.
Unveiling details of the Norstec partnership, Mr Cameron said: "I am delighted that more than 20 companies are today announcing their commitment to the long-term vision of a second renewable energy revolution in the North Sea."
Greenpeace executive director John Sauven said: "It is right for the UK Government to back a new North Sea industry partnership to deliver the massive potential for renewable energy in the region, including linking key countries together in a super grid.
"This has the potential to end our reliance on gas and create thousands of jobs.
"But fine words are not enough. The UK Government, including the chancellor, has got to be more supportive of renewable energy in order to attract the huge amounts of investment required in a tough economic environment."
Recommended for you
X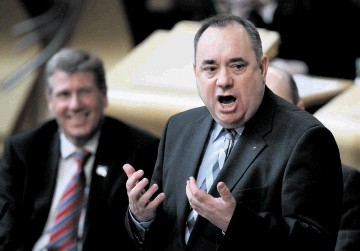 Salmond under fire over Trump and Murdoch dealings