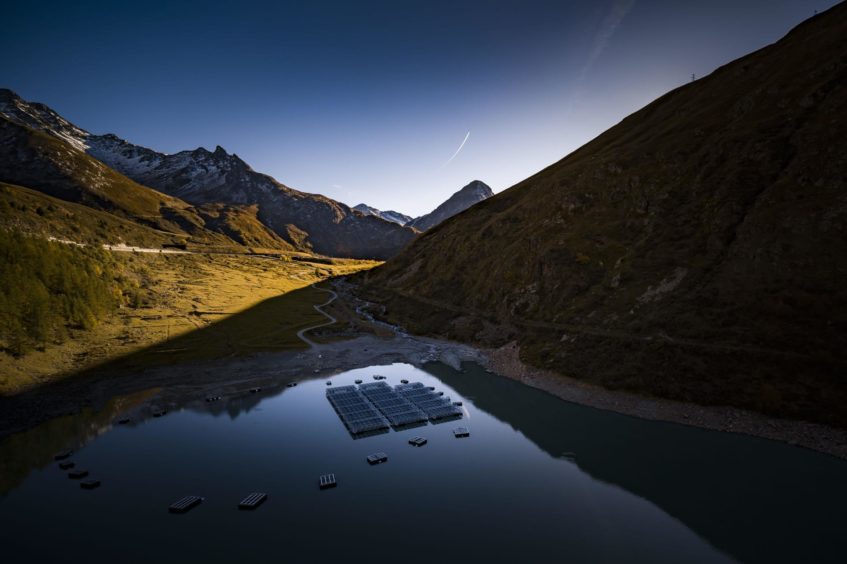 The Bryden Centre is a €9.4 million cross-border, renewable energy research centre funded by the EU under its Interreg VA programme.
It supports industry-led collaborative research on an inter-regional basis and was launched in June 2017, with funding to see it through into 2021.
At its core is a vibrant PhD virtual incubator with a large portfolio of research projects gestating, primarily maritime renewables and bio-energy focused and centred on three core institutions: Queen's University, Belfast, the University of Highlands and Islands (UHI) and, in the Irish Republic, Letterkenny Institute of Technology (LYIT).
Ulster University and the Agri-Food Biosciences Institute (AFBI) are consortium members too. Two local authority partners are also involved, namely Donegal County Council and Dumfries & Galloway County Council.
Queen's is the lead player and home to the Bryden, which honours the late Prof Ian Bryden, who made his name in low carbon research at the Robert Gordon, Aberdeen and Edinburgh universities later moving to a senior management role at UHI, Inverness.
Among many achievements, he is remembered in the Granite City for his role in helping establish Aberdeen Renewable Energy Group.
The cross-border area embraced by the centre is rich in potential on and offshore.
Offshore includes tidal power sites at Strangford Lough and the North Antrim Coast, ocean, wind energy sites offshore in Western Scotland, plus the potential for wave, tidal and offshore wind power generation in Donegal.
Fortunately funded by Brussels and managed by the Special EU Programmes Body (SEUPB), it is an excellent example of what was possible before the UK left the EU.
The Bryden is designed to help fill huge geo-economic gaps that have prevented regional industry in locations like the north of Scotland, Northern Ireland and remoter parts of Ireland from fully capitalising on the opportunities for development and installation of renewable energy generation.
Foremost among these is the profile of the regional industry, with companies typically being small- or micro-sized enterprises.
As is true for all industries, small enterprises in the renewables sector struggle to dedicate the resource needed to innovate.
This is exacerbated by a lack of funding for research and innovation that would allow industry and research partners from across this region to collaborate on early-stage concepts.
In addition, there is a recognised gap between outcomes from existing research projects and commercialisation, 'the valley of death', that is indicative of industry and university partnerships not maximising the outputs of early stage collaborations.
Last but not least, there has never been until now, even a modest critical mass of highly-qualified scientists and engineers capable of translating research into commercial success within these companies.
So, Bryden isn't about pie-in-the-sky stuff. There is a strong economic development remit and this is reflected by the nature of the funding, the projects now being nurtured and wider research carried out by a clutch of well qualified academic fellows.
At present, the centre has 31 PhD students and five post-doctoral researchers located at the various partner institutes across the inter-regional area.
All students work directly with industry and other stakeholders to produce industrially relevant research with the potential for commercial exploitation and resulting economic growth within the region.
So who are some of the players and what are their fields of research.
To start: Marian Borucki, Ralph Lavery and Clare Rice are three members of the sizeable QUB cohort.
Borucki is researching lithium ion battery degradation study using spectroscopic techniques; Lavery's project is entitled: Waste Heat Recovery from Refrigeration Cycles; while Rice is investigating the coupling of photocatalytic technology with floating solar PV arrays for aquaculture water treatment.
In the UHI camp, Inne Withouck is investigating the optimisation of data for use in planning marine energy developments; Victor Malovs' project's title is H2GEN – Hydrogen for the Agricultural Sector; James Slingsby is looking into behavioural changes of top predators related to tidal-stream energy extraction – using Unmanned Aerial Vehicles (UAVs) to measure animal distribution; while Emma Whettall is looking to answer the question of Community Scale Tidal Power Generation: is it feasible in the INTERREG VA area?
At Letterkenny, low carbon flag carriers include Wesley McCormick – Development of novel photocatalytic materials and technology for aquaculture water treatment; Dean Harron – An offshore wind turbine mechanical‐power electronic coupled fault diagnostic tool; and Ronan Gallagher – Experimental and numerical simulations of a horizontal cross flow turbine.
To close this projects tour, at AFBI, Ashley Cathcart is concentrating on nutrient management of digestate combined with energy recovery while, at Ulster, Oilsin de Priall is carrying out a performance study and validation of downdraft biomass gasification.
A key measure of PhD student performance is the writing of research papers and one that has caught EV's attention is an assessment of floating photo-voltaics.
Letterkenny Bryden Centre PhD student Dallan Friel recently teamed with three other academics to review why it is that floating PV is suddenly becoming increasingly competitive with land-based panels.
Indeed floating PV is a new concept and, in that regard, at roughly the same stage as floating wind turbines.
According to Friel & Co: "Oceans, lakes, estuaries, natural basins and floodplains for hydroelectric power stations cover vast surface areas throughout the world.
"Utilisation of these water surfaces provides a promising opportunity for the installation of a relatively new technology, floating photovoltaic systems FPVS.
"Floating photovoltaic 'PV' arrays are devices that can utilise the mostly unused water surfaces and the abundant solar energy from the sun."
This is perhaps a measure of the flair and imagination resident at the Bryden which it is hoped will long outlast the term of its EU funding package.
It's certainly what academic director Professor David Rooney and other members of the centre's top team are planning for.
Register for free to join Energy Voice's virtual Energy Transition Idea Exchange (ETIDEX) summit on November 19 at www.etidex.co.uk
Recommended for you
X

Aberdeen University energy law centre appoints co-directors