Finance Secretary John Swinney has been urged to exploit an emerging new energy source to lower bills and create jobs.
North-east Conservative MSP Alex Johnstone said the SNP must overcome its "irrational fear" of new ideas and begin fracking for shale gas under the North Sea.
He was speaking during a Holyrood debate on energy policy.
Last week, Westminster's energy and climate change committee said shale gas could be the key to meeting the country's future energy needs and urged the UK Government to help kick-start offshore exploration by offering tax breaks.
Mr Johnstone said investing in shale gas and coal-based methane extraction could result in the success of the north-east energy sector being replicated across Scotland. He cal-led on Mr Swinney to "show some courage, leadership and vision and take this forward".
Conservative MSP Murdo Fraser claimed the SNP's "fixation" with onshore wind was causing consternation in rural communities and driving up consumers' bills.
He said renewable energy in all its forms had a part to play but Scotland needed to embrace unconventional gas extraction and consider building a new nuclear power plant.
Caithness, Sutherland and Ross SNP MSP Rob Gibson said the Tories' idea of a mixed energy mix was akin to a "lucky bag of acid drops and soor plooms".
"They want to hunt windfarms out of Scotland and dismiss the climate-change crisis while ignoring the blessings of uniquely favourable natural resources that are a boon to our country."
Labour MSP Ken Macintosh called for more community ownership renewable-energy schemes to let people "control and share in the benefits stemming from our natural resources".
Mr Swinney said UK Government figures showed renewable energy would lead to a £166 a year reduction in energy bills by 2020. Tory calls to halve subsidy support for onshore wind were "arbitrary, based on politics not economics and will scare renewables investors from Scotland".
The SNP government, he said, recognised a mix of renewables and thermal sources of electricity was needed.
Recommended for you
X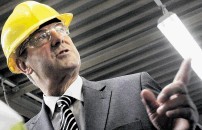 Lord Smith to step down as Weir head