The need for change is rife with opportunity, according to the chief operating officer of Sir Richard Branson's Carbon War Room.
Peter Boyd addressed delegates at this year's All-Energy.
During his speech, he painted a scenario of how the next generation might hold the current one accountable.
"You're sitting with a grandkid on a knee and they've just read about the history that is happening right now – the whole sort of mid-2000s and into 2010 and beyond ," he said.
"And they read about this time and they ask you what did you when the world knew what you were supposed to do? What did you do?"
Watch the video to find out what Peter thinks Aberdeen's oil and gas sector could do to influence the next generation of energy.
Recommended for you
X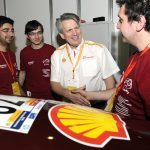 Shell's Ben van Beurden: Oil vs Uber in the battle of reputations