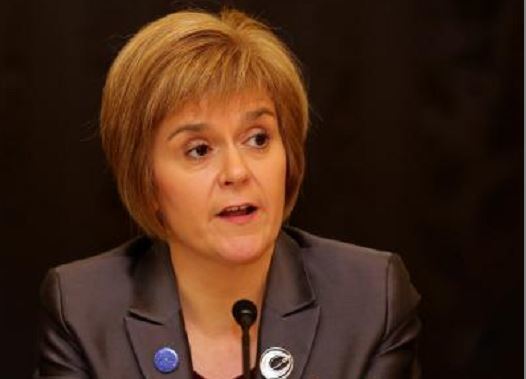 Nicola Sturgeon will hail the achievement of cutting Scotland's greenhouse gasses by almost two-fifths in Paris this week.
The First Minister will join California governor Jerry Brown tomorrow to discuss the progress of 44 states and regions on cutting greenhouse gases at the UN global climate change summit in France.
The announcement will be made as part of Scotland's place in the Compact Of States And Regions – the first single, global account of reduction targets made by state and regional governments.
The Compact represents more than 325 million people worldwide and one eighth of the global economy.
Its first report will be published tomorrow.
Earlier this week, Climate Change Minister Aileen McLeod also joined The Climate Group States and Regions Alliance members for a meeting in Paris with UN Secretary General Ban Ki-moon.
The First Minister will also undertake a series of bilateral meetings and speaking engagements promoting Scotland's track record of action on climate change in support of a legally binding global climate deal in Paris.
She will also use meetings and speaking engagements to champion the cause of climate justice and speak at the largest business-focused event held during COP21.
The First Minister said: "Scotland has cut emissions by a massive 38% since 1990 and that global leadership in tackling climate change has received international recognition.
"While limiting a temperature rise to below two degrees Celsius is a global challenge, state and regional governments are racing ahead in setting ambitious greenhouse reduction goals.
"The Compact highlights the impact that devolved, state and regional governments like Scotland's can have, to encourage the highest possible ambition for the legally-binding agreement we all hope will be reached here."
Mark Kenber, CEO at The Climate Group, said: "State and regional governments play a central role in decarbonising our economy and securing a low carbon future. Around three quarters of the world's policies that have carbon impacts are delivered at the sub-national level, covering diverse areas such as energy regulation, efficiency or transport.
"Scotland clearly understand this, shown not only by their ambitious targets, but also by choosing low carbon solutions that stimulate the economy, jobs and investment for the Scottish people."
Recommended for you
X

Video: 29 still missing after Azerbaijan oil rig fire