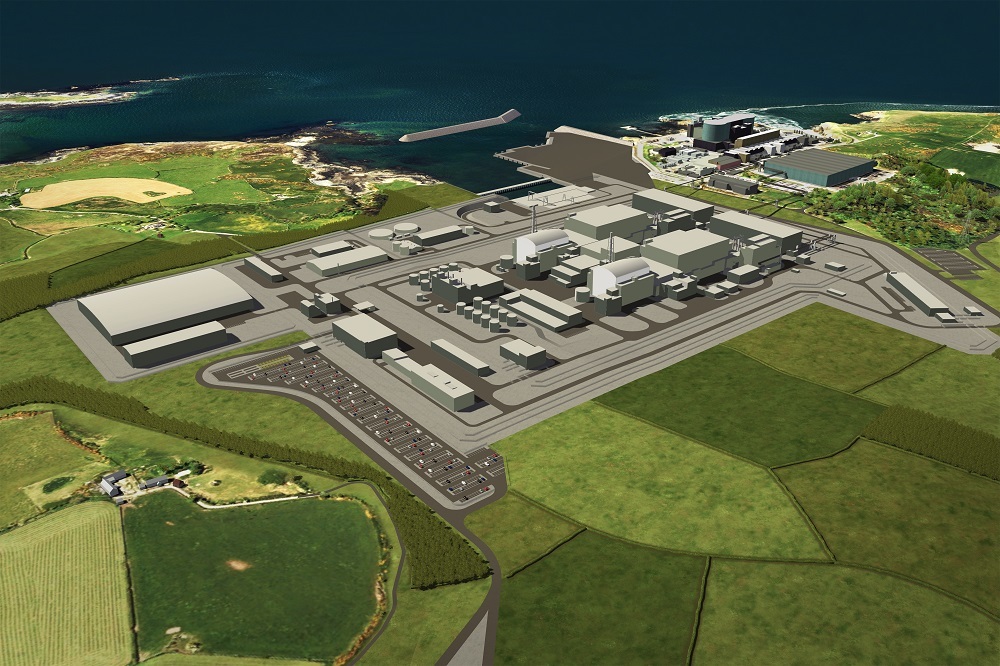 Growing fears are being expressed about a planned new nuclear power station after a report that the project is going to be put on hold.
The Nikkei Asian Review reported from Tokyo that the board of Japanese giant Hitachi is expected to decide next week to suspend all work on the Wylfa Newydd plant on Anglesey, North Wales.
Negotiations with the UK Government had hit an "impasse", said the report.
A spokesman for Horizon, the company behind the multi-billion pound project, said no decision had been made.
Horizon has been in formal negotiations with the Government regarding financing of the Wylfa Newydd project "in a way that works both for investors and the UK electricity customer".
A statement said: "This is one of the aspects of the project development phase that must be concluded before construction of Wylfa Newydd can go ahead, but the discussions are commercially confidential and we won't be commenting on rumours or speculation."
Sue Ferns, deputy general secretary of the Prospect union, said: "This is extremely worrying news, especially coming in the wake of Toshiba's recent withdrawal from the Moorside project.
"To lose one major nuclear project is a serious blow, to lose two in six months would set alarm bells ringing about the sincerity of the Government's commitment to new nuclear.
"The Japanese prime minister was in Downing Street only yesterday – did the Prime Minister even think to raise the issue of nuclear new build or was the only thing on her mind the chance to take advantage of his visit to try to give another futile boost to her Brexit deal?
"It is fast becoming clear that if it's not Brexit, then this Prime Minister and her ministers are unwilling to execute their responsibilities as a Government.
"New nuclear is of significant strategic importance for the country, the Government must not sleepwalk into an energy security crisis by allowing these projects to fail one by one."
Tom Greatrex, chief executive of the Nuclear Industry Association said it was "imperative" that the project went ahead.
"If the UK is going to decarbonise its power supply and meet our obligations to reduce carbon emissions, we need to replace the 20% of our electricity delivered by our low carbon, reliable, secure nuclear fleet, most of which will retire in the next decade.
"Wylfa is a strong site, with local support, and the Horizon project would deliver 60 years of reliable, secure, low-carbon power for homes, businesses and public services, with a strike price much below any offshore wind project generating power now, and the prospect of future strike prices equivalent to the lowest offshore wind auction bids."
Dr Doug Parr, chief scientist for Greenpeace UK, said: "The Government's energy policy is in tatters, but this is the opposite of a disaster.
"We could have locked ourselves into reliance on an obsolete, unaffordable technology, but we've been given the chance to think again and make a better decision.
"Our urgent, immediate dilemma – how to maintain security of supply whilst cutting carbon – can be solved by making offshore wind, at half the cost of nuclear, the backbone of the new power system.
"The failure of the old technology is the opportunity the new technologies need, and Britain's world-leading offshore wind industry's time has come."
Sara Medi Jones, acting general secretary of CND, said: "Two major international investors have now suspended plans to build nuclear reactors here in Britain.
"Toshiba withdrew from the Moorside plant just a few weeks ago, and now Hitatchi appears to have reached the same conclusion, that new nuclear isn't economically viable.
"This should be a moment of reckoning for the Government, forcing a nuclear policy rethink."
Justin Bowden, national officer of the GMB union, said: "If the mood music from Tokyo is correct, then without urgent UK Government intervention this country's new nuclear energy plans will be reduced to tatters.
"Government must act and step in now to ensure Wylfa goes ahead on time.
"Britain needs at least six new ultra low-carbon nuclear power stations for the guaranteed electricity they can provide. Wind and solar on their own cannot keep the country's lights on, our homes heated and the economy powered. For that, we need nuclear and gas as well."
Unite union national officer Peter McIntosh said: "We believe it may be commercial reasons that are influencing the Hitachi management due to rising costs.
"This is compounded by the Government's stand-offish approach to the formal negotiations with the company which have been dragging on since last June.
"The project appears to be teetering on the brink, which would be a really big setback for the UK's future energy policy.
"Government must take action now because, if the project does not proceed, it will have a devastating impact on the Welsh economy and on the UK's ability to meet its climate change obligations.
"It is astonishing that when Prime Minister Theresa May met her Japanese counterpart, Shinzo Abe, this week that the project was never discussed. This was an abdication of responsibility by Theresa May."
A Business Department spokesman said: "Negotiations with Hitachi on agreeing a deal that provides value for money for consumers and taxpayers on the Wylfa project are ongoing.
"They are commercially sensitive and we do not comment on speculation."
Recommended for you
X

SSE announce completion of £1bn north-east energy link