The UK Government's commitment to developing offshore wind has been unequivocal.
By the end of the decade, it plans to have quadrupled installed offshore wind capacity to 40 gigawatts, creating tens of thousands of new green jobs and generating economic growth.
Such is the scale of the opportunities that even the prime minister gave his former self a slap on the wrist last year for previously sneering at the energy source's potential.
In this piece, the first in a series of publications analysing Westminster's 10-point plan for a green industrial revolution, we provide a roundup of a wider discussion between Energy Voice's Ed Reed, EY's Andrew Perkins and Orsted's Benj Sykes on offshore wind energy, its role in the future energy mix and energy companies wider pivot to renewable energy alternatives.
"We've got a lot of work to do"
When launching its landmark policy paper in November 2020, Westminster was quick to point out that the UK already generated "more electricity from offshore wind than any other country", with around 10.5 GW of installed capacity.
The expansion in the clean energy industry in recent years is the result of several factors, including government policy, changing environmental sentiment and simple geography.
As Perkins points out, the UK is "incredibly well placed" to deliver offshore wind simply by the virtue of being an island.
He added: "On top of that we've got great policy – policy enablement has been very impressive in offshore wind over the last 10 years."
The UK Government's flagship offshore wind policy has been the Contracts for Difference (CfD) scheme, its "main mechanism" for supporting low-carbon, energy neutral projects.
The initiative gives developers with high upfront costs protection from fluctuating energy prices, attracting investors and allowing companies to make financial decisions on wind farms with a high degree of certainty.
Sykes said: "The policy stability that we've had for at least a decade is really driving the level of investment that we've seen. But, we've got a lot of work to do if we're going to hit that 40 GW target."
On the future of the CfD scheme, which hasn't been without criticism, Perkins said he expected it to remain, as long as offshore wind energy prices stay stable.
Sykes added: "I think the financing is going to be there as long as we are able to show investors that there is certainty of revenue.
"The great thing is, with the cost reduction that the sector has achieved, we can see prices which are coming through the CfD that are below the government's own forward price curve.
"They're negative support mechanisms but they provide the certainty that's so important to keep the cost of capital down."
"I wouldn't be surprised to see several projects coming through in the next few years"
Included in the government's target of 40 GW of offshore wind by 2030 is 1 GW of "innovative" floating offshore wind.
Currently in its relative infancy, the technology allows developers to deploy wind farms in deeper waters, where the wind is typically stronger and more reliable.
The first floating development in UK waters, Equinor's Hywind Scotland off the coast of Peterhead, became operational in 2017.
Perkins said: "Floating offshore wind has been discussed for a few years and it is right there and ready now.
"We've got the Kincardine project being built up just now off the coast of Scotland which is great.
"We've also got clients with gigawatts of floating wind in the pipeline to build out – I wouldn't be surprised to see several projects coming through in the next few years."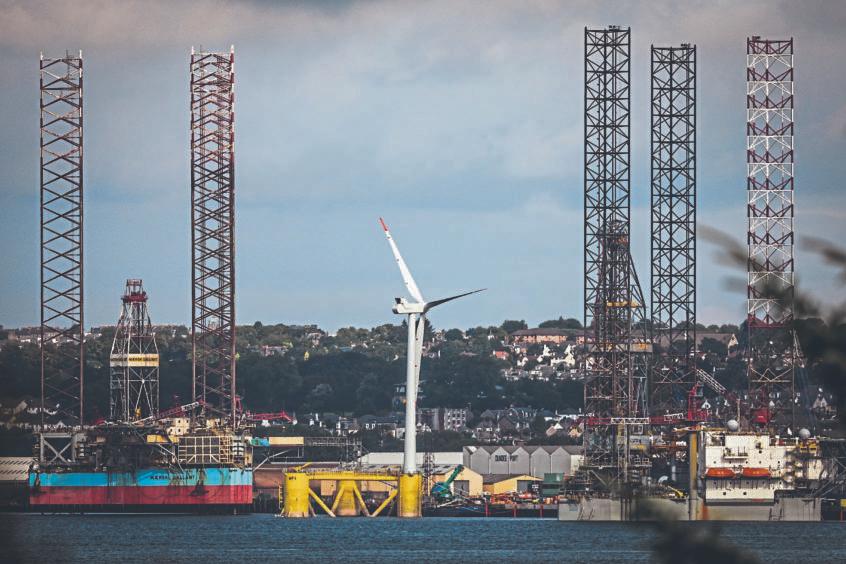 One of the major barriers to floating offshore wind power at the moment is its high costs, especially in relation to bottom-fixed.
Sykes said: "Floating wind is where bottom-fixed was 10 or so years ago. It's going to be an important technology, particularly in Scotland – we're very excited about the Scottish offshore wind market.
"Technology is not only getting the cost of floating wind down, it's also enabling us to push current bottom-fixed technology into deeper waters and more challenging conditions.
"If we look at the emerging technologies that are being used for floating there's still a bit of Darwinism needed to decide which are the winners and which will fall by the wayside.
"In the medium term it's going to be a very exciting technology."
"We are already at just under 50% UK content over the life cycle of our projects."
Despite the pledges from industry and government to expand the UK's offshore wind capacity, there are still widespread concerns that it may fail to translate into new jobs and economic growth.
So far, the domestic supply chain has failed to gain a proper foothold in the offshore wind industry, with the majority of work for the construction of turbines being farmed out overseas.
Trade unions have been loudly making the case for a "just transition", which would allow oil and gas workers to move into the expanding renewable energy sphere.
However, with an estimated 12,000 North Sea jobs lost last year due to the pandemic and downturn, that is yet to materialise.
Perkins said: "We do produce blades, we have lots of engineers on the projects but we're not necessarily producing that much of the equipment that goes out."
Responding to a question on whether the UK could do more, Sykes said: "We published a report in 2017 where we demonstrated that we are already at just under 50% UK content over the life cycle of our projects.
"If you think this is an industry that's only existed for something like 10 or 15 years at any scale, that's pretty remarkable, especially when you compare it to other longer term industries like automotive.
"We need to be careful not to suggest that offshore wind has not been building a supply chain. We have blades and we have many other really important components and services coming out of the UK. But there is more we need to do."
---
The key messages are that although there's plenty of good work going on in the UK's offshore wind sector, there's lots more that needs to be done.
The targets around ramping up renewables capacity are bold and although there are the skills and technologies there to meet them, mobilising them and doing so quickly is key.
Offshore wind projects such as Seagreen, Moray East and Dogger Bank, which are on course to be delivered in the coming years, will go some way towards closing the gap but the challenge for government now, as Reed highlighted, is trying to find the "right policy balance and financial stability" to help to "nurture" the industry in the decades ahead.
The foundations are there, it's building upon them that now matters
---
EY Insight from Andrew Perkins
"We welcome the substance of Point 1 of the Government's strategy and believe it is exactly what was needed to enable the expansion of the domestic supply chain and increased percentage contribution from competitive UK suppliers.
"Also it continues to position the UK as a significant player in the offshore wind sector which attracts investors from around the globe. Their capital will be invested at very competitive rates whilst the long term CFD provides a stable underpin for the anticipated revenues.
"When this point is considered alongside the other nine strategic goals in the 10 Point Plan it is a clear statement of intent from the UK Government that the country will reduce its carbon emission and continue to be a leader in this field."
---
Next month, the team will be joined by Dr Graham Cooley, chief executive of electrolyser manufacturer ITM Power, as we analyse Point 2 in the government's plan – 'Driving the Growth of Low Carbon Hydrogen'.
Subscribe for free to the 10 Point Pod series and listen to the offshore wind episode in full.