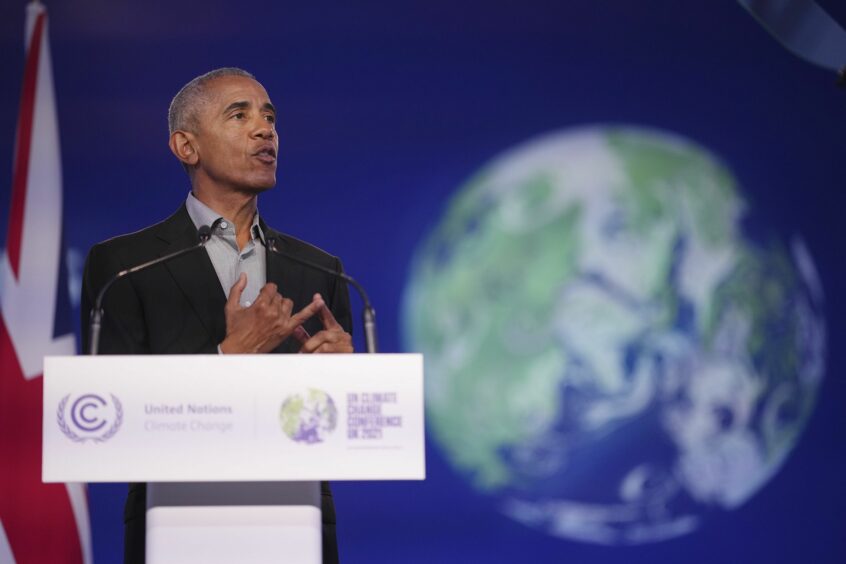 "I want you to stay angry. I want you to stay frustrated. Channel that anger, harness that frustration, keep pushing harder and harder for more because that's what required to meet this challenge."
That was former US President Barack Obama's message to climate activists in the second week of the COP26 conference – but it may have aptly summed up some of the feelings of those during their second full week of negotiating too.
The COP Shop is the new podcast and article boxset series from Energy Voice in association with COP26 principal partner NatWest Group, diving deep into the critical climate summit and the role of green finance in helping the world meet its emissions reduction goals.


---
In our third instalment, EV Europe Editor Allister Thomas was joined by co-host and NatWest Head of Climate Change James Close, who offered dispatches from the floor of the UN climate conference, while Octopus CEO of energy generation, Zoisa North-Bond, gave insight into the progress made in the negotiations so far.
Mr Close praised commitments to end deforestation, the pledge to reduce methane emissions, and agreements to drive the decarbonisation of transport that had been achieved so far. Yet, with progress slowing towards the end of the second week, he also noted that "tensions" were emerging, not just between individual countries but from some of the big corporate organisations as well.
Ms North-Bond was buoyed by the promise of targets, but pressed the importance of what comes after the COP discussions. "Targets are great, and they set a direction," she said, but "it's the speed with which we move in that direction that's important." She likened the urgency of financing green energy and climate mitigation efforts to the commitment that led to development of a COVID-19 vaccine within 18 months as proof that these systemic changes are possible.
Meanwhile, Mr Close pointed to the $130 trillion finance commitment spearheaded by Mark Carney in the form of the Glasgow Financial Alliance for Net Zero (GFANZ).
"Out of that will come a new and interesting economic paradigm for those who want to be part of it," he noted, though cautioned that more trust would need to be built in the wake of the developed world's failure to timely deliver the $100bn per year in finance agreed in Paris.
Nevertheless, the uptick in finance and reduction of sources for fossil fuel investments are important steps, he added, particularly in the direction it sets for financiers like NatWest Group and its peers.
Octopus said these commitments provided an opportunity for it – and businesses like it – to "capture investor imagine" with future-looking corporate models. Ms North-Bond discussed the company's plan to create £4 billion of "people-led renewable energy projects" worldwide through its 'Fan Club – The Collective' initiative by 2030.
Coupled with smarter demand management, smart grid systems and flexible storage, she said this marked a distinct move away from centralised energy – while the recent gas price crisis is only likely to speed up the transition. "It's really helped consumers hone in on just how important security of supply is," she noted.
And despite the temptation to get bogged down in negativity or cynicism regarding the COP process, both speakers were optimistic about the future of clean energy, clean finance and about delivering achievable, sustainable solutions to reach net zero.
"For me, it's impossible not to come to work everyday in this space and not feel optimistic. For this COP, the whole world is watching it, and for it to now be this prominent, how can you not be optimistic?" Ms North-Bond said.