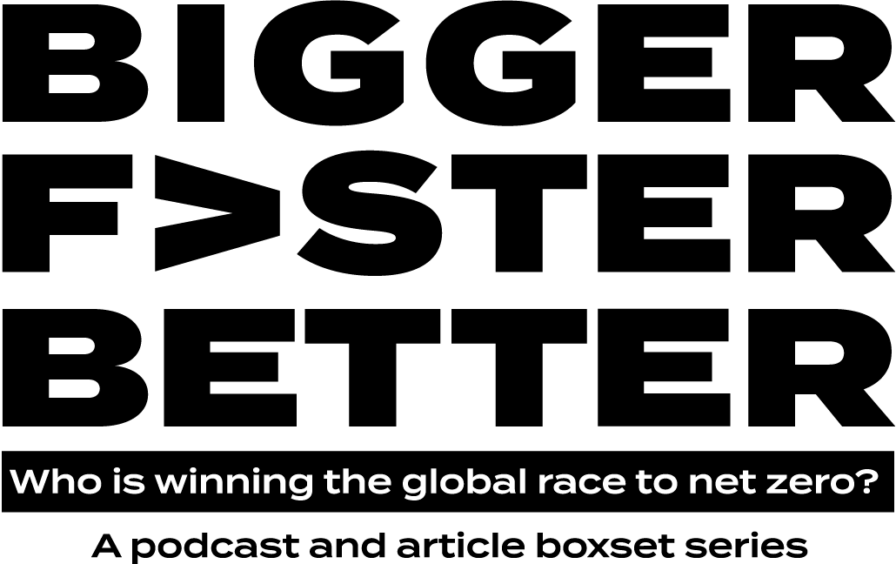 The second episode of Bigger Faster Better explores the future of hydrogen and compares how this crucial low-carbon technology is developing in the UK and the United Arab Emirates (UAE).
To discuss this fascinating topic, Energy Voice's Ed Reed was joined by co-host Richard Cockburn, a partner in Womble Bond Dickinson's Edinburgh office, focused on energy and natural resources, as well as Dr Alex Ritschel, head of technology at Masdar in Abu Dhabi.
Mr Cockburn began by explaining how during COP26 last November, the UK Government unveiled the 'Glasgow Breakthroughs' – a series of commitments from the world's leading nations to make green solutions the best option for businesses and governments operating in every economic sector. Hydrogen was named as one of the five so called 'breakthroughs', which are key actions aimed at cutting emissions. "The aim was to try and make hydrogen an affordable fuel by 2030," he said.
Prior to COP 26, the UK was already making good progress on its hydrogen strategy, which was introduced in April 2021, and backed by the Net Zero strategy. "It set out what the regulatory framework might look like and we expect this to be finalised this year," said Cockburn.
"COP26 confirmed the UK's hydrogen approach, but also gave it an extra nudge and underlined the urgency of developing the regime quickly," he added.
The UK government has also outlined various funds that might be available to support and carry hydrogen projects forward.
Over in the Middle East, Dr Ritschel explained how the United Arab Emirates aims to step up its efforts to cut emissions, with hydrogen expected to play a crucial role. Around COP26, the UAE pledged to have Net Zero carbon emissions by 2050, the first government in the region to make such a statement.
"The Net Zero target is clearly ambitious but it is an opportunity to decarbonise in sectors that were previously thought to be too difficult," said Dr Ritschel.
"The UAE has significant heavy industry and transportation sectors, which are very hard to decarbonise by electrification, energy efficiency, or fuel switching, other than by introducing new types of fuels derived from hydrogen. It's a good opportunity to make that transition cost effective," he added.
Moreover, there are various ways the UAE can use hydrogen. "There is the green or blue hydrogen routes, but we also have nuclear facilities that we can combine with hydrogen. In the end it's all decarbonised hydrogen and it's all helping to address climate change," said Dr Ritschel.
"For the UAE, this Net Zero goal by 2050, will make it possible to introduce hydrogen. To scale up and ramp up production so we can actually achieve that goal," he added.
Mr Cockburn also noted that hydrogen will be a key plank in the UK's decarbonisation drive. Hydrogen will be important as industry seeks to switch away from fossil fuels, but also for the day-to-day heating of buildings. Crucially, hydrogen will also act as a storage medium for intermittent renewable energy sources.
He also added that green hydrogen – produced by splitting water into hydrogen and oxygen using renewable electricity – will not be as cost effective as blue hydrogen – that is made using natural gas and capturing emissions using carbon capture and storage (CCS) – until around 2030.
"In my book, you cannot go straight to green hydrogen as you're trying to create a market with demand and viable business models. Cost is an important part of that and it's necessary to make good use of blue hydrogen," said Mr Cockburn.
"We need to get demand going. The way we are doing that in the UK is focusing primarily on clusters," he said.
"That's building clusters, carbon capture clusters, regular industrial commercial areas where there is existing demand, and where hydrogen is either being produced or could be produced to serve those customers. That primarily will be blue hydrogen. It gets the market going quicker," he added.
"The quicker we can get that market going the more we can bring the cost of hydrogen projects down and thereby reduce green hydrogen costs faster," said Cockburn.
For now, there is a big price differential between green hydrogen, and both blue and grey hydrogen. Grey hydrogen is produced by natural gas, but the emissions are not abated.
In the UAE, Masdar is focused on producing green hydrogen using carbon-free electricity from renewable power plants.
"Initially, there will be room for all different colours of hydrogen. (But) in the end, chemically speaking it's all the same, just the way of producing the hydrogen is different," said Dr Ritschel.
However, by 2030 the hydrogen industry will look very different, he added. Dr Ritschel explained that the electrolysers used to produce green hydrogen will be vastly improved over the next ten years and that the current cost of equipment is not relevant. Significant cost savings will be made as technology improves and production scales up. "It will be similar to the cost curves for wind and PV when they were introduced. We expect the same from green hydrogen," he added.
Recommended for you

Operational clean hydrogen projects set to double within five years