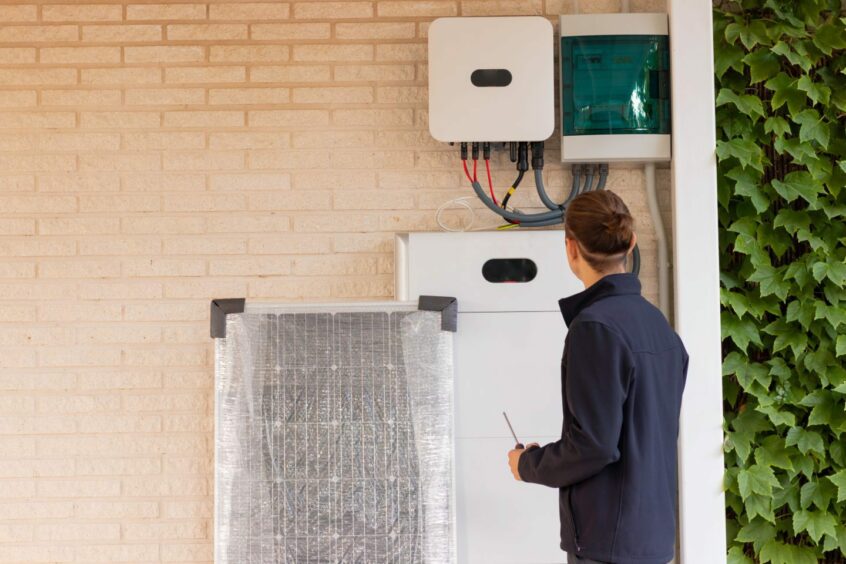 Having considered many aspects of grid-scale storage, this episode of the Megawatt Hour drills down to the small-scale to focus on where we're most likely to interact with the technology in our daily lives – in our homes.
As home energy systems become increasingly smarter, storage is set to play a greater role in how we use and consume energy – and hopefully will not only help us use greater amounts of renewables, but may even save us some money.
Taking a tour of the smart home of the future with content editor Andrew Dykes are BDO director of financial model assurance services Andy Hucknall and Emilie Romain, a co-founder and operations director at home renewables supplier Ecobubl.
Established in 2020 in Warminster, Ecobubl designs and supplies renewable energy solutions ranging from heat pump systems to solar PV and battery storage. The firm's mission is to put solar PV on every roof in the southwest and remove as many fossil fuel heating systems as possible, replacing them with heat pumps or other low-carbon technologies.
Kickstarting the discussion, Mr Hucknall explained why anyone would want to bother storing energy at home in the first place, outlining "two principal reasons".
"Most people will be looking at storage – decarbonisation, however, we think of that, whether it's sort of reducing emissions in the generation, even energy security," he suggested. "I think the other thing which people nowadays will be looking at is: can I save some money."
Both of those are key drives for customers speaking to Ecobubl. Ms Romain said the first step for the firm is understand what the customer's need is, whether that's solar, battery storage, EV chargers, heating – or the whole shebang.
"If they're high electrical users, then we want to have see how much we can actually fit in terms of solar – and what the DNO will actually allow us to fit, because that's another question," she said.
"Usually we're looking at what they're using, what they could generate and what they could store. If they're not using too much, they may not need a battery. In those cases, they may be just better off maybe storing it in some kind of heat storage like a smart cylinder or something instead of a battery."
One important point to make on storage, particularly in the home environment, is that heat is just as an important vector for storing energy as electricity. It's where much of our energy use at homes goes, and in the case of gas and oil-fired heating systems, also where the bulk of our household emissions may come from.
Accordingly, it's also one of the areas where smart systems can have greatest impact.
Added Ms Romain: "There's a couple of things on the market, but one I'm quite excited about is the Mixergy cylinders. They're great; if you can't really afford to get onto the floor renewable wagon at the moment, you can't afford a heat pump, or solar is a bit too much…a great one to get onto the renewable ladder would be a Mixergy tank."
These systems store heat at low peak electricity rates during night time, charging themselves up to a desired amount.
"If you don't need to use the entire tank, what's the point of heating the entire tank? You're wasting money…if you only need 30% then heat 30%," she continued.
"It's a great way of getting onto that renewable ladder. Also it's very integratable as well. So if you do decide in the future right now it's time for the solar, that's great. Now solar can heat my cylinder as well as give me electric."
Future purchases such as heat pump can then be bolted on, meaning efficiency gains are even greater.
Another option given is a Sunamp heat battery – a system that stores heat either from the grid or from home generation and releases it in mains-pressure hot water when needed – and which again can be integrated with other home devices such as heat pumps.
Future-proofing homes
Ms Romain says the typical Ecobubl customer is already somewhere on the journey towards home decarbonisation and technology adoption.
"Mostly they are coming to us for storage because in a lot of cases our customers actually already have solar, and they're coming for storage because they're not on the feed-in tariff," she explains.
"They're looking to save their energy and use it for themselves instead of not being paid for it. So they're using any excess to charge their battery up, using that in the afternoon or evening when the sun goes down, and then putting a good night tariff on it to charge up at night time before the solar starts generating.
"It's all about future proofing their homes, I think, and saving them a bit of money and being better for the environment," she adds.
The current precipitous rise in energy prices also has many more people interested in how they can cut consumption, or at least flatten out their household demand.
She notes that over the last year or so solar installations have increased dramatically as people want to generate their own energy. "On the back end of that heat pumps actually went down because people are worried about the cost of running a heat pump."
On the battery size, an increasing range of sizes are available, from those pushing 10kWh down to mini bolt-on packs about the size of a PC which can provide 2.6kWh.
Much will also depend on the type of house in which you live. Emilie says older properties with poorer insulation are unlikely to be good candidates for heat pumps, but they may have larger roof areas for solar. Likewise, larger batteries will probably require space in an outbuilding – though not always.
"Every house is different," she adds. "I think every household is able to have some kind of renewable tech in it – I don't think there's a single house where you couldn't put anything in it."
More training needed
With more technology available and flexible options to suit every home, one of the only barriers that installers like Ecobubl come across is finding qualified people to fit the equipment. "There is, there is a big shortfall on that and it is something we do need to think about as a nation, I think, getting more people involved and doing it in colleges," Emilie says.
Meanwhile, change is also going on at the supplier level, with people increasingly looking away from well-known energy firms as they seek those that can offer them either greener power or smarter options for their home.
"I do like the way it's going. I think people are now looking away from the Big Six so much. And if they are looking at the big six, they're looking at what renewable options do they offer me as a consumer," she adds.
Those same suppliers are increasingly trialing flexible demand models, which may also reward consumers for being able to store energy in future. "I see no reason why the energy suppliers can't be even more smart," adds Mr Hucknall.
"In the future potentially you'll get an e-mail that says if you run your washing machine now, we won't charge you for your electricity."
While many other challenges remain – including questions over the role of vehicle-to-grid services, and the pace of much-needed local network upgrades – it appears that smarter homes will involve not just energy storage, and flexible demand, but energy generation as well.
Listen to Episode 07 of The Megawatt Hour.
Recommended for you

Rough pumps gas into UK grid to meet rising demand for heating