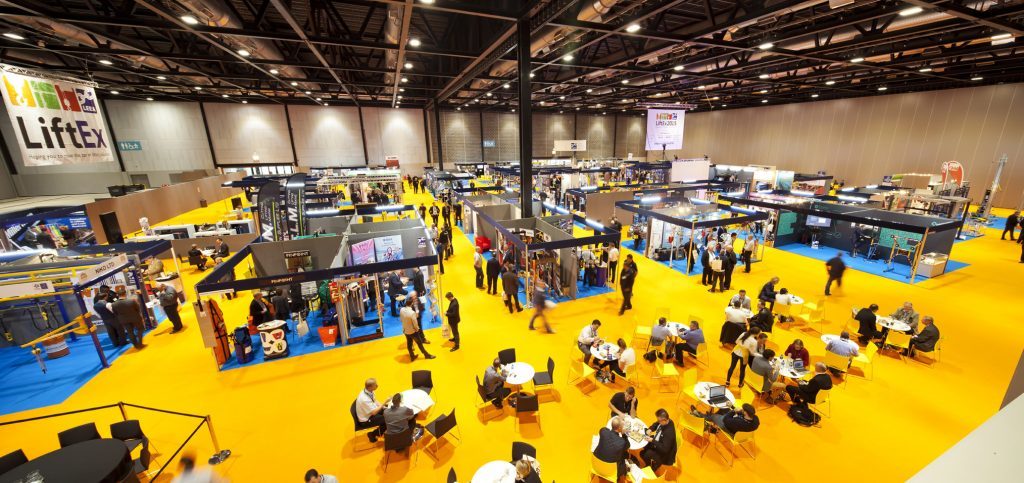 LiftEx, the UK's only exhibition and industry conference dedicated to overhead lifting and safe work at height, is pleased to announce a record number of visitors registered to attend the show, as well as exhibitors confirmed for its 2016 edition. For a full list please visit click here.
Organised by LEEA (Lifting Equipment Engineers Association) and now in its twelfth year, LiftEx 2016 will take place on Wednesday 23rd and Thursday 24th November in Aberdeen (UK). Admission to the 2-day exhibition is free-of-charge for visitors. On day one entry to the Conference costs £99 + vat for LEEA members and £125 + vat for non LEEA members.
Over 1500 visitors and 100 trade exhibitors are expected to take part, and the LiftEx Industry Conference will once again bring together an impressive line-up of respected speakers on topics related to safe, legal and efficient overhead lifting. The popular Innovation Fast Pitch event also returns, giving visitors a quick-fire introduction to the latest technologies and applications in this vital industry sector. In addition to end users and suppliers of lifting equipment, LiftEx will therefore prove invaluable to professionals working in fields such as health and safety, training, plant engineering and maintenance.
"I'm delighted that we are taking LiftEx to Europe's 'Energy Capital' for the first time in its history," said Geoff Holden, chief executive of LEEA. "The energy, offshore and maritime sectors are all heavily reliant on overhead lifting, and LiftEx 2016 offers the local business community an outstanding opportunity to catch up with recent developments in training, accreditation, legislation, products and services."
Visitors and delegates can register online at www.liftex.org. A limited number of sponsorship and exhibiting opportunities are currently available. For more details, contact Leah Phelps on +44 (0)7795 110646 or email Leah@liftex.org
BELOW IS A SAMPLE OF VISITING COMPANIES REGISTERED TO ATTEND:
271 Offshore + A & M Defence & Marine Services + Access Plus + Ainscough Crane Hire + Alba Forklift Training + Amec Foster Wheeler + Apache North Sea + APAVE + AquaTerra Group + ASG Inspection + AxLoad + Babcock International + Balfour Beatty + Bowmerbond Narrow Fabrics + BP International + Brierley Lifting Tackle + Briggs Equipment + British Engineering Services + BVA Hydraulics + Calgate Inspection Services + Calibre International + Canbolat Lifts + Central Training Services + Chevron North Sea + Citadel Engineering Company + Cleveland Steel & Tubes + Codipro + Conoco Phillips + Cooper Handling + DC WW Welsh Water + Dana Petroleum + DFK Lifts + Dillon Force Measurement + DMR Seals + DNV GL + Dolezych + Ecosse Lifting + El Nasr Petroleum + Emmanuel Wood and Construction Works + Enermech + Epp Magnus + Equipment Company Kuwait + Eshel Lifts + Estpower CT OÜ + Euroload + ExxonMobil + First Subsea + Fluor + Gael Force Marine Equipment + GAP Lifting Hire and Sales + George Taylor Lifting Gear + Global Gravity + Global Port Services + Grampian Lifting Services + Granada Material Handling + Groeneveld Lubrication Solutions + Groundforce Shorco + Groundwater Lift Trucks + Hatch Energy Group + High Force Engineering Solutions + Highland OS + Hire Torque + Humber Cranes + Hydra South West + IKUSI Velatia + Innospection + Institute of Innovation Research + Juli Lifting Europe + JoeMarine Nautical Coy Nigeria + KCA Deutag Drilling + Kito Europe + Kleen-Tex Industries + Konecranes UK + Kwart Engineering Enterprise + Lankhorst Ropes UK + Leyden Engineering Services + Lifting Gear UK + Liftsot Bangladesh + Lockheed Martin UK SS + MB Air Systems + Metalworth Resources + Meteo Group + Montrose Port Authority + Muro Testing & Certification UK + National Oilwell Varco + Nautilus Rigging (UK) + Niko + North Sea Winches + Northern Lighthouse Board + Northern Offshore + nylacast + OES Oilfield Services + Oil Integrated Services Holland + OilMac + PD Ports + People Traction + Petrofac + Petrolift + PFL Engineering Services + Phakamisa Safety Consultants + Plexus Ocean Systems + Proofload Services + Ranger Lifting Rigging Safety + RedWave + Reel + Repsol Sinopec Resources UK + Rigging Services + Rigmarine Europe + Rotrex Winches + S.V Plumbing & Construction + Safety Welding & Lifting + Saudi QTech + Schwer Fittings + Scotia Handling Services + SES Offshore + Shell + Sheridan Lifts + Ship-Inspect + Sitecut + Sparrows Offshore Services + Speedy Lifting + Step Change Engineering + Stopsave + Surelift UK + Swire Oilfield Services + Synergy Lifting + T Allen Engineering Services + TDB Training Specialist + Technical Outdoor Solutions + TecTus Transponder technology + Tees Valley Lifting
Recommended for you
X

Fall in the pound reveals"tip of inflationary iceberg"