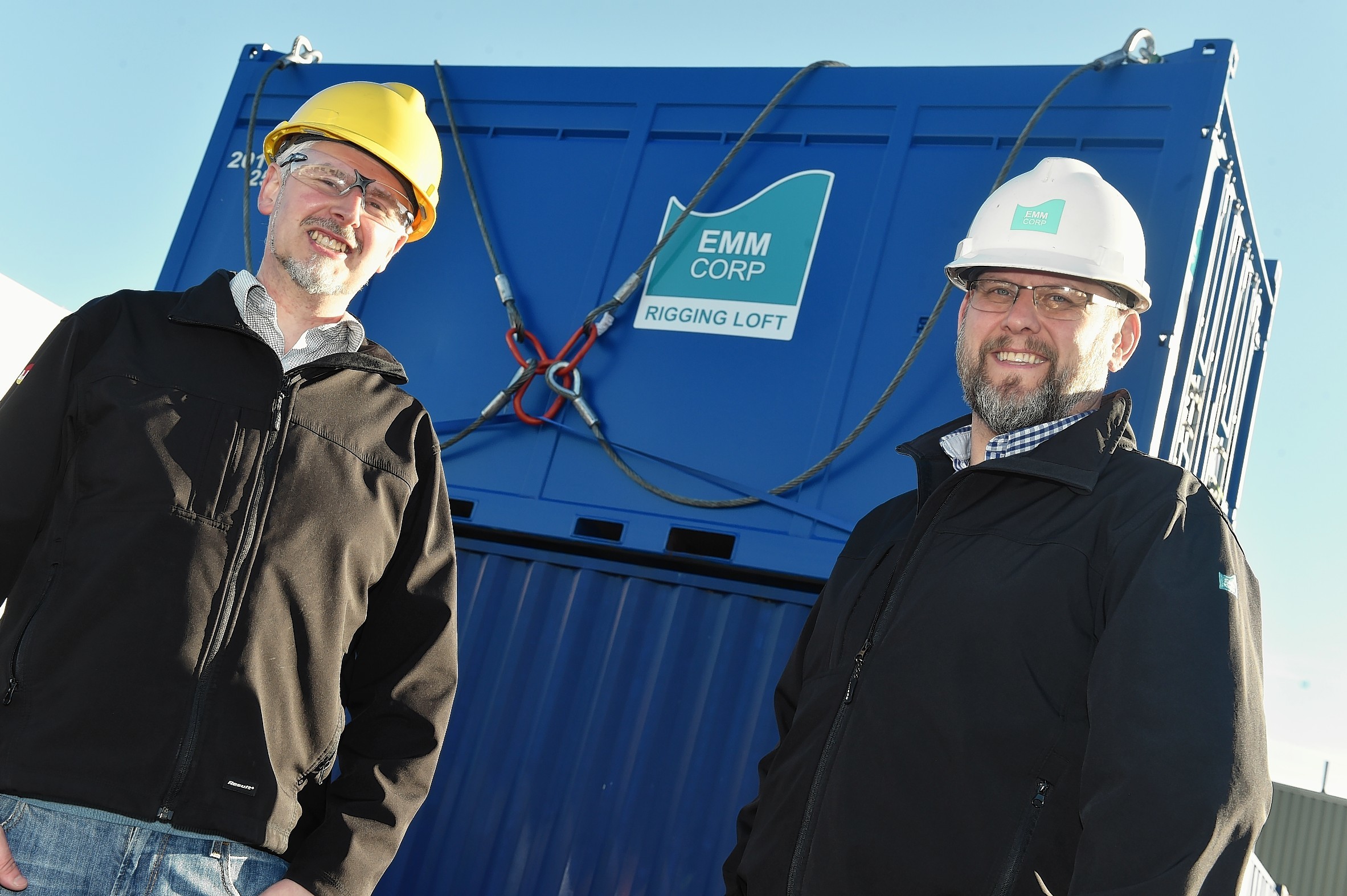 Aberdeen-based EMMCorp celebrates 20th anniversary Aberdeen-headquartered European Management & Marine Corp is a part of the Usha Martin Group, which ranks among the largest global providers of wire rope products, shackles, slings, lifting and rigging gear including marine mooring equipment and anchoring systems.
Moreover, 2016 marks the 20th year of successful trading for EMM but the company is not resting on its laurels. These may be tough times for upstream oil & gas, however the 70-strong team based at Kirkhill, Dyce, remains consistently busy.
Core activities remain strong and are constantly evolving; while diversification into three complementary areas is going well, namely platform topsides, decommissioning and maritime renewables.
Operations Director Richard Seaton says: "While the subsea-related construction and maintenance side has seen a reduction in activity it still keeps us well occupied and we could successfully continue at the current level. EMM are seeing a significant change in the way some of our clients are managing aspects of their business so we need to keep strong focus on that and adjust accordingly.
"However, we also challenged ourselves to progress into new areas of activity, especially decom, topsides and offshore wind. In these times, it is important that a business also has width as well as depth, hence our diversification into other markets.
Dave Coutts, Commercial Manager, added: "On the renewables side, we've already successfully completed a number of projects and, as some of our offshore construction and subsea contractor clients are of course diversifying into these newer markets, it was logical that EMM aligned to support this.
"We have quite a few big projects coming off with the likelihood of involvement with another innovative renewable project, again in Scottish waters, through a subsea main contractor. This is building a good track The 70-strong team is not resting on its laurels as the company evolves its subsea and offshore activities – with decommissioning top ofthe agenda EMM Commercial Manager, Dave Coutts, and Operations Director, Richard Seaton record and is a stepping stone to become involved in similar offshore or marine renewable projects further afield too."
"Our company has also been dealing with cable-laying vessels over the past couple of years having done quite a bit of business between the UK, mainland Europe and as far as Singapore.
"With our enhanced group capability, ranging from lifting technical services, thorough examination & inspection, and equipment rentals through to the provision of some of the worlds largest diameter specialist wire ropes, EMM are well placed to support this. It's an area of business that we see expanding and offering growth not just for EMM but potentially also the wider Usha Martin Group.
"EMM's core business remains firmly oil & gas-related and, as well as our existing large subsea sector, new business in supporting topsides maintenance activities plus getting involved with decommissioning as the pace of North Sea abandonments builds are seen as obvious and complementary opportunities." "We've upgraded a lot of our equipment to take account of these opportunities," says Richard Seaton.
"For example, we've put in a 4,000-tonne hydraulic wire rope press to complement our existing 3,000 tonne unit. This machine has the capability to press wires up to 152mm diameter and along with our fleet of heavy spooling equipment, large onsite craneage gives EMM an enviable capability.
"Further, a large part of this investment is in our people, the vast majority of which are long-term, highly experienced and bringing a valued contribution; vital in ensuring the future success of our company. This manifests itself on a daily basis with the unrivalled level of technical knowledge and expertise we give our clients. "We see this offering us advantages when it comes to decommissioning work. So we are reinforcing our heavylift capabilities here in the UK to enable us to do that. Particularly relevant for the removal of the many large subsea structures where the original weights may be unknown.
"With decom, it's not just heavy lifts and removals that we're participating in.
"There is also a lot of work to do in actually re-commissioning long idle plant and infrastructure so that the real decommissioning of systems, such as the drilling packages on the platforms and the final shut-in of the wells, can even happen. This in itself has created opportunities for us, as all of this refurbishment of equipment can generate lifting requirements, for example the platforms' old cranes may need upgraded or their operational life extended, thus requiring replacement special ropes.
"We see ourselves becoming more and more involved in the decom side, bearing in mind that a fair amount of work is already starting to come forward from the supply chain. As decommissioning properly develops then with time there appears to be another good opportunity to build a steady business stream here."
"Through our decision to pursue new markets and challenge ourselves, we're now getting more and more involved with platform topsides-related work," says Seaton.
"We're now working with Duty Holders, Tier 1 contractors and drilling contractors in providing rigging lofts, shutdown rental packages, testing and inspection services and associated equipment, such as fall arrest and working at height gear.
"While significant decommissioning is a real likelihood in the years to come there still remains a viable and working – albeit somewhat ageing – oilfield infrastructure out there.
"This will continue to be required to meet its statutory obligations and complete ongoing maintenance and development projects which ensures there will always be a demand for good quality and cost-effective lifting solutions and services."
It should not be forgotten that Aberdeen is a global operating hub with a very long reach and though EMM majors on the North Sea, it too has a long reach including into Africa (notably Angola) and Brazil. Indeed, long-term work in supplying both has played a significant part in ensuring that EMM has been able to ride the current oil price slump successfully and plan for a more diverse future.
Nor is thatfuture entirely confined to supporting the energy markets. Civils-related work also features in the company's contracts book – a further demonstration of how relevant core 24/7/365 oil & gas skills and values are across other sectors.
Coutts: "Our main focus is to build our business in energy, but good civil construction opportunities have also presented themselves. "There is the major construction project of the AWPR right here in the north-east and have many of the site contractors coming to us, almost on a daily basis, when they have breakdowns or need new lifting equipment supplied.
"By constantly challenging and developing our own business at the same time as keeping in touch with the real world,European Management & Marine Corp remain in a position to successfully support our clients, old and new, with primarily a high level of service, allied with a strong portfolio of products and services. We can do more!"
Recommended for you
X

Hedge funds turn OPEC skeptics as output deal doubts grow