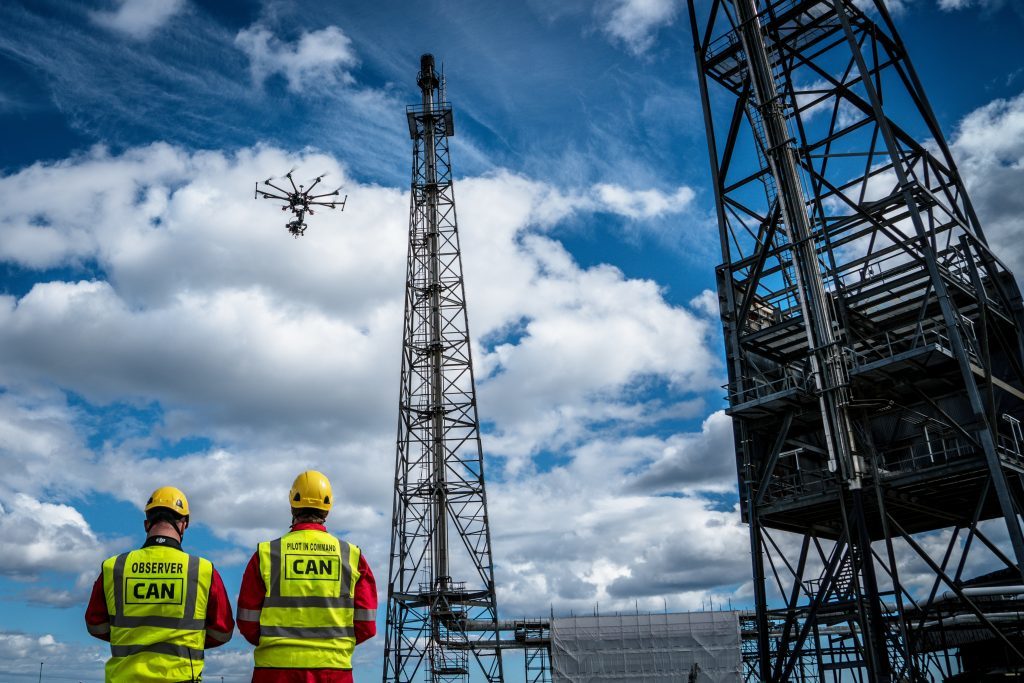 CAN Group: innovating, adding value and delivering operational efficiency to operations on and offshore for 30 years.
CAN Group has been innovating for more than 30 years, since introducing rope access to the North Sea in 1986. Today, it is an industry-leading, multi-disciplinary asset integrity service provider focussed on the entire 'life of asset' via its business streams – CAN, ENGTEQ and VENTEQ.
Innovation is at the heart of CAN Group's integrated service offering to the energy industry worldwide. Its diversification has been fuelled by the sector's need to achieve operational and cost efficiencies, while protecting and extending the life of assets.
"Initially offering rope access and trades-related services, it became apparent that rather than simply providing support to the activities of others we could expand our offering and perform those services ourselves," says Group Director Adam Byrne.
"Our first diversification came in the early 1990s as we moved into the inspection and Advanced NDT market; in the early 2000s we expanded into inspection management and thereafter added a suite of integrity engineering and vendor inspection services."
Today, the Group is a market leader in inspection, Advanced NDT and trades-related services; integrity management and engineering services; vendor inspection and QA/QC services.
The industry currently faces a number of challenges and CAN Group is in a unique position to help its clients; operators, dutyholders and other oilfield service providers by drawing upon its own experience, technical capability and longevity in the energy arena.
"CAN Group is no stranger to the challenges that the low oil price presents. Our focus is on enabling our clients to weather the negative effects of the cyclical nature of the oil and gas industry by helping them to improve productivity from assets," adds Group Director Innes Walker.
Continuous Innovation for Operational Efficiency
In 2016, CAN Group has continued to invest in its services and emerging technologies to bring greater efficiency to operations. Inspection technology is a key area, with the new CANdrone and Advanced Pulsed Eddy Current systems, allied to CAN's experience and expertise, offering significant value to the industry.
"CAN Group aims to add value to clients' operations through a high quality, technical service to ensure the safety, integrity and certainty of their assets and operations," says Mr Walker. "Providing any combination of our comprehensive asset integrity offering through a single contractual interface, immediately provides cost efficiencies."
CANdrone
CAA-approved, this custom-built unmanned aerial vehicle is part of an integrated, cost effective inspection system which enables flexible, rapid visual inspections – reducing the risk of personnel exposure to hazardous areas and cutting non-productive time.
Advanced Pulsed Eddy Current
Recognising the industry-wide issue of Corrosion Under Insulation (CUI), CAN has invested in Advanced Pulsed Eddy Current technology which, among other key applications, provides an additional tool for efficient and effective detection of CUI.
This system enables rapid, real-time data acquisition providing dynamic thickness imaging and enhanced flexibility to detect material losses without the need to remove and re-instate insulation.
CAN Group's engineering strategies to manage CUI utilise a suite of technologies which includes a variety of electromagnetic, radiographic and visual based NDT methods.
Going Forward
CAN Group is focussed on the long term and continues to engage with clients and new industry initiatives, such as the creation of the Oil & Gas Technology Centre, to secure a sustainable future.
Inspection of in-service pressure vessels is a focus area for the OGTC – an issue partially resolved by Non-Intrusive Inspection (NII).
CAN Group provide an integrated and cost-effective NII service with ENGTEQ offering the required engineering services and CAN delivering a comprehensive range of Advanced NDT methods. This approach adds value to the operations of clients as it allows for maximum production time by reducing shutdowns and the need for potentially hazardous man entry into vessels; ultimately reducing risk.
"The importance of continuing to inspect and maintain assets during these challenging times cannot be stressed enough. We continue to invest in our services and technologies to provide the industry with efficient, cost-effective, technical services to ensure assets are fit for future use. Ensuring assets are operational and safe remains a priority for our industry and we continue to address these challenges in the current low cost environment.
"Our people are they key to our success – without their skill and dedication, we would not be where we are today and they are vital to the continued success of the Group for the next 30 years," concludes Mr Byrne.
Recommended for you

BGF: Energy transition driving M&A activity