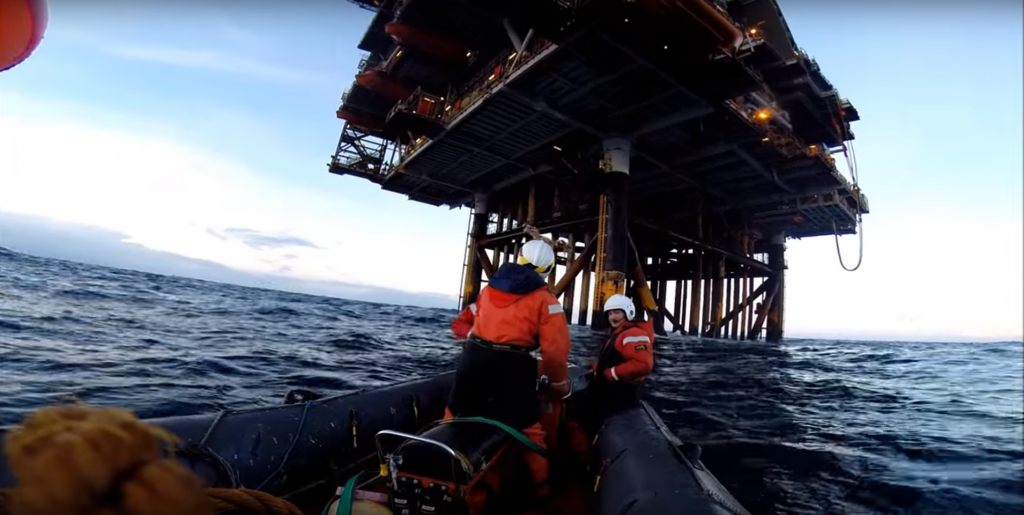 Supporting oil and gas companies to diversify into other sectors will help build new revenue streams, retain talent and skills and avoid redundancy situations says Scottish Enterprise's director of Energy, Maggie McGinlay.
Over the last two years, and through our involvement with the Scottish Government's Energy Jobs Taskforce, we have been working hard to identify new opportunities to support Scotland's oil and gas sector to respond to the global downturn and help minimise the impact on jobs being lost.
With an average 30 per cent fall in revenues since 2014, helping the sector find alternative solutions to generate income is a priority for us.  This led to us launching a series of 50 Oil and Gas Country Opportunity Guides last November to help the supply chain maximise opportunities in international markets.
Complementing this piece of work, last year we also delivered an intensive piece of research looking at other sectors to understand what opportunities exist for the oil and gas supply chain.
In total, the research assessed 24 sectors – including oil and gas decommissioning, offshore wind, construction and food and drink – mapped to oil and gas strengths and capabilities.  The findings were then ranked by overall market potential based on short, medium and long-term timeframes.
It's no surprise, given the sectors significant strengths in working under water, that oil and gas decommissioning and offshore wind came out as the biggest opportunities for early diversification activities.
The UK offshore wind sector, for example, has seen some £10 billion of investment between 2010 and 2015 and a further £18 billion is expected to be invested in new projects between 2016 and 2020.
We are already actively helping companies to expand into this market through our Offshore Wind Expert Support Service.  It provides up to six days of expert advice in areas such as market intelligence and technology due diligence.  Since April last year we've supported over 50 companies, the majority of which are from the oil and gas supply chain.
Our Seize the Opportunity: Offshore Wind guide, published last June, and information events held in Glasgow and Aberdeen have also been successful in helping companies understand the benefits of employing their skills in this growing market.
We've seen a number of companies successfully diversifying into offshore wind from oil and gas.  FoundOcean, the world's largest dedicated offshore grouting specialist, first entered the offshore wind industry in 2010 following a 50 year history in oil and gas. From its European Offshore Service Base in Livingston, the company has successfully secured global contracts within the growing offshore wind sector, which now accounts for around 50 per cent of the firm's revenues.
In addition to offshore wind, over £17 billion is expected to be spent on oil and gas decommissioning activities across the UKCS between 2016 and 2025.  This includes 302 oil and gas installations, 373 subsea installations, 16,000km of pipelines and more than 5,000 wells all eventually needing to be decommissioned.
This creates significant opportunities for Scotland's oil and gas sector, which is why last month we launched a Decommissioning Action Plan in partnership with Highlands and Islands Enterprise.
Targeted specifically at the oil and gas sector it aims to establish Scotland as an international centre of excellence for decommissioning and assist the development and delivery of effective solutions for decommissioning.
Offshore wind and oil and gas decommissioning are just two of the ten markets we have identified as having the biggest growth opportunities.  The others include carbon capture and storage, heating and cooling, energy storage, life and chemical sciences, nuclear, wave and tidal, water and hydrogen.  This year we aim to encourage more companies to consider diversifying into other markets to help grow their revenues and protect jobs and talent in Scotland.
There may be a number of reasons why companies aren't already diversifying — lack of awareness of the specific opportunities, investment requirements, differing procurement process, other cultural and practical barriers — but working together with our partners, such as Subsea UK, we aim to understand the barriers to diversification, help companies overcome these challenges and truly maximise opportunities for the future.
A new guide to diversification was launched last night at an event in Aberdeen.  It provides some background about the research we undertook as well as looking at business models to support diversification opportunities.  The guide is accompanied by factsheets on the ten key markets mentioned above.
If you are an oil and gas company and are interested in diversifying into additional markets, please phone our helpline on 0300 013 3385, email enquiries@scotent.co.uk or visit https://www.scottish-enterprise.com/knowledge-hub/articles/guide/oil-gas-diversification
Recommended for you
X

Diversification: Power Jacks doubles up on Wimbledon contract wins