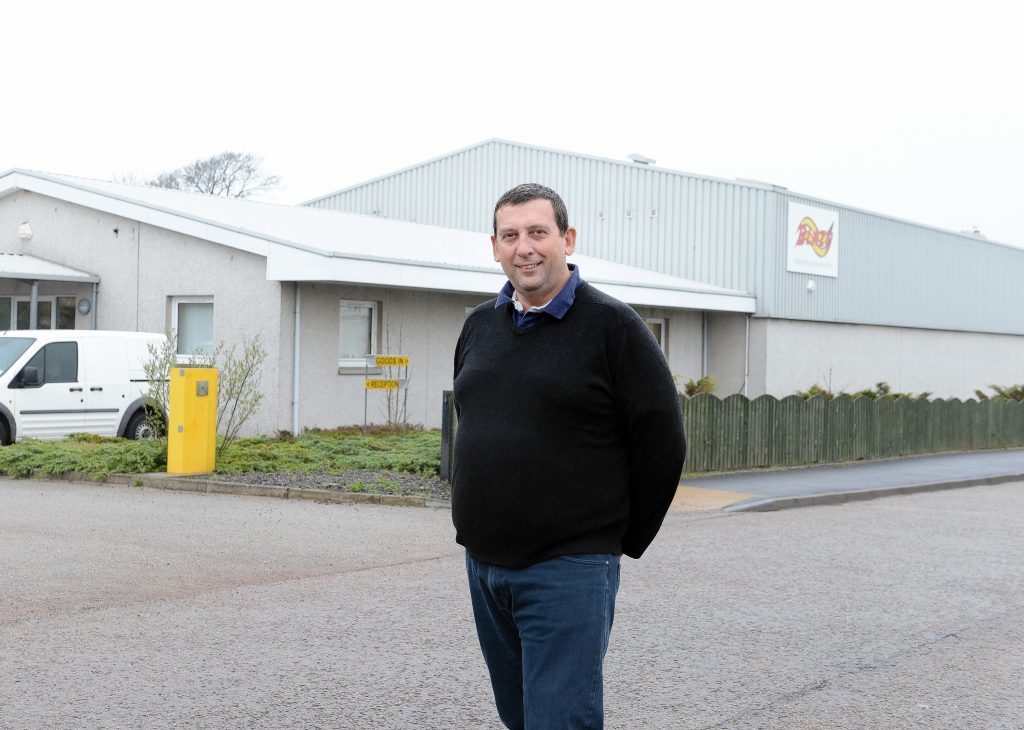 Blaze Manufacturing ended 2016 on a roll with a series of contract wins that ensure a robust start to 2017, despite the harsh times still being endured by the North Sea oil & gas industry.
The excellent start has been possible because of the Scottish company's willingness to diversify into complementary markets that have long been advocated in the pages of Energy, not least maritime renewables.
"Indeed we've done extremely well," says MD Howard Johnson.
"This is the second best order book that Blaze has ever started a new year with. We exited 2016 with a whole year's worth of work in front of us and we're now looking for extra people.
"We'll be taking on apprentices, software and instrument engineers and more fire & safety engineers."
Blaze currently has 30 staff.
What is striking is the breadth of the contracts won; of course oil & gas, but also in offshore wind and, now, onshore minerals mining where the company's North Sea-honed approach is equally applicable.
"For example, we've just had a letter of intent for a transformer platform off the Yorkshire coast covering gas and fire alarm system, also gas suppression and enhanced foam water mist systems. We are to design, supply, instal and commission," says Johnson.
"We've also won work on another transformer platform in Antwerp for a project off the German coast, again the fire alarm system, plus inert gas and compressed air foam systems.
"And we are in final negotiations on a third transformer platform to fit out with protection and detection systems."
However, the fruits of diversification have also been harvested much further away on another continent and in a totally new field, providing safety systems for copper mining in Africa.
Blaze is in final negotiations in the Congo following a visit early last year to a copper mining complex. The company is providing fire-fighting foam systems plus fire protection and control systems for acid-stripping plants, which are used to recover copper minerals from the ore.
"This is something completely different for Blaze … a new market for us. It's extra high hazard with huge fire risks requiring specialist protection and, for us, this  looks like providing long-term work," says Johnson.
"It was opportunistic; following an approach from a local company in the Congo seeking a technology partner which resulted in them coming to visit us.
"We then put a formal tender in and I travelled to the Congo for six weeks in the summer to get on the ground and evaluate the opportunity and come up with a workable solution."
However, oil & gas remains core to Blaze; the company having secured packages of work on a further three production platforms, all of them regarded as mature assets and requiring a stripped-down approach.
"This diversification has been an interesting journey. Only 16% of our work going into 2017 is oil & gas-related," says Johnson.
"Now we have renewable energy, Ministry of Defence, mining, tank farms and one of the things that became clear to us as we travelled last year is that what is regarded as standard in oil & gas is not standard in other sectors and certainly not the renewable energy market.
"Many of the things that we do as standard and are therefore included within our costs are extras from some other contractors. That's enabled us to be confident during negotiations.
"Although we're new to renewable energy, we have the strength, depth and experience gained from working with oil & gas to come to the table and do things differently."
One of the impacts of diversifying so successfully is that Blaze has taken on a contracts lawyer in partnership with Scottish Enterprise.
This is because of the sheer time-consuming complexity that the company's sales team now encounters.
Indeed, Scottish Enterprise has played a key role in Blaze's successful diversification.
"It was recommended that we looked at new and different markets," says Johnson.
"We went heavy into R&D prior to going into these new markets. We just had to get on with it, including developing knowledge on the contract law side of target countries and their markets."
If Blaze can diversify successfully into different markets, the message is, so too can others.
But it requires an open mind and willingness to be flexible.
"A lot of what we looked at … the new markets … was not going to become possible if we had stuck rigidly to the kind of stuff we had done before," says Johnson.
"It's about being flexible and fleet of foot.
"We would of course like the oil & gas side to come back a bit … that would be nice.
"But we have diversified and, in the future, we're not going to be susceptible to the ups and downs of that industry as has been the case over this past year."
Recommended for you
X

Dakota access oil pipeline nears final permit, lawmakers Say