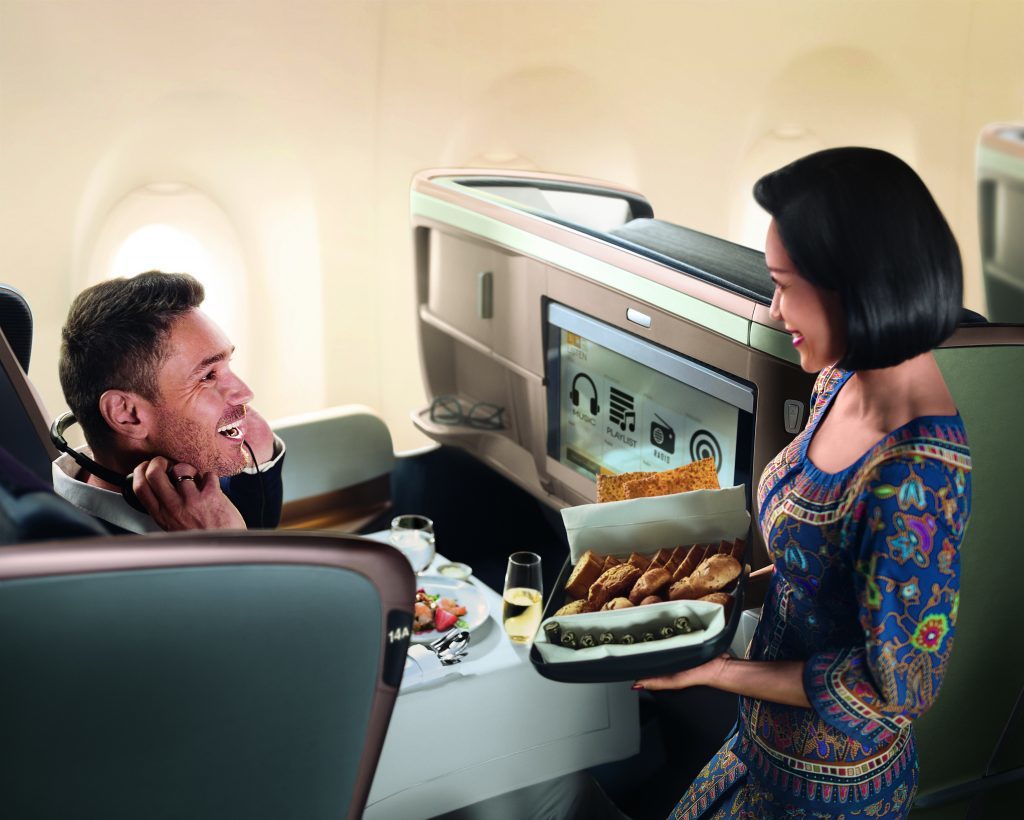 Singapore Airlines' new Business Class seats offer two new seating positions—the Lazy Z, a cradling position that ensures your weight is centered and balanced when you're sitting down, and the Sundeck, a lounging position that extends the base and foot of your seat so you can stretch and rest your legs on the ottoman.
Handcrafted from Scottish leather and diamond-stitched, the 28-inch seat transforms into a 78-inch bed when you're ready to turn in. Fully-flat with a cushioned headboard for greater sleeping comfort, complete with linen, duvet and pillows.
A side console, specially designed to sit above the armrest, lets you stow and conveniently reach for your laptop, in both seat and bed mode. Concealed within your seat are the ports—eXport, HDMI and USB—and the power supply you need to charge your electronic devices.
You can also reserve your main course up to 24 hours before you fly, including creations by notable chefs from Singapore Airlines' International Culinary Panel. Dine in restaurant setting onboard with full table service, and wines to match the food and altitude.
On the flights from Houston you can chose from an array of culinary delights, including chimi churi marinated beef tenderloin served with fried plantains and grilled vegetables, beef and chicken fajitas with guacamole, pico de gallo (salsa fresca), sour cream and flour tortillas or steamed halibut fish with ginger and soy sauce served with steamed rice and baby bok choy.
And don't forget the entertainment.
KrisWorld Inflight entertainment is thoughtfully curated with you in mind, with an impressive selection of 1,000 entertainment options, – movies, television programmes, music, games and apps – a video touchscreen handset, and an 18-inch HD enabled personal LCD with noise-cancelling headphones. On selected flights, stay in touch with family, friends and colleagues with Internet connectivity, as well as text and multimedia messaging.
Scroll the gallery to see more: