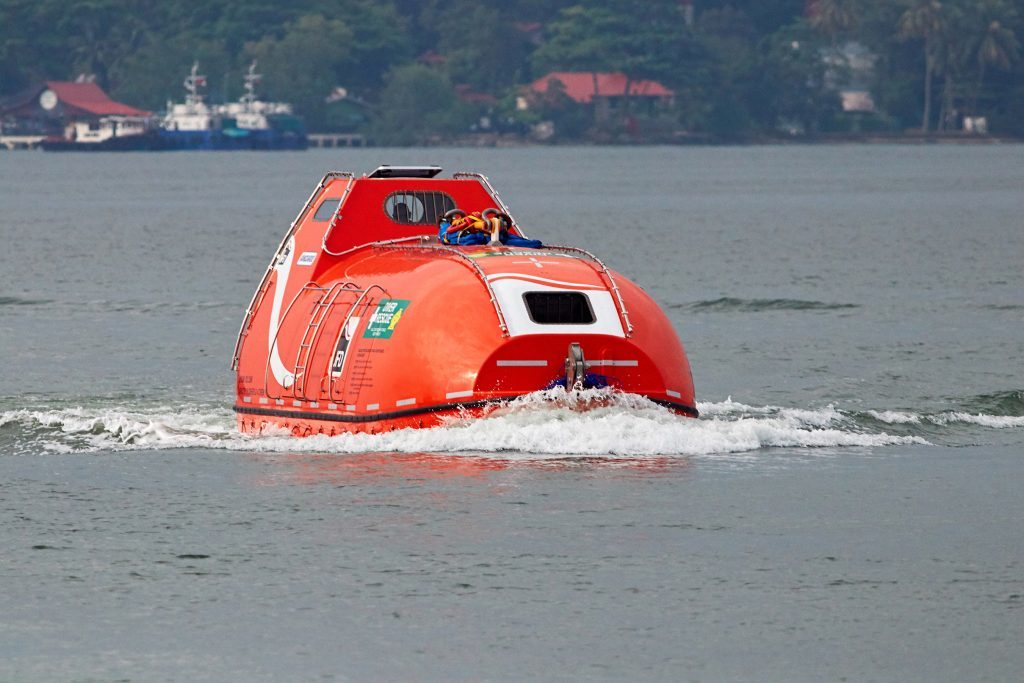 JFD, a division of marine services group James Fisher and Sons plc, has made a range of advancements in the field of hyperbaric rescue in recent months.
Having access to a Hyperbaric Rescue Chamber (HRC) can be a matter of life or death for deep-sea divers living in saturation in the event of an emergency. They contain a sealed, pressurised chamber which the diver can use for emergency evacuation.
There have been significant improvements to the required safety standards over the last decade within the industry in response to a number of incidents involving sea-going vessels.
This is where JFD, which operates globally from locations including Westhill in Aberdeenshire, comes in.
Among its recent work, JFD has delivered the first two of its new self-propelled, hyperbaric lifeboats (SPHLs) ordered as part of a multimillion-pound deal with a Singapore-based company.
JFD will provide a total of six of its new range of SPHL's under the contract, which it won in February 2016.
These next generation SPHLs, which have been developed in partnership with Vanguard (also based in Singapore), lead the way in terms of operational safety standards for saturation divers. Standard SPHL's are engineered to 12, 18 and 24-man configurations with built-in self-righting capability and can be rated down to a depth of 600msw based on customer specification, bespoke designs are also available.
JFD director Ben Sharples said: "The delivery of these first two SPHLs is a huge milestone for JFD.
"Our highly experienced engineering and manufacturing teams have put in an incredible amount of hard work and dedication which has resulted in the production and delivery of two of the most safety-advanced SPHLs on the market."
The firm has also delivered a multi-million-pound refurbishment to Scotland's National Hyperbaric Centre in Aberdeen, which houses the only land based saturation diving system in the UK and provides subsea pressure testing expertise to the offshore industry.
The centre's extension, which was first announced in November 2016, enables the reception and accommodation of the next generation lifeboats which have a larger capacity of 24-man.
Supported by leading hyperbaric specialists, it offers the most comprehensive support package in the world. It houses an on-call rescue centre for people who have suffered decompression sickness and can monitor their recovery.
JFD has also accepted the delivery of an 18-man portable hyperbaric rescue facility (PHRF) to the centre, which can be hired out by diving contractors to support their diving campaigns.
The PHRF has been designed for transport by road and ship, enabling it to provide rapid decompression and medical support in remote areas.
Despite this range of recent achievements, JFD is continuing to look to the future.
It is currently undertaking a feed study to provide a robust hyperbaric rescue solution to be applied around the globe.
Giovanni Corbetta, JFD managing director said: "JFD has successfully improved the standard of hyperbaric rescue through its National Hyperbaric Centre for nearly 30 years. Having one of the most capable facilities in the UK means we can transfer these skills and expertise to help support hyperbaric reception globally.
"We are committed to enhancing the standard of subsea safety and believe a similar level of hyperbaric rescue capability to what we provide in the UK should be available for divers globally."
Recommended for you

The hydrogen nation is already taking shape – and now's the time to act