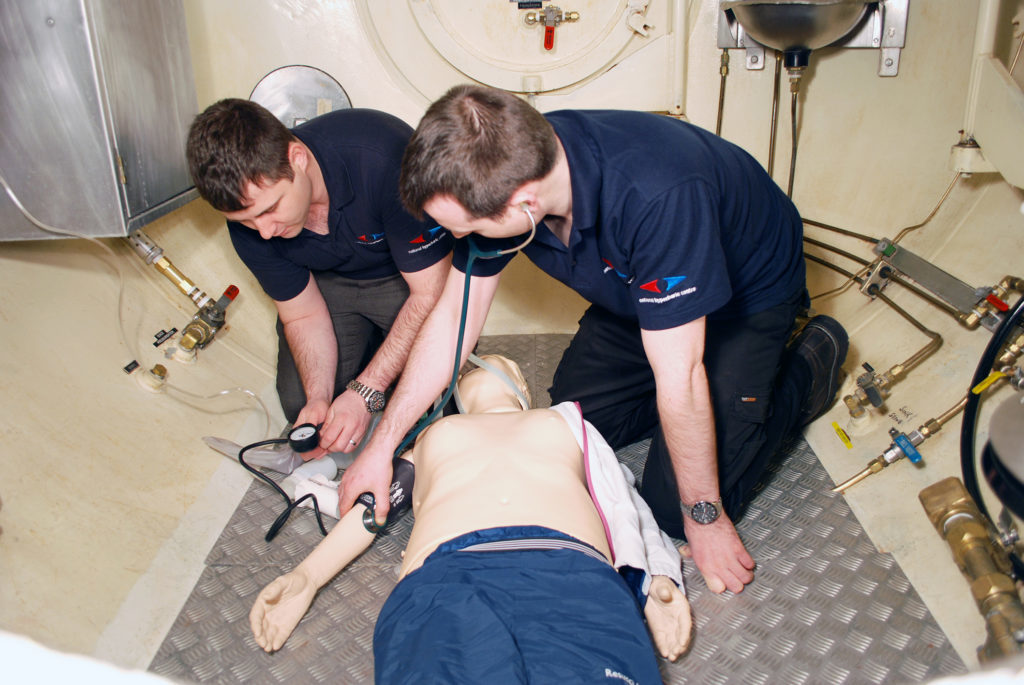 JFD's National Hyperbaric Centre in Aberdeen is playing a key role in the quest to enhance global subsea safety standards by increasing its global footprint and offering a wide range of high quality courses around the world.
Operating at the forefront of innovation in subsea operations, the company believes subsea safety should remain a firm focus for the industry and continue to improve – even when market conditions are tough.
JFD is the world leading and largest underwater capability provider, serving the commercial and defence markets. The company provides innovative diving, submarine rescue, and hyperbaric rescue technical solutions and services.
With its pedigree, market knowledge and understanding – in conjunction with the unrivalled expertise and skills of its staff – JFD has been providing world renowned training courses for more than 20 years through the National Hyperbaric Centre. Its experience is relied upon by a host of clients across a range of industries, including oil and gas, defence and medical.
At one end of the spectrum, the training team at JFD can offer familiarisation courses to provide a better understanding of the subsea industry as well as courses such as
Assistant Life Support Technician and Dive Technician, which give entry-level delegates the knowledge and skills to embark on a career within the industry.
At the other, clients with years of industry experience can access specialist courses, such as Dive & ROV auditing and assurance and Diver Medic Technician, for furthering their careers and increasing their competence. It's the best way to stay ahead of industry requirements.
The department has remained buoyant during the downturn as JFD strives to ensure its courses remain relevant and provide delegates with a valuable learning experience.
JFD makes continual investments to all its course content, not only ensuring they are kept up to date, but expanding their relevance and practical application within the industry. The company works alongside a variety of highly respected business and training specialists to develop new theoretical and practical modules in order to best prepare delegates for their role within the industry. Most recently, an additional module was added to the popular Client Representative course which has so far received excellent feedback.
The company believes that quality training also plays an important role in the sharing of key information which enhances safety within the subsea sector as a whole.
A big focus for JFD when developing course content is to include information and evidence from lessons learned. JFD wants to help the industry learn from past experiences and identify gaps in training and safety procedures which could be corrected.
If the industry does successfully learn its lessons, the risk of serious incidents reoccurring will be significantly reduced.
And with much of the older generation now retiring, JFD feels strongly that the importance of passing good practice and knowledge down through the generations cannot be underestimated.
JFD's growing worldwide foot-print means the company's lessons learned are reaching a wider global audience.
Last year, JFD's Diving Technical Authority was invited to deliver a presentation at the International Maritime Safety Conference in South Korea.
Following the Sewol ferry disaster a couple of years ago, there is a major focus on improving and implementing safe working practices for diving operations in the region.
Local government representatives approached JFD due to its strong heritage and involvement in promoting diver safety globally.
JFD has added more strings to its bow in recent times.
In 2017, it launched a pioneering medical course after receiving requests for offshore medics to better understand the fundamental skills required to deal with life threatening diving emergencies.
The Offshore Medic Diving Awareness Course – which was approved by the Institute of Remote Healthcare – challenges existing knowledge and shares information between medical professionals.
Through continual development alongside industry regulations and requirements, and the inclusion of lessons learned, JFD believes its training portfolio is now stronger than ever.
The company has had a busy start to 2018 and hopes to see this continue throughout the year. It has also seen an increase in global demand for its courses and has scheduled bespoke courses around the world.
Recommended for you

'Avalanche' of archaeological finds ahead as developers dig up North Sea past