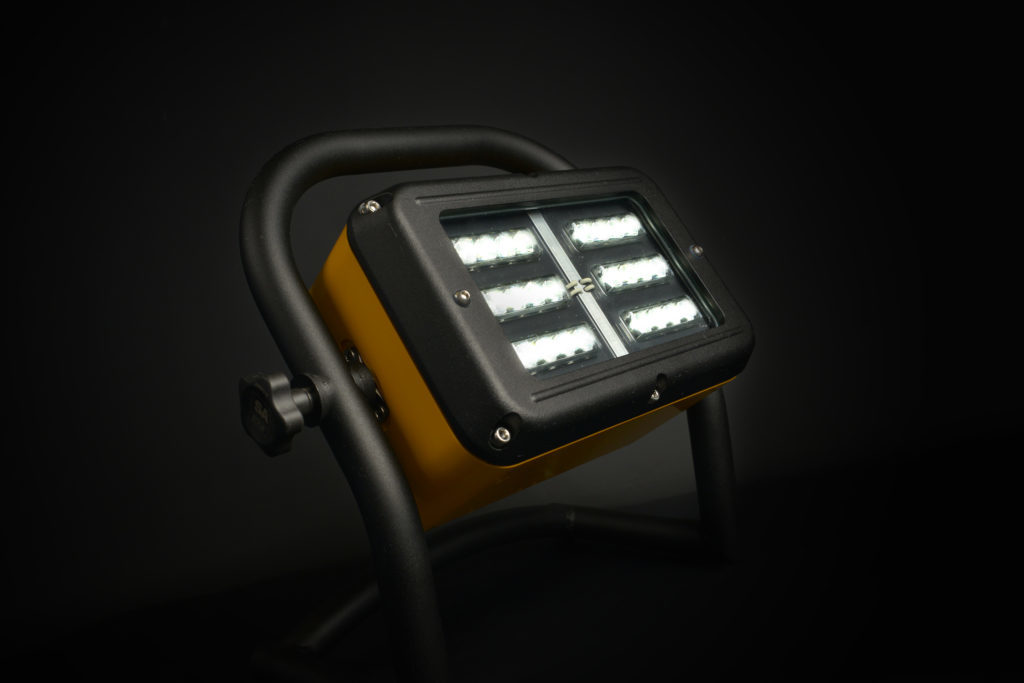 Leading EX safety equipment supplier, SA Equip, recently extended its portable lighting range with the launch of their SA LUMIN EX LED Rechargeable Floodlight. Increasing demands for safer procedures and operations, means that more lightweight and durable EX lighting products are needed on site. This transition in industry demand and ways of working was one of the main reasons behind the development of this product for SA Equip.
Digitilisation and technology are continuing to take centre stage across industries, therefore the importance of adaptability is crucial. A few challenges faced with conventional lighting systems include the long set-up time, sourcing the correct power supply on site and receiving permission to use the equipment. Due to the harsh conditions equipment is often subjected to in industrial environments, selection of reliable and durable equipment can help to reduce the chance of deterioration which can be a costly expense to overcome. In the oil & gas industry, whatever the development of confined spaces, platform turnarounds, tank cleaning and inspection jobs, there will always be a requirement for more efficient ex lighting products. Enabling a more controlled work environment is key to improving and maintaining the morale of your personnel, which in turn can increase productivity.
Focused on strengthening our global presence across regional EX markets, SA Equip has invested extensively in research and development in response to challenges faced by customers throughout the oil and gas industry. Close cooperation with end users helps to ensure the products embody the practical aspects required for use in hazardous and potentially explosive areas and increase the efficiency and value to operations.
The SA LUMIN EX LED Rechargeable Floodlight will enhance efficiency of operators' workers with a range of maintenance friendly benefits including an adjustable swivel head, 12-hour battery life and compatible accessories such as a magnetic brackets and tripod stands. Due to the lightweight and ergonomic design, this product will make working in confined spaces even easier, it can be taken directly to the work site and positioned exactly where required for a host of applications. Fully certified for hazardous area zones 1 & 2, it features no trailing cables which vastly reduces trip hazards and the cost of maintenance of cables. It will minimise time-consuming processes of having to move transformers around site to power necessary lighting or organising hot work permits. Fully equipped in one battery powered unit, the rechargeable floodlight offers a high light output of up to 2000 lumens. It utilises high power LEDs, built into a high strength aluminum frame to provide a lightweight, versatile lighting solution for hazardous ATEX & IECEx Zones 1 or 2.
Recommended for you
X

Procurement and audit…the missing link? asks AAB