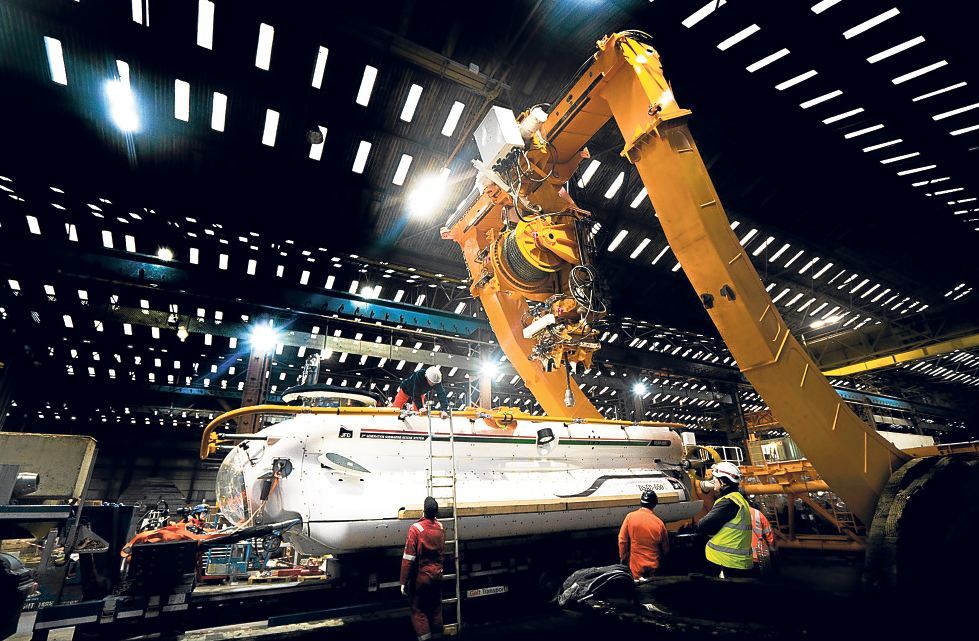 The subsea world has seen a lot of action in recent years, with some of the biggest global players joining forces.
The creation of JFD, following the 2014 merger of James Fisher Defence and Divex, was a prime example.
JFD has kept on growing. A year later, the company bought the National Hyperbaric Centre in Aberdeen to further boost its service offering.
Singapore-based dive system manufacturer Lexmar was acquired in 2016 to enhance JFD's diving system manufacturing capability in the Asia Pacific region.
It means that despite its youth, JFD combines many years of market leading experience, from companies which all shared an inherent passion for improving subsea safety standards.
JFD managing director Giovanni Corbetta said: "These companies have now become brands sold under JFD, and our biggest strength as a company is the capability to provide those same branded products and services as previously offered, only now under the JFD banner."
The company is a world leading underwater capability provider, serving the commercial and defence markets with innovative diving, submarine and hyperbaric rescue, technical solutions and services.
JFD employs in excess of 600 people globally, with headquarters in the UK and bases in Perth, Sydney and Newcastle (Australia), Singapore, Cape Town, and Vaxholm in Sweden.
The firm, which turned over more than £115million in 2017, invests in its employees and offers them an exciting working environment.
Its strategy is paying off.
Within a relatively short period, JFD has expanded rapidly in the Far East through the award of significant submarine rescue and saturation diving system contracts, while establishing a joint venture partnership in China with Wuhu Diving Equipment Factory.
JFD has also established a leading global position in its areas of expertise – submarine rescue and saturation diving. Its latest saturation diving contract is for a 500metre rated mobile saturation system, the first of its kind.
JFD recently completed the installation of a groundbreaking 24-man, twin bell system for TechnipFMC on board the DSV Deep Explorer.
While business remains a priority, the overriding focus of JFD's work is to enhance the standards of subsea safety.
"For those working deep sea, safety is everything," Mr Corbetta said.
"Our industry is focused on conducting work safely to ensure no loss of life. When working at extreme depths and pressures, risks are a constant reality. Almost all products and services that JFD provides, both commercial and defence, are for life support."
The whole business revolves around keeping people safe and allowing them to operate safely.
"Many of the technological advancements we've made in our equipment are to enhance safety within the industry," Mr Corbetta said.
"There are many strands to providing reliable and safe technology. We work with class societies to keep rules and standards current, and we monitor trends across adjacent markets, such as recreational diving and offshore oil and gas."
JFD prides itself on establishing long-term relationships with key suppliers to increase product and service quality and enhance competitiveness.
Mr Corbetta said: "Managing our vendor business relations efficiently allows us to compete effectively in the global market."
JFD has won many contracts recently across key markets.
"The number of diverse contracts we have clinched means we can retain the necessary talent to service all our current and future customer needs," Mr Corbetta said.
JFD has successfully completed rigorous trials on its new Compact Bailout Rebreathing Apparatus (Cobra) system, verifying its capability and performance to CE Mark status.
Cobra is the only commercial emergency rebreather system in the world to have been granted CE Marking status to Norsok U101 (Diving Respiratory Equipment) and EN14143 (Self Contained Rebreathing Apparatus), leading the way in diver safety and functionality. Cobra was designed and developed by JFD in response to a crucial need for bailout technology which can support the depth requirements and excursion durations of new generation diving operations.
In direct response to the larger diving operations which are being conducted in the North Sea, JFD completed an extension and facility upgrade at its National Hyperbaric Centre, taking its fixed hyperbaric reception facility (HRF) from an 18-man to a 24-man system. This new capability, alongside the advanced on-site medical support, makes JFD's fixed hyperbaric reception facility the most comprehensive facility in the world.
JFD recently took delivery of a portable 18-man hyperbaric rescue facility (HRF), in order to expand their hyperbaric reception capability offering offshore operators a practical solution when working in remote areas. The business has also just completed the build of its first Third Generation Submarine Rescue System, which draws together the best parts of all JFD submarine rescue systems manufactured to date with the end goal of driving down Time to First Rescue (TTFR) and further eliminating risk.
JFD hopes to experience continued growth having last month announced a further acquisition of diving and recompression specialist Cowan Manufacturing in Australia. By developing its global capability and responding to industry and customer requirements, JFD is leading the way at the forefront of subsea technologies and systems which enhance the standard of subsea safety.
Recommended for you

Pipelay vessel assists search for missing Titanic submarine