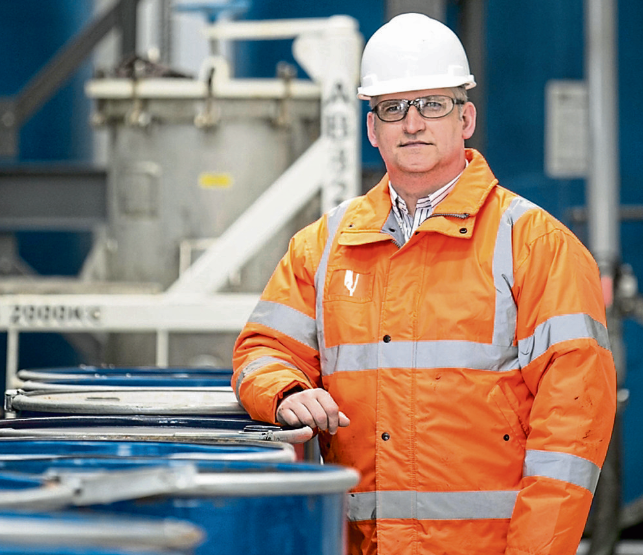 Investment in facilities and the retention of experienced staff has positioned Aberdeen firm Scotoil Services to take advantage of the growing demand for North Sea oil and gas decommissioning services.
Scotoil, a leading supplier of environmental process and disposal services, has operated Scotland's top onshore base for decontamination of NORM for more than 35 years.
NORM scale is a major issue for companies working on the decommissioning of oil and gas installations, as legislation demands that all equipment is decontaminated before disposal.
From its state-of-the-art complex near Aberdeen Harbour, Scotoil can clean and decontaminate all equipment using high-pressure water jetting.
Scotoil was taken over during 2014 by Tradebe, the largest hazardous waste company in the UK.
Scotoil holds multiple authorisations for carrying out work at Clipper Quay in Aberdeen Harbour, Smith Quay in Peterhead and South Quay in Montrose.
It means the company is authorised to cut large pieces of contaminated and non-contaminated equipment into transportable lengths so they can be returned to Scotoil's site for further treatment and recycling.
Managing director Craig Smith said the company's focus is to recycle as much of the subsea equipment as possible to help maximise the recycling and reuse percentage for its clients' projects.
Scotoil, which employs nearly 50 people, has pioneered an innovative approach to reusing concrete seabed mattresses from decommissioning, leading to a reduction in transport and disposal costs for its customers.
The firm worked closely with its partner NorSea Group. Both companies have formed an alliance known as NS Decom. Along with Peterhead Port Authority and the Scottish Environment Protection Agency (Sepa), it was demonstrated that the mattresses would not cause environmental harm.
With Scotoil's assistance, the port authority registered an exemption under waste management licensing regulations, giving it permission to repurpose more than 2,000 tonnes worth of mattresses for an infrastructure project.
Scotoil has been involved in some of the North Sea's biggest decommissioning projects in recent years, having worked on Maersk Oil's Janice field, Nexen Petroleum UK's Ettrick and Blackbird assets, and Shell's Brent programme.
Scotoil has provided major oil and gas companies with radiological protection supervision services both on and offshore, including baseline surveys, well workovers, process equipment cleanout and platform decommissioning.
Another string Scotoil has added to its bow is the provision of training courses on NORM awareness.
The popular courses provide hands-on experience in the use of detection equipment.
Furthermore, Scotoil can carry out waste analysis at its recently refurbished and expanded laboratory.
The lab boasts multiple gamma spectrometers and an alpha spectrometer to carry out radiochemical analysis.
Scotoil's chemists can also provide analysis data on heavy metals, total hydrocarbon content and flash test.
Other services offered by Scotoil include the repair, testing, sales and calibration of radiological instrumentation.
Mr Smith said Scotoil's highly skilled and experienced team and its best-in-class services had helped the company stay ahead of competitors.
Combined with innovative thinking and continuous improvement, this ensures Scotoil's clients' reputational risks are protected.
He said: "We went through a very hard time like everyone else during the last two years. But we put a plan into action to save money in the right areas. It is too easy to get rid of jobs in the supply chain.
"We've got people here with more than 20 years' experience. You'll never get that experience back if you make those people redundant.
"We knew that was important because we are a niche business. We kept the jobs and didn't cut wages. It has been a successful period."
Recommended for you
X

Score Training doing proactive work on emissions