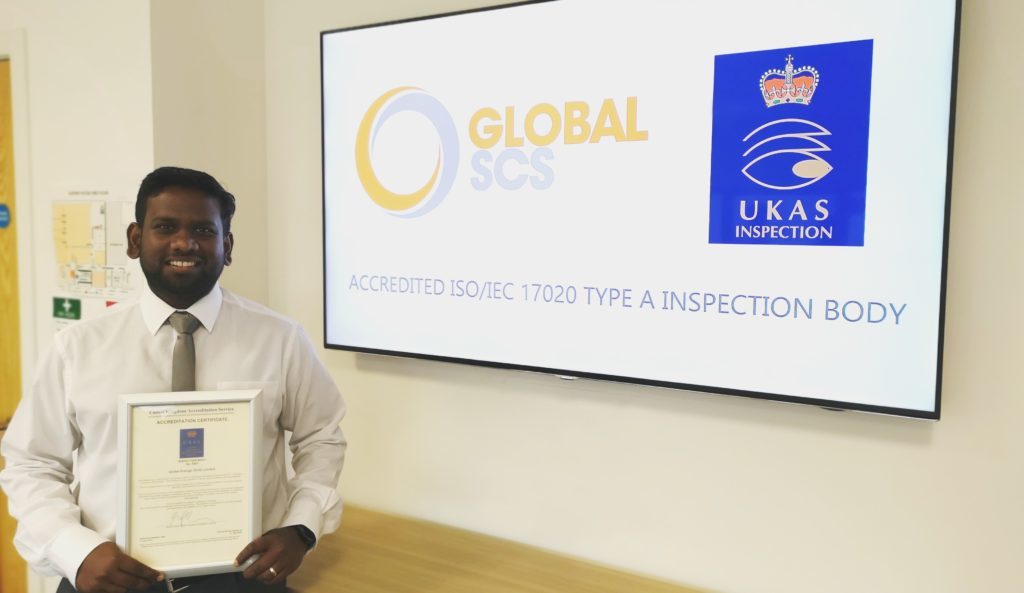 Global SCS' Design Verification team (headed by Arul Senthil) are delighted to have been awarded this important accreditation by UKAS(united kingdom accreditation
Service).
UKAS assessed the Aberdeen based business who are now certified as a type A inspection body as per ISO/IEC 17020 conformity assessment standard.
What does the accreditation mean?
UKAS provides ISO/IEC 17020 accreditation to organisations performing various types of inspection, surveys and risk assessments.
For SCS, the accreditation is associated with Offshore Equipment & Equipment Certification. Global SCS offer Independent verification of design, fabrication, inspection and certification of equipment against relevant standards and codes that include:
• The Offshore Installations (Offshore Safety Directive)(Safety Case etc.) Regulations 2015 SI No. 398 (OSDR).
• The Offshore Installations and Wells (Design and Construction, etc) Regulations 1996 SI No 913 (DCR).
• The Offshore Installations (Prevention of Fire and Explosion and Emergency Response) Regulations 1995 SI No 743 (PFEER).
Arul Senthil, Verification Services Manager, said: "The UKAS accreditation as a Type A inspection body is quite an achievement and a very important milestone for Global SCS. Accreditation helps lift the perceived barriers to entry to the verification and equipment certification market here in the UK.
"Getting accredited by UKAS – the appointed body for the United Kingdom, provides an additional assurance that we take the management of competency, impartiality and objectivity very seriously and that the quality of services offered can be relied upon.
"In addition, and due to the accreditation being recognised globally, it opens up new clients and markets for us to offer what we see as a credible alternative to our competitors. Achieving UKAS accreditation combined with the improving outlook for the oil and gas industry gives us an exciting time to look forward to."
Steven Dunbar, Global SCS Managing Director, said: "It has been a tremendous effort from Arul and all of the team in Global SCS to achieve such a major accreditation.
"This recognition by UKAS gives industry-wide assurance that Global SCS are an Independent and fully-functional "new option" for our customers in areas such
as Design Review, Pipe Stress Analysis, Container Certification and QA\QC Inspections etc.
"Having taken the lessons from what has been a prolonged downturn I believe the proven quality of services attested to by this accreditation, allied to our commitment to delivering these services up to 30% faster & cheaper than the more traditional companies in this arena, makes Global SCS a refreshing alternative in what has been a traditionally limited-competition market."
Recommended for you

Bureau Veritas Marine and Offshore supporting clients to transition