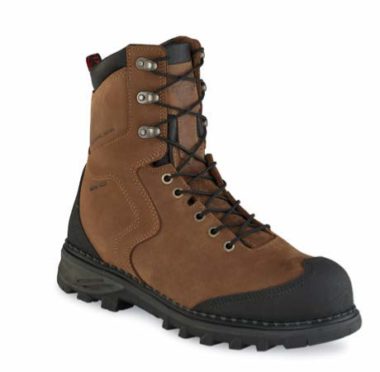 Red Wing Shoe Company offers a comprehensive and customisable assortment of head-to-toe personal protective equipment to keep workers safe and productive.
With a robust network of distribution and retail partners in more than 110 countries, Red Wing can ensure responsive service and peace of mind with expert assistance anytime.
Total Body Protection
Premium PPE solutions for the head, eyes, hands, body and feet
Owns the entire process to ensure top quality — from material sourcing through product design, testing, distribution and post-sale service
Solutions can be customised for special requirements
Industry-leading warranty coverage protects your investments
Global Reach
Distribution centres in USA, UAE, Scotland, Norway and the Netherlands to serve the energy industry
Factory, distribution centre and local fulfilment options to align with supply chain needs
Regional inventory ensures fast worker access to the fit and features they require
 Full-Service Partnerships
Dedicated local teams to help with PPE selection
In-region support gets the right answers fast
Most product issues resolved locally to minimise employee downtime
Local customisation capabilities reduce lead times and expedite delivery
Streamlined safety footwear management program
Red Wing for Business
Red Wing for Business is a new digital safety footwear program that helps safety professionals manage orders, vouchers and invoicing with unprecedented speed and efficiency. The simplified purchasing process gives workers access to digital vouchers, which they can use to purchase more than 250 industry-specific designs at any Red Wing retail store, on-site mobile shore store or authorised Red Wing retailer. No matter the size of the program, a safety manager can determine employees eligibility, match the right shoe with the right employee, and issue digital vouchers for employees to redeem at stores.
Retail and Ultimate Fit Experience
Workers can get the Ultimate Fit Experience at one of 500+ Red Wing retail locations. A Certified Fit Specialist will help define your needs, guide you through selection and fitting, and set you up with the right products to optimise all-day comfort.
Fleet of Mobile Shoe Stores
With more than 170 mobile shoe stores, Red Wing brings purpose-built footwear to employers on-site across the USA. Each truck is customised with inventory specific for the job site which is determined by the safety features and footwear assortment the company has identified. The truck is staffed with Certified Fit Specialists who will properly fit each employee, ensuring the
right boot is selected.
Cooling Innovations
CoolTech Athletics Safety Footwear
New CoolTech Athletics for men and women offer the look and lightweight feel of a sneaker with the protective features of a safety boot. Key components of these shoes include:
CrossBreeze 360-degree cooling system with conductive fibres that
move heat away from the foot and create an instant cooling effect
Vibram rubber sole offers best-in-class slip resistance
Agion anti-microbial treatment to combat odours
Nano composite toe cap offers lightweight protection
Boa lacing system creates a secure fit quickly
V06/V16 Series Vented Coveralls
The V06/V16 Series coveralls provide exceptional fit and function with mesh venting incorporated across the back shoulders and underneath the arms to aid in circulation. Additional features include:
Eight pockets and non-sparking zippers throughout
Double- and triple-stitched seams as well as bar-tacked stress points for enhanced durability
Fifty-millimetre reflective flame-resistant striping is available on the V16
Series to ensure high visibility and increased wearer safety
Lightweight Materials
Zero-G Lite
With the style of a sneaker, but the performance attributes of a work boot, the Zero-G Lite redefines speed, safety and comfort for the active worker. Due to a X-Lite Sole, styles range between 12.7 and 13.8 ounces, making the Zero-G Lite the company's lightest shoe without sacrificing safety, durability and superior performance for best-in-class slip resistance. An EVA footbed provides high-rebound cushioning at key strike points, controls odour and is sustainability made with recycled materials. A low-profile aluminium safety toe provides lightweight protection without looking like a typical safety-toe shoe. The Zero-G Lite collection will launch in fall 2019.
Premier Comfort & Flexibility
Burnside Boot
The Red Wing Burnside boot for men offers best-in-class safety performance attributes without sacrificing ultimate comfort. Handcrafted in Red Wing, Minnesota, the Burnside features a new Vibram outsole for excellent slip and heat resistance. A memory foam padding along the tongue and collar minimises pressure points around the ankle, and a four-layer removable footbed with polyurethane (PU) midsole, thermoplastic polyurethane (TPU) arch and gel pod heel strike create unmatched comfort and protection against abrasion. The direct attach welt construction allows for extreme durability and flexibility, while a Nano composite toe cap provides superior protection with less weight and bulk.
RED WING SHOE COMPANY SPOKESPEOPLE
Jim Bailey, Managing Director for the Americas
Tito Warren, Vice President of Global Sales & Distribution
Recommended for you
X

Airline boss urges 'level playing field' over taxes