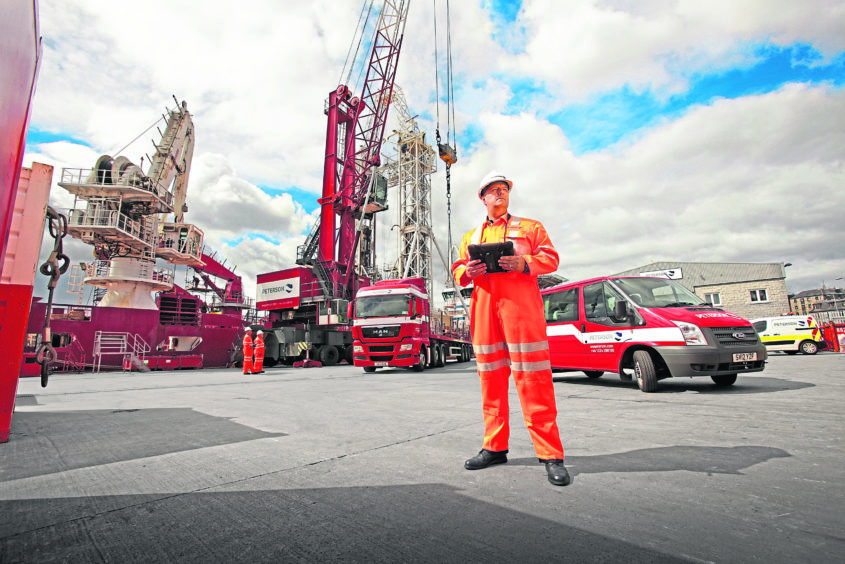 While the oil price is stabilising and some confidence to invest is returning, logistics and supply chain managers still face a challenge to deliver safe and reliable movement of material and personnel, in an efficient and cost-effective manner.
Outsourcing your logistics allows you to focus on what it is you do best – leaving us to do the same. Peterson has a vast array of skills, technology and experience across the energy industry and we are ideally placed to use this to your advantage, leaving you to focus on your core activities.
Technology plays a major role in increasing the efficiency and effectiveness of an organisation, and outsourcing the logistics of your business to a specialist provider like Peterson, which has a proven suite of industry-specific applications, can enhance overall profitability and deliver sustainable value creation.
An experienced logistics partner can manage all or part of these operations, ensuring your supply chain needs are met on time and to a high standard. Your partner can often provide the required expertise, people, capacity and technology needed to help reduce expenses, improve visibility in the supply chain, effectively manage it and achieve greater regulatory compliance.
There are a number of advantages to working with a specialist supply chain company, from engaging with an experienced local partner that can serve as your guide to a new market, to being able to tap into mature logistical infrastructure. That will allow you to easily scale up to reach new customers while keeping up with your existing demand.
This can be especially useful if you are expanding rapidly or working internationally, or hope to do so.
At Peterson we work in partnership with our clients to understand their supply chain, providing integrated and intelligent logistics solutions, calling upon specialist expertise in-house, to meet their specific requirements.
Whether it's 80:20, which can save you time and money by making your procurement more streamlined; Core29, which can revolutionise your operations by applying the latest digital technology to your business processes; Streamba, which provides a single source of truth for your entire supply chain, using the latest AI and machine learning capability; or Peterson itself, which provides core services from smart logistics to fuel and marine all around the globe, as well as freight management, customs consultancy and recruitment – your logistics challenges can be answered in one easy place.
Through our intelligent logistics applications, and control tower approach, Peterson can optimise assets used across the logistics supply chain. This allows Peterson to reduce product and transactional costs, including: inventory reduction; vendor storage consolidation; marine optimisation, including pooling, sharing and fleet reduction; shared shorebase; and onshore and offshore materials control.
Peterson's strong track record in optimising integrated supply base and logistics operation enables the development of long-term customer relationships globally.
Dedicated to customers, the company aims to understand your needs and build positive, open relationships. There is an emphasis on collaboration based on shared experience and mutual trust and the development of long-term partnerships to enable greater focus on delivering sustainable cost-saving concepts and systems.
Peterson's team of professionals works closely with clients to deliver an added value service that will allow all of your spend to be managed effectively. This is particularly relevant where resources are limited, thus allowing clients to concentrate on core commodities.
Real-time information and analytics are at the heart of the company's intelligent logistics suite, designed to provide both customers and the business with real-time, historic and predictive usage patterns, events and inventory. The range of interconnected, intelligent logistics tools and applications has been embedded across the global business enabling the efficient management of the supply chain safely, predictably and proactively.
With more than 50 years of experience providing energy logistics support, Peterson understands the bigger picture, and also the detail within. By offering both strategic expertise and tactical systems and processes, the company can help businesses meet their needs, whether they be the system-wide management of an entire logistics chain, the separate management of individual logistical functions, or even the single safe delivery of one precious item of cargo.
Recommended for you

Prax to buy out Total from Natref refinery