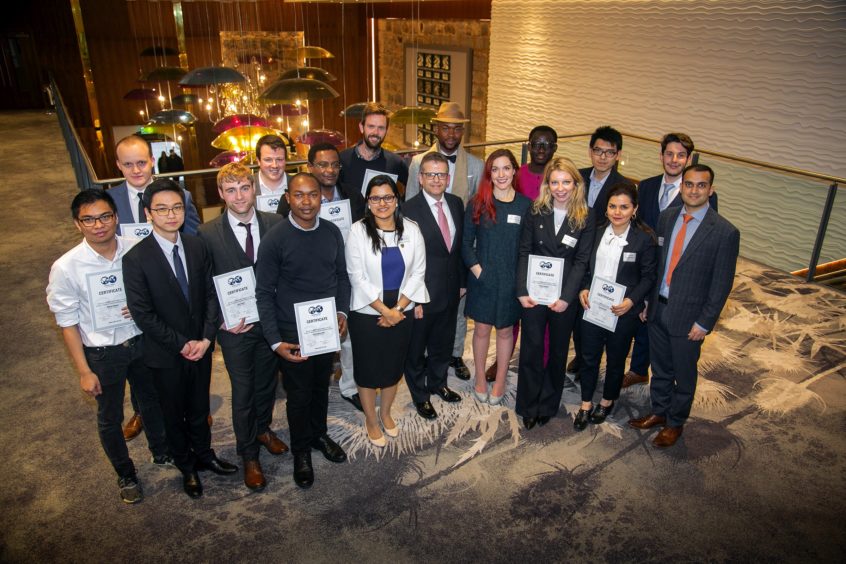 This month sees the launch of the Society of Petroleum Engineers (SPE) Aberdeen's annual student bursary awards with up to £30,000 available in total.
These awards are open to students studying a degree relevant to the energy industry, undergraduate or postgraduate, at one of the five Scottish universities affiliated with the SPE Aberdeen section – namely the Aberdeen, Robert Gordon, Dundee, Heriot-Watt and Strathclyde universities.
SPE Aberdeen continues its commitment to inspiring and supporting the next generation of industry professionals and this programme has been an integral part of the section's activities for more than 40 years. In the last 10 years alone more than £150,000 of financial support has been awarded.
The bursary programme was set up to support high-calibre students in their aspirations to achieve successful careers. Through the application process, students are required to show an intention to work in energy on completion of their studies, academic merit and active involvement in the SPE.
Based on the applications, a shortlist of candidates is invited to present their answers to a panel of industry professionals before the bursary recipients are decided.
Victoria Spooner, 2019 bursary award winner and PhD student at Heriot-Watt, said: "The award allowed me to buy a laptop powerful enough to run my simulations. This meant I could work more flexibly, home and away, which has been necessary as I've needed to be at home a lot to help my parents. I don't think I could finish my PhD thesis on time without this. The process of the awards itself was also really helpful. It put me in contact with some really talented students, in particular an MSc student at Heriot-Watt who went on to do a very high-achieving masters project with me."
The section's Student Development Committee is responsible for awarding the annual bursaries and also provides opportunities for the students to enhance their technical knowledge and professional competence through industry events and specialised conferences.
Viktors Stepovojs, 2019 award winner and current president of the student chapter at Aberdeen University, added: "Being part of the student chapter allows you to get involved with the industry at an early stage, equips committee members with necessary skills prior to entering the workplace and serves as a bridge between academia and industry. It is a fantastic community."
These awards are made possible through the support the section's events receive from the industry.
Kenny McAllister, chairman of SPE Aberdeen, said: "We are delighted that we have been able to continue running our student bursary programme, particularly through the uncertainty in the industry in recent times. SPE is a not-for-profit professional society and the sustained support of our members and the wider energy industry in Aberdeen and further afield, attending our events and remaining involved in our initiatives, allows us to fund support for students, encouraging our industry's next generation and future leaders."
Details of the application process can be found at spe-aberdeen.org
Recommended for you

Embracing Artificial Intelligence in education at ISA