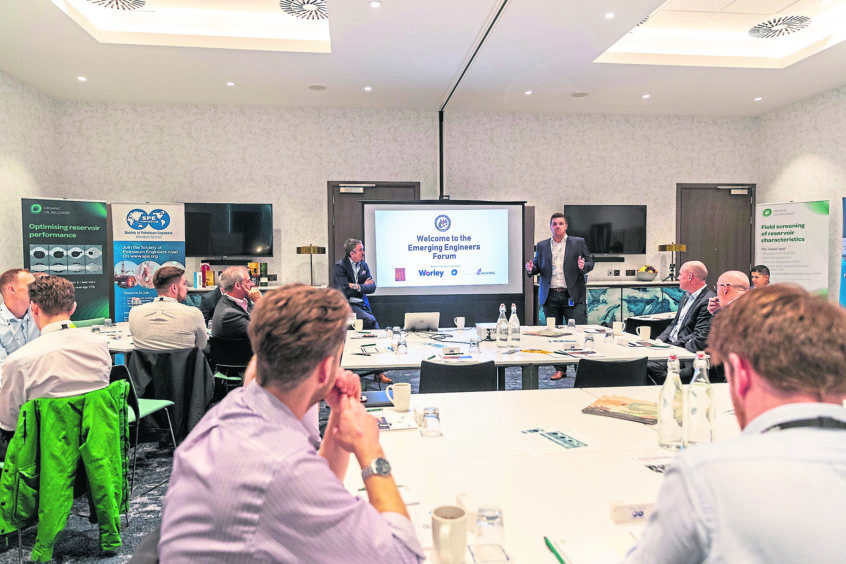 As momentum grows for Vision 2035 and the energy industry strives towards net zero, it is widely recognised that a key part of achieving this will be through the existing workforce; retaining and retraining will create a more flexible, multi-skilled and technologically-aware workforce.
We are clearly an industry in transition with exciting opportunities ahead. The SPE Aberdeen Young Professionals (YP) committee is very much aware of this and it is reflected in their programme of events over the last 12 months and in the months ahead.
For example, their Simplified Series provides a very useful and easy way to digest complex technical knowledge and hot industry topics, and keep up to date with emerging technologies. This year's series included presentations from Ana Pires de Almeida of the Oil and Gas Technology Centre, Sam Gomersall of Pale Blue Dot and Brenda Wyllie of the Oil and Gas Authority. While covering different topics, all three discussed achieving net zero emissions, the energy transition and the key role of oil and gas young professionals.
Interestingly, it has been estimated that by 2025 there will be about 4,500 people in roles that currently do not exist. Some of these areas include augmented and virtual reality, artificial intelligence, machine learning and big data analytics. Additive manufacturing is another emerging area and this will feature in the Simplified Series programme early in 2020.
Technology has always shaped the energy industry and Aberdeen has an excellent track record of identifying opportunities. SPE Aberdeen's YP committee is particularly keen to make sure technology developments and opportunities are shared. YPs heard first-hand from Cyberhawk about the increased use of unmanned aerial vehicles for asset inspections and more recently a TechTour from Safe InFlux gave them access to emerging highly disruptive technology – an automated well control system – before it is mainstream. Remotely operated vehicles will be showcased at the next TechTour, early 2020.
Technology is crucial but success is also dependent on people development, at all levels, but often does not get the necessary attention. Leadership is one factor that can make a big impact on outcomes. This topic was recently discussed by Carla Riddell, of Spirit Energy, at one of the YP Unplugged 360 events, where soft skills are the focus.
Leadership was also under the spotlight at the YP Emerging Engineers Forum held during Offshore Europe 2019. Young professionals were provided with a unique opportunity to meet executive-level industry leaders and gain insight into what is required for successful leadership.
Joe Sherratt, SPE Aberdeen YP committee chairman, said: "It is clear the energy industry is going through a major transition and to reflect this our events are aligned with national and global changes in energy demand, climate change and attitudes towards achieving our net zero targets. Our priority is ensuring that young professionals are best prepared for the challenges and changes to come."
All the YP committee's events are open to everyone and free to attend. Details of upcoming events are on the section's website (www.spe-aberdeen.org), with past event presentations available in the knowledge section.
Recommended for you

Offshore Achievement Awards: See the full list of winners