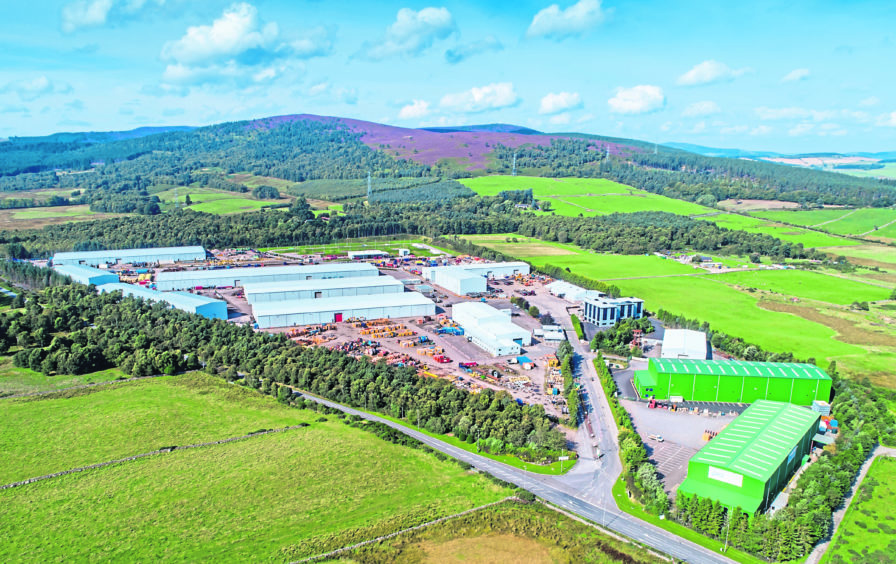 One of Aberdeen's longest-running family businesses, McIntosh Plant Hire (MPH), is ramping up activity having experienced an increase in enquiries across all its key service lines in recent months.
The business, which has been at the forefront of the industry since the beginning of North Sea oil, provides warehousing, storage, plant hire and heavy transport solutions.
It has benefited from the decision to invest back into operations during the oil and gas downturn – a time when many competitors were forced to make cuts.
MPH has invested around £5 million in new properties over the past five years, including a new workshop built in 2015, and £700,000 in new Nooteboom trailers and equipment purchased in 2018.
MPH and its heavy logistics and storage solutions divisions are all based at a 62-acre facility near Echt, Westhill, offering industrial warehouses, workshop premises, storage and distribution services adjacent to the Aberdeen Western Peripheral Route (AWPR).
The family-run business, which can trace its roots back to 1965, was formerly the largest earthworks contractor in the Grampian area but has since expanded to form a diverse business spanning storage, internal/external warehousing, heavy haulage, general haulage/transport and plant hire.
This includes a total of 16 buildings – one of which is 10,000m2 in size – as well as water-filled test pits for gas and hydro testing and cranes, including overhead gantry cranes, ranging from 25 tonnes to 110 tonnes lifting capacity.
Today, most of the company's warehouse space is taken up by oilfield equipment. With the arrival of several new players to the North Sea, it provides MPH with an opportunity to develop partnerships with these businesses.
Director Gary McIntosh said: "We are proud of the fact that we have managed to retain staff levels and continued to invest in our people, machinery and equipment over recent years. The decision to invest back into the business is beginning to pay dividends with increased demand for our services as we enter the new decade.
"As the market continues to recover, this ongoing commitment gives the business scope and capacity to take on additional contracts. We pride ourselves on providing flexible solutions to our customers, including short-term deals on warehouse space, and offering a complete one-stop shop service to make the process easier for our clients, whether they require warehousing, cranes or transport."
MPH, which employs around 55 people, works with clients across the oil and gas, renewables, transport, construction and agricultural sectors.
The AWPR has created new opportunities for the firm to expand by providing better, faster and easier access into Tayside, the central belt and beyond. With its team frequently working out of clients' operation bases in Peterhead, the opening of the AWPR has improved the speed and supply of goods and materials heading both north and south.
McIntosh added: "From an operational perspective, we have reported significant benefits from all our drivers in terms of time and fuel savings, but also by redirecting heavy traffic away from the city centre and other built-up industrial and residential areas, depending on the abnormality of the load."