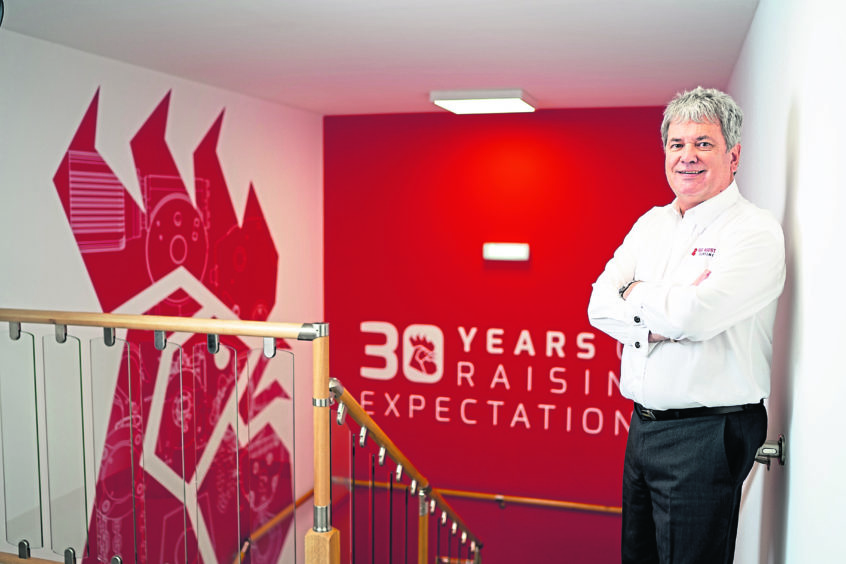 Aberdeenshire-based Red Rooster Lifting continues to be at the forefront of development within the lifting industry. Building on the demand for Red Rooster rental equipment, there has been a significant investment for 2020 in a range of bespoke designs offering customers the supply, rental, and servicing of the best-powered lifting and load measuring solutions in the world.
The new models include notable improvements such as higher speeds, higher duty ratings and robust safety features including built-in lifting points, load limiters and upper limits and they're certified for use in explosive atmospheres (ATEX Zone 2) as standard.
Most of the new TMH hoists are available Lubrication Free and can also operate with air pressure from 4 to 6 bar with a variable speed control. Red Rooster air hoists are 100% duty rated and can operate for prolonged periods without an excessive heat build-up in the hoist motor or gearbox, therefore avoiding periods of prolonged downtime during crucial operational periods.
The strength of the Red Rooster air hoist means there is always a solution, allowing the hoist to work in extreme cold, heat, sunlight, very dry or dusty conditions.
The range of TMH air hoists has been engineered for "cross hauling" and is suitable for working at angles to transfer loads or positioning them into location. The new TMH models have been engineered to operate at angles of up to 45 degrees from vertical. The hoists that are prepared for angular raising will have a "CH" at the end of the model number confirming its suitability for complex lifting, due to being robust and easy to control.
With health and safety of paramount importance, manuals are supplied giving further information on operation and safety which can be included in the site lift plan.
Managing director Bill Aitken said: "We have been supplying lifting solutions to the industry for over 30 years.
"Our focus for many years has been specifically the oil and gas industry but we now supply to an extensive range of clients in refineries, petrochemical, shipbuilding, mining, power generation, marine, construction and heavy engineering.
"Our skilled in-house design team design the equipment to meet individual client's requirements, manufacturing, and assembly. The testing of equipment is also all carried out in-house and we ensure that everything that leaves our workshop operates to a high standard."
Frequent investment in staff and equipment means Red Rooster Lifting continues to deliver the highest quality and safest equipment as well as maintaining the ability to react to demand, which is crucial in this fast-paced environment.
As part of its ongoing future planning, Red Rooster now works with many partners around the world, promoting the Red Rooster brand globally, in preparation for 2021 and Brexit when businesses will work towards building international trade relationships.
For more information about Red Rooster visit www.redroosterlifting.com
Recommended for you

Ocean Infinity continues deal mania with Red Rock move