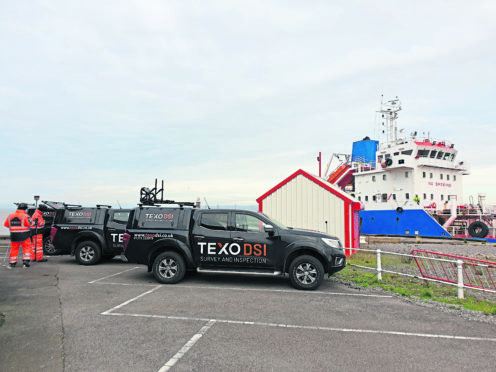 Texo DSI has delivered inspection and survey data offering unique insights to the owners and operators of a range of North Sea assets across oil and gas and the renewables energy industry.
Texo DSI's deployment of digital and hyperspectral cameras along with thermal and chemical sensors, captured via drones and fixed wing UAVs, has provided data and analysis beyond the reach of asset operators in timescales previously unimaginable.
James Arnott, head of operations and remote sensing, said: "Texo DSI was one of the first to deliver our unique data retrieval capabilities using drones in the market and demand is growing significantly."
Specialist applications available include LiDAR (Light Detection And Ranging) data, which delivers extremely accurate, high resolution 3D images.
Add to this the power of other technologies offered by Texo DSI, such as ground penetrating radar, which presents an accurate picture up to 5m below ground.
Texo DSI is active in the research and development of new technology that offers clients significant benefits.
"The sort of hyperspectral and 3D mapping technology we can now deploy used to be the size of a washing machine. It is now the size of a coffee cup," said James. "This combined with the drone means we can deliver a highly detailed digital map accurate up to 5mm accuracy in a 30-minute survey. Previously it would have required a crew up to a week without even coming close to some of the results we've seen."
Drones are nothing new – it's what you do with them that matters. Texo DSI also recently deployed teams in Aberdeen to support the training of pilots to learn advanced flying skills.
"Our advanced CAA permissions mean we can fly above, beyond and closer than any other operator in the UK in the most challenging and complex environments. It also enables pilots to send drones into confined spaces where you would rather avoid having to send people. One of the most exciting aspects of new survey technology is the positive and dynamic role it can play in creating safer environments," said James.
The firm works closely with its sister company, Texo Group, to offer data-led, integrated engineering and construction services across a range of markets, with operational bases in Aberdeen and the ports of Dundee and Blyth. Projects recently completed by Texo DSI include a visual and 3D Lidar survey of a North Sea platform from its flare tip to its spider deck.
Recommended for you
X

Putting decarbonisation plans into action