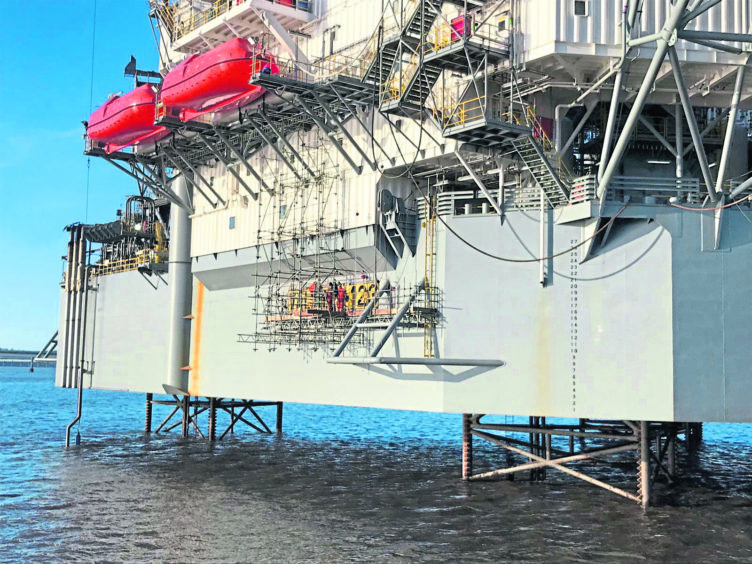 Texo Group has been delivering a range of services on Valaris 123 at the Port of Dundee including its rebranding.
A Texo Integrity+ team was deployed to fully rebrand the mobile offshore drilling unit (MODU) while quay side in Dundee. Valaris was forged by the merger of two leading offshore drillers, Ensco and Rowan. The rig, a familiar sight at Port of Dundee, was previously called Ensco 123.
A nine-man multi-disciplinary team replaced all former branding and numbering on the jack-up rig with "Valaris 123".
Repainting was required on a number of areas including all four faces of the derrick windwall cladding, hull signage on port, starboard and port-aft transom, the helideck and lifeboats.
The range of skills embodied in the Texo Integrity+ team kept the need for mobilising additional personnel and equipment to a minimum – saving time and money. The Integrity+ team offered rope access, welding, rigging and painting.
Texo said the post-project feedback from the client was outstanding, with Texo Integrity+ achieving excellent scores across the spectrum for the project delivery metrics.
Phillip MacDonald, Texo Integrity+ managing director, said: "The success of this scope would not have been possible without the strong leadership on the park. With challenging weather conditions, the excellent management of time and task allocation was critical to making this project a success.
"A big thank you to the OCS and the entire team for the safe and professional execution of works."
The project was an extension of work Texo Group has delivered on Valaris 123. Texo Fabrication, which has established a quayside facility for engineering and heavy fabrication at the Port of Dundee, joined forces with other Texo Group divisions including Texo Engineering and Texo Accommodation to deliver an integrated service offering which has transformed the rig.
Chris Smith, group managing director of Texo Group said: "This work on Valaris 123 represents what we do best – offering clients an integrated service that exceeds client expectations.
"The work we have delivered from our facilities at Port of Dundee has been a cross-group effort. We will have had a number of our business units involved in this prestigious project including our Engineering, Fabrication, Integrity+ and Accommodation teams.
"These teams represent some of the most experienced leaders in the industry.
"Texo Group's integrated service offering has been forged by bringing in people that we believe are some of the best in the business.
"Phillip MacDonald and Texo Integrity+, Gary Mitchelson at Texo Fabrication, Richard Lamb at Texo Accommodation and Scott Fraser at Texo Engineering are a tight unit offering innovative, cost-effective solutions to a range of our customers.
"Undeniably, the industry is now entering a highly challenging time. Texo Group was formed in a low-oil price and low-capex environment, and we will continue to support clients with safety and integrity at the fore as these conditions remain."
Texo Group, with sister company Texo DSI, offers a multi-disciplined integrated asset management service to a range of industrial sectors. The fast-growing group has integrated a series of recent acquisitions, bringing in leadership with decades of experience to form its core divisions, including Accommodation, Engineering, Fabrication, Integrity+ and Resources, alongside Texo DSI.
Recommended for you

Investing in people key to TEXO Recruitment's ongoing success