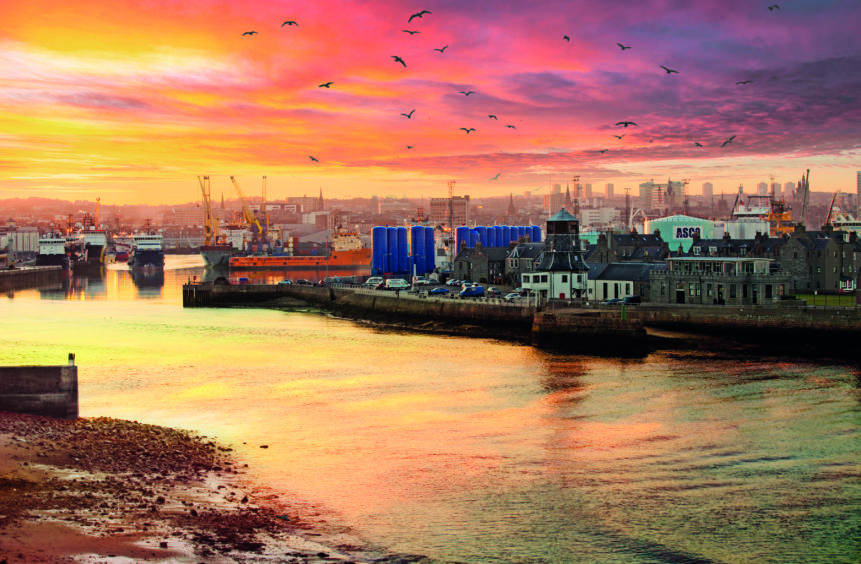 Covid-19 has had an unarguably dramatic and far-reaching impact on everyone, and on organisations of all types – we have all felt the effects of lockdown and the economic slowdown. However, even as we saw a fall in revenue at the port due to reduced oil and gas activity and fewer ferry sailings, the pandemic brought out the very best in our employees, stakeholders and customers.
The need to keep goods moving and business running has never been more important. And the combined efforts of all our stakeholders demonstrate their unwavering dedication to ensure that Aberdeen Harbour continues to play its vital role in the success of our region.
The pandemic has also had a visible impact on progress at South Harbour, as lockdown impacted our work schedule, and played a key role in the joint decision by Aberdeen Harbour Board and Dragados UK for Dragados to leave the project.
Again, faced with this challenge, the harbour team has displayed tremendous determination in its response to what was an unprecedented situation. The agility of the project team to regroup, reorganise and redevelop its strategy to deliver has been remarkable. I was thrilled to announce the first contract award of the new phase of construction a fortnight ago and procurement for the remaining works is underway with further announcements to follow.
The positive attitude displayed by all in building our way out of adversity is pushing us forward at pace. We remain focused and undeterred in our purpose. We have set a course and made our aspirations known. There has been no clearer indication of this than in our new, refreshed brand.
We have been a Trust Port for over 900 years and have made it that far by continuously adapting, innovating and evolving. Our new identity signals the next stage of our evolution. It reflects our changing outlook and aspirations and encapsulates our creative and collaborative approach to driving business through the use of contemporary digital experiences.
Our brand embodies our core values of being dynamic, professional, and respectful, whilst reflecting the strategic enablers that we offer to the business community: quality, innovation, and sustainability.
Our philosophy and commitment to enhancing our customer experience in the digital and operational space not only symbolises our confident view of the future, but also reflects our unshakeable belief in what we are creating. Aberdeen Harbour is a central, and vital element in the region's ambitions to become a recognised, world-leading Energy Transition Hub. Our aim is to deliver green port infrastructure at scale, acting as an enabler to other industries, including the oil and gas and maritime industries, in achieving their net-zero targets. We also want to become a national test site for the development and supply of low carbon fuel solutions, including electrification and hydrogen, whilst supporting the circular economy in action.
Adding to this the complimentary development of the Energy Transition Zone adjacent to our South Harbour development, and our own green port initiatives, and our ambition to become one of the greenest ports in the UK becomes all the more attainable. We're one of only two Eco Ports in Scotland, but we want to take this further and have our hearts and minds set on becoming a centre for ideas, putting Aberdeen firmly on the map as the home of energy transition.
We're moving into a new, post-pandemic world. One with challenges, opportunities and unknowns. There are challenges in knowing what international trade will look like after Brexit but there are opportunities in new global shipping routes opening up. Layer on the commercial opportunities that could be inspired by a potential Freeport application, and it is clear that the future holds great potential.
Aberdeen Harbour is at the forefront of our region so with the right support and facilities, a clear direction and set of ambitions, we can transform ourselves into an international green gateway for Scotland, open to a new world of possibilities. Our ambition and ability are in perfect alignment. A prosperous future is straight ahead of us.