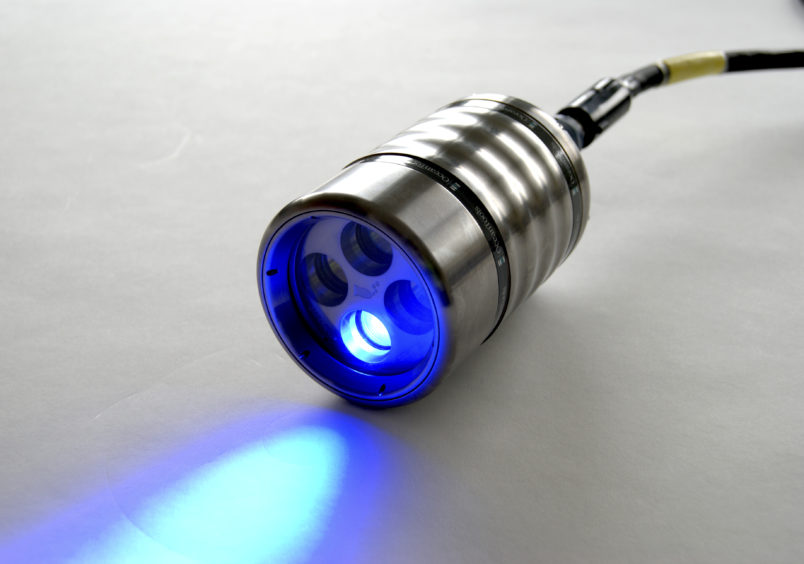 When OceanTools initially set out to develop a world-leading dye detection system, it was determined to create the best possible solution to introduce to the industry.
By connecting its in-house skills with world leaders in optical technology, OceanTools could offer its clients a ground-breaking development.  Thangavel Thevar, Nicholas Burns and their colleague, emeritus professor John Watson of Aberdeen University, acknowledged leaders in this technology, were influential in the development of the new instruments now available globally.
With an accelerated development program, the DyeTector range of optical detection systems emerged just six months later. The DyeTectors use advanced, optical techniques that shine an intense, focused, light onto a dye, causing it to fluoresce. The fluorescence is then detected by a sophisticated detector unit with the ability to identify light down to single photons.
A dye may be added to leaking subsea infrastructures and control systems with the leaks detected either by remotely-operated vehicle (ROV) or by a diver. The systems have the ability to rapidly detect even the smallest of leaks – just a few parts per billion – therefore saving money and protecting the environment.
Additionally, the DyeTectors have the capability to detect the presence of cement returning to the surface during offshore drilling operations. This detection leads to operational and cost efficiencies by saving significant hours of rig time as well as reducing costs due to using less cement.
"The market response to the DyeTector range has been fantastic and we are delighted to have already sold, and secured rental contracts, for systems globally including Australia, West Africa, Azerbaijan and Houston" said OceanTools managing director Kevin Parker. "The Feedback from our customers has been extremely positive and we have received nothing but praise for the DyeTector system".
In addition to advanced leak detection technology, OceanTools produces some of the finest subsea cameras and lighting systems.
The product range is in high demand with customers in all regions of the world. The company recently supplied units to the US, Sweden, Singapore and Australia.
The OceanTools subsea design department has also seen increased activity designing deepwater pressure housings for organisations as varied as the National Institute of Ocean Technology in India, Proeon Systems in Norwich and, completing the circle, to Aberdeen University.
To drive growth and enhance market resilience, OceanTools invested heavily in CNC machinery at the height of the Covid-19 crisis.
"While others were considering reducing the size of their workforce, we decided to aggressively pursue the opportunities that presented themselves" added Parker. "We are delighted this growth strategy has created new job prospects and has resulted in a 50% increase in our workforce".
Further details can be found at www.oceantools.co.uk
Recommended for you

Aberdeen subsea firm OceanTools to play key role in tsunami detection efforts