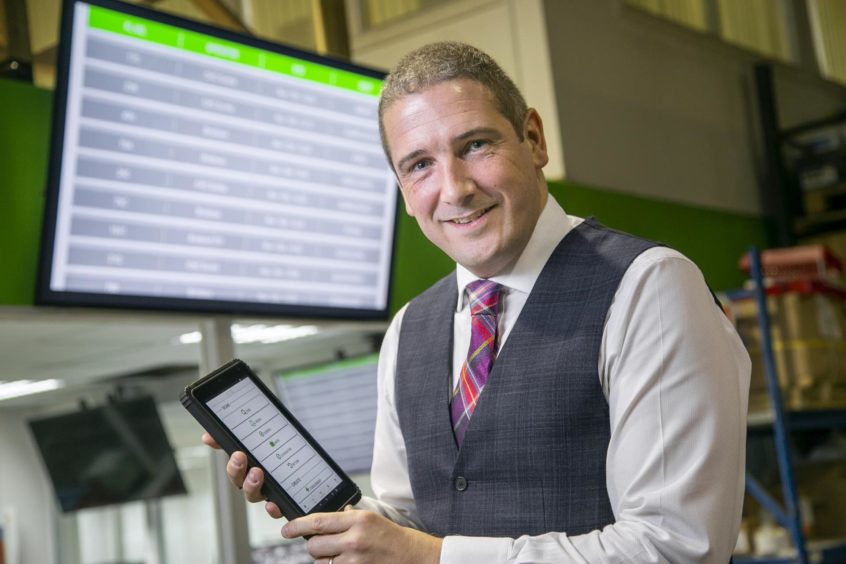 The transportation of goods offshore is to be revolutionised with a new system for managing helicopter freight which has been developed by ACE Forwarding (ACE) and is currently being deployed.
ACE Heli-Freight Manager will allow the client to track the delivery of vital oil industry equipment in real-time, dispensing with the need for numerous phone calls and emails between supplier, warehouse, heliport and platform to ascertain current status, as has historically been the case.
The bespoke software package will improve safety as well as efficiency by helping offshore teams prepare risk assessments in advance of a helicopter arriving through having early access to cargo details.
ACE Heli-Freight Manager is the brainchild of Ed Arnott, 45, business and commercial director with ACE Forwarding, and took 18 months to design and test.
He said: "It may seem hard to believe, but people ordering goods online at home are often better informed about the transit journey than offshore teams awaiting production or safety-critical equipment.
"Typically, a freight company receives delivery from a supplier and has to match it to the authorisation sent from offshore – there are lots of opportunities for misplacement and delays in the process.
"Clients have their fingers crossed that when they open up the helicopter boot on the offshore helideck that everything they have been waiting for is there.
"We believe that they deserve a better, more modern service, which is why ACE Forwarding is doing away with clunky paper processes and created our bespoke piece of technology.
"Documents, photographs, consignment status and, importantly, safety cargo handling warnings are readily shared with the client's team in real-time and in advance of the helicopter's arrival."
Having provided resolute support to clients throughout the Covid-19 pandemic, around 35 tonnes of heli-freight is transported offshore every month by ACE Forwarding's specialised team.
Freight is X-rayed, screened, and documented before it can go anywhere near the aircraft.
Most of the current process is completed offline, giving limited visibility to the client during the planning and activity phases.
However, every piece of freight handled by ACE Heli-Freight Manager will have its own QR Code, allowing full tracking and visibility as it passes through the ACE system. The system has a client portal into which they can input their own updates or messages, promoting live, two-way communication.
Flight check-in details are displayed on e-boards throughout the ACE warehouse and simple colour-coding is used to provide immediate visual notification to the heli-freight team to ensure timely freight dispatch to the heliport.
The process will be managed by ACE logistics staff utilising rugged tablets toughened to withstand damage if they are dropped and the rigours of a warehouse environment.
Ed said: "Most heli-freight is urgently required offshore, and this lack of visibility generates anxiety for the client and additional work for all by way of emails and calls to gain assurance.
"With our system they know exactly what has been delivered to ACE, what it looks like and whether the freight will make the required flight check-in.
"By updating key milestones, we ensure clients have access to the information they require to maintain offshore operations and perform helicopter unloading duties in a safe and controlled manner."
He added: "We have made a substantial investment in ACE Heli-Freight Manager because we want to provide the very best service to our clients and deliver this significant enhancement which will be available at no additional cost.
"ACE recently celebrated 25 years in business and it seems fitting that we mark that company landmark by continuing to push the boundaries of efficiency and safety through innovation and evolution of our proven performance."