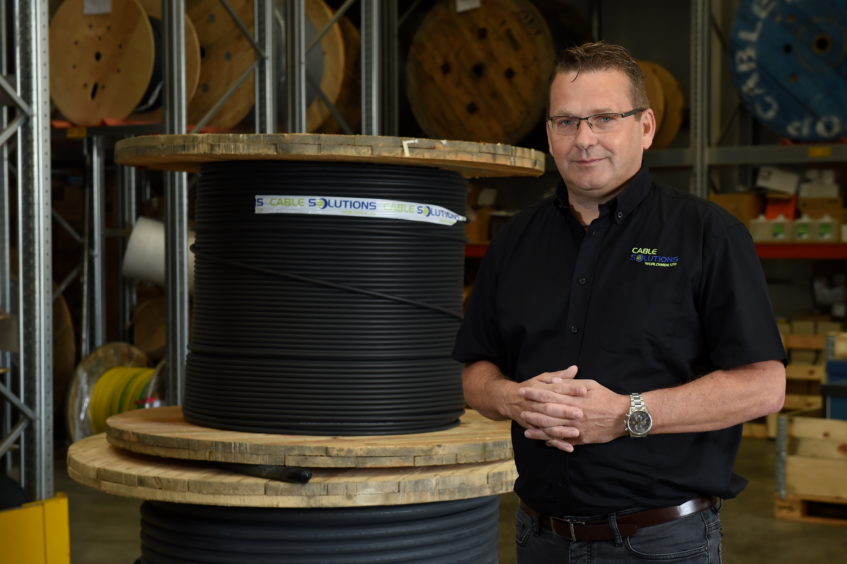 "The oil industry has got a terrible habit of playing itself down when in reality it, and Aberdeen specifically, has a load to offer. We've been through things like this before and if there was a more positive attitude I think we'd be in a much better place."
Colin Fraser, managing director and co-founder of Inverurie-based cable and wire distributor and service provider Cable Solutions Worldwide, is determined that it will be the way in which they emerge from the latest oil price downturn that will define the business.
And with a focus on expanding and restructuring, as well as investing in the firm's products and people, he's confident that they're in a position to thrive in the coming years.
The firm, which provides and creates bespoke cables for the oil and gas industry, has remained operational during the whole of the pandemic and has begun eyeing up new business opportunities at home and overseas.
Fraser explains that his drive over the last few months has been to ensure there aren't any redundancies, something he's achieved by making small changes to increase profitability.
He said: "I'd be lying if I said the last few months haven't been a struggle. We had a sales meeting recently and the message to the team is that things are a lot tighter.
"Business has dropped off 40% and even though we're seeing some shoots of recovery, especially in the Middle East, North Africa and Norway, everyone is saying it's not going to be until the second or third quarter next year before things really get moving.
"Earlier in the year we had a couple of workers on furlough but we took them back early because we didn't want people to be concerned or nervous about losing their jobs. We actually noticed that, bizarrely, business increased as a result, which just shows what effect being positive can have.
"As a small local company based in Inverurie, we're a tight knit team and it's key that we don't lose anyone – that's why we've been so focused on looking after our costs."
Since setting up Cable Solutions Worldwide in 2003, Fraser has got used to overcoming challenges.
The last downturn in 2014 was followed by the death of his business partner in 2015, resulting in a "disastrous" year for the company.
But Fraser thinks they're in a better and more stable position to build for the future this time around.
He said: "The company is now 17 years old – we've been through four downturns now and every time we come out the other side stronger.
"We have one of the biggest stocks in Scotland and we're looking to work with local energy firms, as well as continuing to expand our work overseas.
"We're very customer and service focused, something that we've built our reputation on, and we've got a loyal and dedicated staff base."
As part of efforts to ensure continued profitability, Cable Solutions has been working closely with Scottish Enterprise and this year it was chosen by the economic development body to help with globalisation.
And with resurgences of Covid-19 and lockdowns likely to be a feature of the international picture for a while, Fraser thinks casting their net wide will be crucial.
He added: "At the beginning of the pandemic we began working with Scottish Enterprise and they've helped us make more links internationally with the help of the GlobalScot Network.
"The products we've got can be used throughout the oil and gas industry which has allowed us to build up client bases in the Middle East, Algeria, Tunisia and Egypt.
"We've taken every step to make sure this downturn hasn't hit us as badly as the last – If we'd been the same company we were in 2014, I don't know how we'd have survived it."
Not content with making inroads into new countries, he also explains they're beginning the process of targeting new markets.
Fraser said: "A huge opportunity has opened up for us to move further into the marine market which will help to diversify our business.
"We're being supported by one of our key supply chain partners who are providing significant support on inventory and payment terms, adding 30% to our inventory without the burden of huge upfront costs.
"It's a great opportunity for us to get a foothold in a market that is still buoyant."
With so many irons in the fire, Fraser is confident Cable Solutions will be able to hits its main goals of retaining staff, growing its client base and diversifying its offering.
He added: "All of this means the company should grow organically in the next few years and our unrivalled group of staff, with decades of experience in cable distribution, put us in a great position to make sure that happens.
"Another unique aspect of our business is we offer clients in-house CAD designed bespoke cables, specifically for the subsea and aquaculture sectors. With a turnaround of around three weeks, this sets us apart from the rest and ensures we can meet companies' requirements, no matter how niche the request.
"Despite all the changes currently going on in the world, Cable Solutions is still open for business, with Covid-19 measures in place, of course, and we're committed to building on past successes in the coming years."