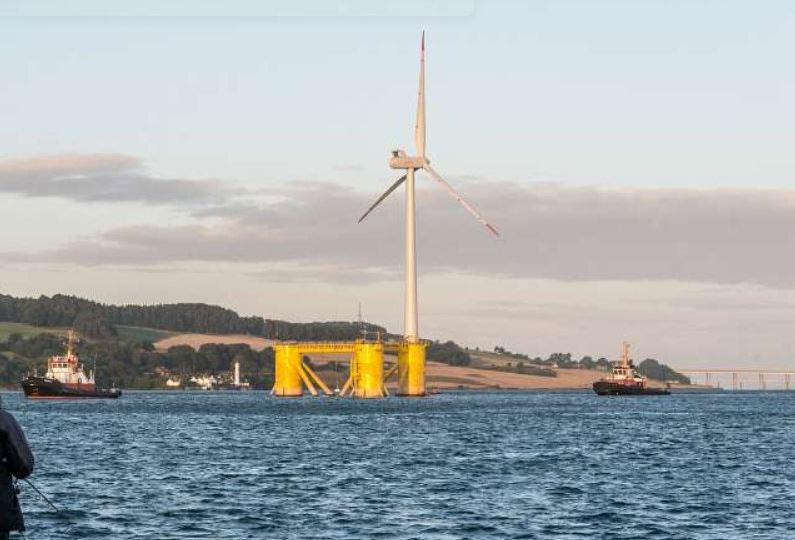 The recent announcement by the Prime Minister Boris Johnson on his plans to drive renewable growth and make the country a world leader in offshore wind may be a turning point for the UK in seizing the opportunity to lead a low-carbon transition.
This funding will be particularly relevant for the development of floating offshore wind, with a target set for 1GW to be produced off the UK by the end of the decade.
Last month, speakers at the jointly organised RenewableUK/Scottish Renewables Floating Offshore Wind event expressed positivity around the opportunity for growth in floating offshore wind in the UK. However, there will need to be significant improvements and investment into port infrastructure to make this growth happen at scale.
The UK Government's £160 million port infrastructure fund falls short when you consider the costs involved in developing offshore wind but it's a start.  As it stands, no Scottish ports could fully support the work associated with floating offshore wind. Substantial investment, around £200m at least, will be needed if we want Scotland to be a leader in this field and compete with ports across Europe. The port infrastructure fund is only the beginning of the long-term support needed for this transformation.
There are also many technological unknowns in floating offshore wind due to the limited number of live projects in operation. However, we are already taking the first steps here in the north east with several leading global projects making significant progress.
Kincardine, which is under construction 15km off the coast of Aberdeen, will become the world's largest floating wind farm with a capacity of 50MW. It was also encouraging to hear about the Dolphyn project, a pioneering wind-to-hydrogen concept that will be trialled on the Kincardine wind farm from 2024.
We are supporting our membership with their developments in floating offshore wind. Apollo, an AREG member, was recently appointed to support the development of Bombora's floating mWave device, a wave energy converter that can be applied to a floating offshore wind platform. Another AREG member, energy consultancy Xodus Group, recently launched a three-year collaborative research project on the costs associated with floating offshore wind and has issued an open call to developers and technology suppliers to engage.
At this early stage in the development of floating offshore wind, there is much that we can learn from other markets. For example, Equinor's 11-turbine Hywind Tampen project in the Norwegian sector of the North Sea is set to supply one-third of the global floating offshore wind capacity. I'm pleased to say that Equinor will join us to present at our next AREG webinar on November 24 to provide an insight into the operator's future plans.
The commitment to these targets as set out by Prime Minister Johnson has already come into question with the delay to the next UK offshore wind round by the Crown Estate, and final awards moved from 2021 to an expectation of spring 2022. Thankfully ScotWind will not be impacted.
In the coming months, AREG's priority will be to fight for every penny for our region, ensuring that Aberdeen gets its share of the £160m for port upgrades. We look forward to engaging with supply chain and government to make progress towards these targets and ensure that our region leads the way in this transition.
Recommended for you

UAE's Masdar buys into £11bn UK wind farm