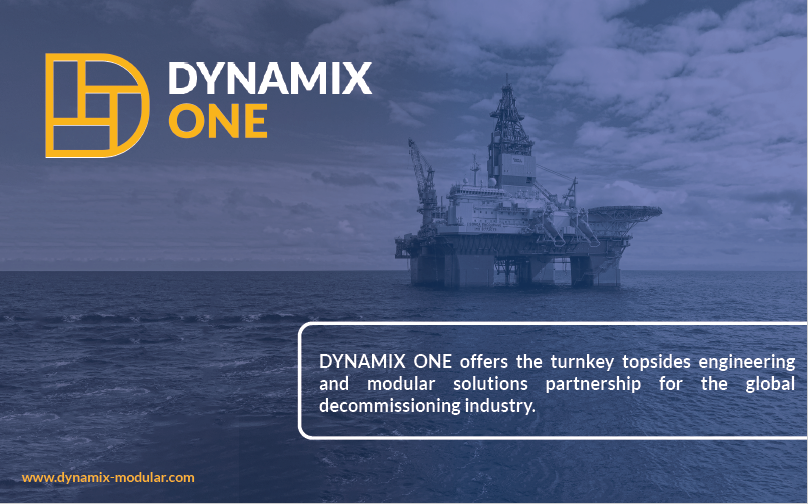 As more fields wrap up production platforms, many of which have been operational far beyond their expected lifespans, the team at DYNAMIX One is finding that the decommissioning industry is in desperate need of cost-effective solutions to return the surrounding area to its natural state.
Since launching in 2015, DYNAMIX One has set out to offer an improved service for topsides removal programmes. After discussions and research in partnership with a major operator, we established that their main concerns were around costs and schedules.
Taking these valuable insights, we formed vital partnerships, which brought together local industry knowledge to build the right teams at the right times for decommissioning projects.
Our goal is to ensure costs are kept low and the lifecycle of the removal programme is developed through a structured process, including utility and process separation, detailed engineering and resources, risk management, engineering of temporary facilities and interface management.
The DYNAMIX One Solution
Decommissioning is a long and complex process beginning 5-10 years prior to cessation of production with early-stage survey and conceptual engineering ensuring that optimal topside removal solutions are found for the client through evaluation, risk assessment, and conceptual appraisal creating an innovative strategy for the decommissioning process.
Front-end engineering and design aid the development of the schedule and estimated costs and lay out the scope of work for the decommissioning process. This is complemented by detailed reverse engineering which prepares the topsides and orchestrates their removal from the top down. Our projects are delivered by a strong multi-disciplined team of engineers to deliver a full service to our clients.
As part of our solution, we can provide accommodation solutions during living quarters removal because we understand that the welfare of a client's personnel is important. In addition to accommodation and welfare, critical modular life support systems and packages are possible, alongside bespoke, made-to-measure lifting frames and baskets for redundant equipment that fully complies with offshore lifting standards.
DYNAMIX One, through the arm of its Decomm Modular business, is fully committed to delivering both safe and cost-effective projects and solutions of the highest quality to our clients and partners, including pursuing UKAS ISO 9001-2008 accreditation as our quality management system.
To find out more about our products and solutions visit our websites at
www.dynamix-modular.com and www.decomm-modular.com
Recommended for you

Aker Solutions scoops £250m platform contract for Shell's Jackdaw field