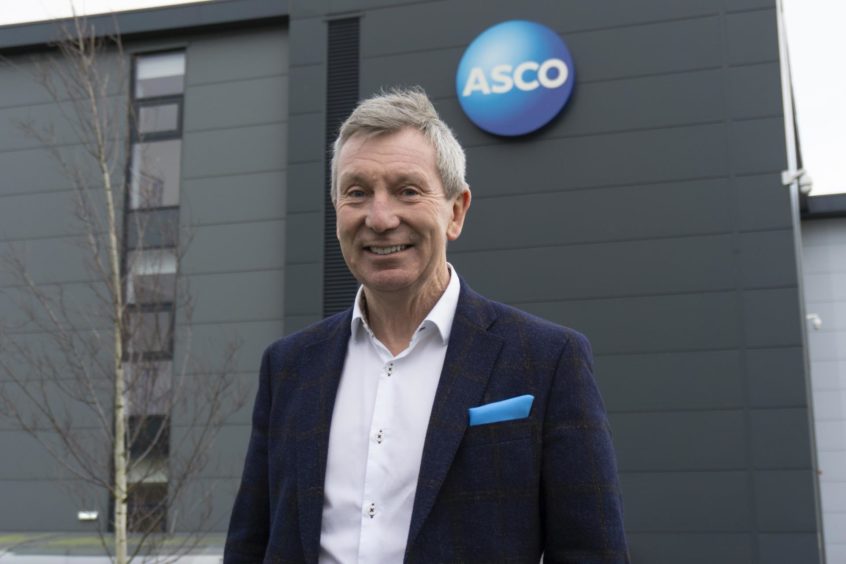 As I reach my first anniversary in the role of Head of Waste and Decommissioning with ASCO, it seems like a good time to take stock of our decommissioning capabilities, reflecting on what has been and what is to come. There's quite a bit to reflect on, as ASCO has been active in decommissioning for over 10 years, having been involved in over 50 separate projects – but have we really promoted that fact enough? Possibly not yet…
However, if we consider the OGUK's Decommissioning Work Breakdown Structure (WBS), which defines the decommissioning journey, it's clear that ASCO plays or can play a significant part in most projects. What is clear to me is that ASCO has built an impressive late life/decom skillset and now has proven track record in successfully supporting the sector in the 11 distinct WBS workstreams – but has yet to fully communicate the ASCO "decom package" to the marketplace.
Now is the time to do so and it's clear that ASCO's involvement in decommissioning is much more comprehensive than simply "waste management". Most of us in the industry are aware that decom sits in a complicated landscape. Getting a simple, effective message out to the target audience is easier said than done, and success in that respect really needs clear and consistent communications between all involved parties.
The same is true from an internal perspective. Does each department understand its colleagues' decommissioning capabilities and track record? For example, our Fuels, Marine, Logistics, Waste and Materials management service lines are all involved in the decommissioning sector. By joining the internal "dots", we were able to illustrate just how comprehensive our decommissioning capabilities are and how, together, they are capable of addressing the fundamental objectives of decommissioning: safety, cost-efficiency and collaboration. In other words, ASCO's decommissioning expertise – which include working with others in the service sector to offer a flexible and comprehensive service to this market – can offer real value to our customers.
More to Waste Management than Waste
50 years of oil and gas activity means that ASCO has an existing relationship with most of the operators, Tier One suppliers and specialist contractors active within the decom space. This familiarity with our clients' processes, procedures and systems alone can help ensure efficiencies across all decom activity. However, whether the relationships exist or not, it is absolutely critical to engage the supply chain at the right time – the earlier the better.
The sooner ASCO is involved in the planning stages of late life and decom, the more likely our support can help limit project costs as these examples demonstrate:
Early stage assessment of suitable geographic locations for decom activities and consideration of sailing time, port constraints and marine costs are all critical features of cost minimisation and ASCO's experience in these services has been a valuable element of such considerations in a number of projects. Our ability to work with suitable port locations around the UK is testament to the fact that our services are market-driven and provide the necessary flexibility to meet the overriding objectives of any decom project.
Additionally, our materials management technology proves invaluable when it comes to late life inventory of materials. By identifying all available materials, the asset owner can ensure that re-use and recycling are key components of the decom process. The potential to re-purpose
decommissioned asset material is vast; far greater than most currently imagine. Partnering with companies with specialist reverse procurement skills, as well as reuse and recycling capabilities, creates a true value-add service to operators.
We have also spearheaded a Zero Waste to Landfill initiative, providing safe, sustainable and totally transparent waste disposal models in collaboration with local supply chains across the UK; encouraging all companies operating in the offshore environment to safely and sustainably manage materials, reducing waste production and encouraging cost consciousness. This isn't an initiative specifically aimed at the decom market, but it's easy to see the synergies between the two.
We're changing the mindset that there is little value in waste and working with industry partners as much as possible to extend that offering. Let's face it, any decom activity that not only increases environmental credentials but also results in cost-savings has to be considered as a smart move.
Decommissioning? Certainly!
Bringing cost certainty to any decommissioning project is another, increasingly popular means by which to support the OGA's cost reduction target. Again, early engagement brings the best results. For example, engaging our Fuel experts as early on as possible in the planning process will provide certainty around those costs.
The same stands true for our Project Management service. Given that there are at least 20 different strands to a decommissioning project, a single point of project management is of clear value when it comes to efficiency across a wide range of services. Once again, this is where ASCO can continue to drive down the decommissioning costs. How operators engage with the supply chain is highly variable, based upon each operator's own processes; our track record means that we already understand those processes, instantly streamlining activity and communication, whilst enhancing results across the board.
What Does the Future Hold?
Latest estimates point to the UK sector being the most significant decom market for the next 10 years. Looking further into the future, other areas of growth include the Norwegian decommissioning market, which is a few years behind its UK counterpart in terms of timescale. Our experience in the UKCS, coupled with our Norwegian logistics bases where we deploy transformative digital technology, indicates an area of significant potential opportunity and where the lessons and partnerships built up in the UK sector will have similar validity .
We've completed several decom scopes during 2020, and the enquiries and prospects for 2021 and beyond are the highest we have seen. In our opinion, this has to be taken as a good sign for the decom sector as a whole and, in common with many of our industry colleagues, we've found that remote working has actually opened up channels of communication for the better. The work done by both Decom North Sea and OGUK in hosting webinars and facilitating discussions has played a key part in this development. We look forward to playing our part in ensuring both of these organisations continue their successful support of the decom sector.
For ASCO itself, we look forward to playing a growing role in decommissioning, both in our own right but also working with others to ensure that the fundamental objectives of safety, service delivery and cost effectiveness can be achieved in this hugely significant sector.
There's an appetite for ASCO's late life and decommissioning services at what we believe to be an exciting time for the sector and as we ensure that those services are better understood we look forward to what the future will bring.
Recommended for you

Ashtead Technology acquires Ace Winches for £53m