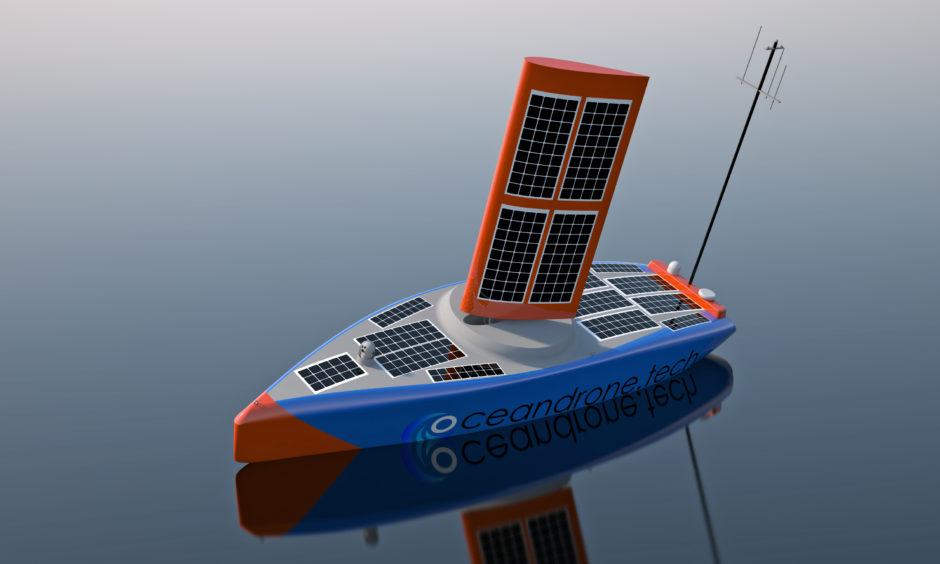 It may seem an unlikely link but advances in racing sails have given a team of marine robotics experts at Innovo inspiration in their quest to help reduce carbon emissions from some vital energy industry activities.
In spite of the 'perfect storm' of low oil prices and the upheaval created by the COVID-19 pandemic, the energy industry is gaining momentum in the transition from hydrocarbons to renewable sources of energy.
Many would argue that the crises of recent years accelerated the willingness in the oil and gas industry to embrace new technologies as a means of producing cleaner energy.
Offshore renewables, a significant piece of the sustainable energy jigsaw, requires inventive technology to fulfil its potential.
Two significant causes of emissions that the offshore oil and gas and renewables industries share are surveys and Inspection, Repair and Maintenance (IRM) tasks, the latter market being worth an estimated £644 million globally in 2020.
Route surveys of existing or planned umbilicals, pipelines or submarine power cables, and inspection, maintenance and repair tasks at offshore renewable and oil and gas facilities, are carried out by Autonomous Underwater Vehicles (AUVs) or Remotely Operated Vehicles (ROVs) which are normally tracked by large vessels. The tracking vessels create pollution as well as being crewed by personnel who need to transit to and from the vessel, adding to the carbon footprint of each deployment.
Engineers at Innovo set out to use their decades of underwater robotics and naval architecture know-how, together with the technical advancements made in America's Cup racing sails, to design an unmanned, eco-friendly drone replacement for tracking vessels. The aim is to significantly cut carbon emissions associated with surveys and inspections.
Growth in the development and production of unmanned surface vehicles had accelerated 49 per cent between 2015 and 2019 but declined by 5 per cent in 2020 due to the impact of COVID-19 (according to Maia Research Analysis). In spite of this, and in the absence of funding for Research & Development (R&D) from the offshore renewables sector, we pressed ahead with the design and secured R&D supported by Innovate UK – one of only 15 UK companies to participate in Innovate UK's Global Business Innovation Programme, delivered by Enterprise Europe Network. The programme focuses on surface and underwater marine robotics systems and technologies.
The result is the Oceandrone an All Weather Surface Drone (AWSD) – an autonomous eco-robotic wind and solar powered sailing craft designed to operate 24-hours a day, 365-days a year even in extreme weather conditions.
The key to successful innovation in low margin, high risk sectors like oil and gas and renewables lies in combining new thinking with reliable technology. Oceandrone has automated systems enabling it to follow a programmed route, track the AUV, transfer data and self-hibernate during rough conditions. In self-hibernation mode its innovative patent-pending 'pocket keel' sail, retracts into the keel for protection meaning that, unlike other autonomous vessels, the Oceandrone can avoid the kind of damage that could otherwise suspend tasks or require intervention.
The deck is designed to be free of equipment to make way for solar cells used to charge batteries to operate the propellor and for control and other systems including sonar, imaging, radar, Intelligence Surveillance & Reconnaissance (ISR), environmental sensors and dataloggers payloads.
Innovation is found in the propulsion system too. It allows optimal use of wind and/or solar energy. That, coupled with the fact that there is no crew, means that the Oceandrone can spend virtually limitless time at sea without maintenance.
With movement of staff around the globe presenting its own risks and costs, the Oceandrone saves labour and fuel costs, and staff expenses.
For the energy transition to succeed in providing for current and future energy needs, a multitude of technological advances, large and small, will need to be invented, developed and grasped to help oil and gas become cleaner and offshore renewables to become more viable.
Garry Millard is Corporate New Business Development Director at Innovo Engineering & Construction