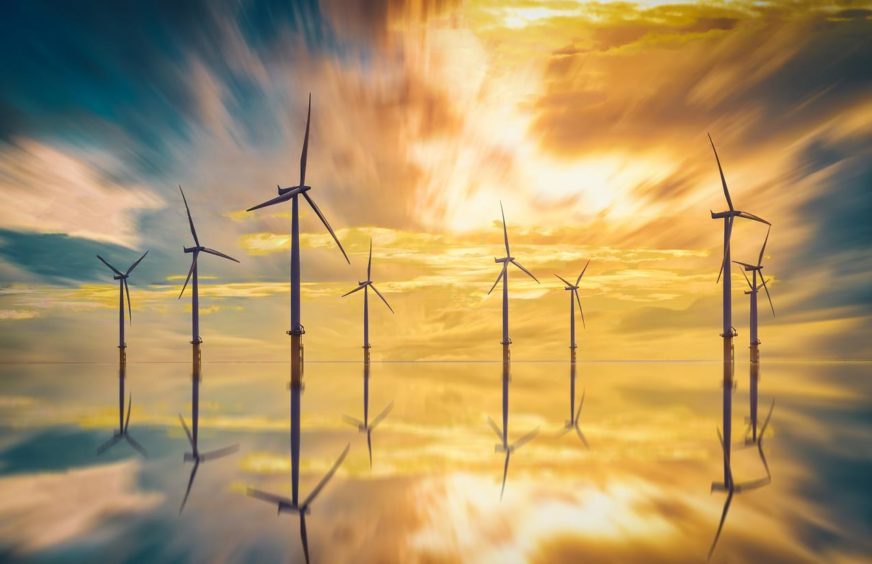 Businesses following the recent raft of flagship green support measures, announced to support energy transition in the north east of Scotland, could be forgiven for losing track last month.
Barry Fraser, director and head of energy and natural resources at Grant Thornton in Scotland, explains: "March saw large industry players, Holyrood, and Westminster governments, all up the ante to support the drive for net-zero. With just over seven months to go before Glasgow hosts the United Nations Climate Change Conference (COP26), the agenda has ignited.
"The UK budget unveiled welcome financial backing for the Aberdeen Energy Transition Zone and further investment in the city's underwater engineering hub. Days later, we received news that green hydrogen is to power whisky distilleries in Easter Ross, an example of genuine innovation and collaboration between two of Scotland's core industries if ever there was one."
Capping what must rank as one of the most seismic months in energy transition was the long-awaited publication of the North Sea Transition Deal (NSTD). The headline is a joint promise from government and industry to invest £16 billion within the next decade to support energy transition, a move which establishes the UK as the first G7 country to agree a transition deal with the oil and gas industry.
Fraser continues: "This sizeable investment will be welcomed by business and also suits the political optics ahead of COP26. But perhaps of greater relevance to mid-market oilfield services (OFS) companies is the NSTD's pledge that at least half of offshore decommissioning and new energy technology projects will be delivered by local businesses in the north east.
"The specifics of how this will be ensured are not yet clear. But success will be contingent on the progress made in retraining and upskilling workers, and adapting business models."
Claire Martin, an associate director leading a number of energy transition projects for Grant Thornton in Scotland, adds: "Formal education programmes from academic institutions and external training providers will be important. In Aberdeen we have a top university now delivering the UK's first masters course on energy transition, further establishing the city as a pioneer in green energy R&D. "All-energy" apprenticeships which equip the next generation of workers with transferrable skills, allowing them to build careers within established (wind) or earlier stage (hydrogen and tidal) clean energy sectors, are another important piece of the puzzle. Additionally, the Nigg Skills Academy does laudable work in this area and other similar institutions and training providers are following suit."
But businesses too must be given the funding to re-train and upskill. Scottish Enterprise recently committed to £4 million of grants for green jobs, with businesses able to apply for between £50,000 £500,000. Claire Martin notes that this is a welcome step and provides a platform to further build momentum as the Scottish Government's £100m Green Jobs Fund is rolled out.
It is estimated that around 270,000 UK jobs are dependent on oil and gas. The pandemic's impact has already seen more than 10% of that number lost over the last year alone.
"The first-mover status in agreeing the NSTD must now be matched by rapid action in skills and re-training.
Empowering local engineers, technicians and consultants to pivot and apply their expertise to design and manufacture the solutions needed to deliver the transition must happen quickly. The alternative? Other global-energy hubs will steal a march on the north east, and the opportunity will be missed," says Martin.
She adds: "From electrification of oil and gas platforms and carbon capture and storage (CCS), making oil and gas production greener, to other innovative areas like green hydrogen and tidal energy, there are numerous growth opportunities. The relative size of these nascent markets, however, render them unlikely to provide the volume to support every oil and gas supply chain business.
"A sustainable approach to supporting these firms during the energy transition must include a strategy to facilitate the transfer of skills and IP into other industries. Defence, maritime and aerospace could all benefit from the experience of displaced workers."
Both Holyrood and Westminster governments will be focused on greener energy production, particularly in the build-up to COP26. But both Martin and Fraser highlight that businesses which remain to service traditional oil and gas companies should not be forgotten.
"Despite the welcome push for renewable energy, the need for a safe, efficient, reliable supply of oil and gas will continue for some time. By conservative estimates, even if global consumption of oil falls by up to 60% by 2050, demand will need to be met mostly from fields yet to be established," says Fraser. "To support that, policymakers must ensure these businesses can appeal to investors and skilled talent, a task made challenging by the importance both groups increasingly place on carbon reduction. The UK Government's clarification that it will not ban future exploration rounds is a positive step."
He concludes: "The push for net-zero is gathering pace. As we, hopefully, place the pandemic behind us, it will rightfully return to dominate global debates. For the north east to transition successfully, and establish itself as a world-leading green energy hub, detailed support for skills and the supply chain must follow last month's big-ticket announcements."
Recommended for you

ETZ programme to bring operators and supply chain together to bust emissions