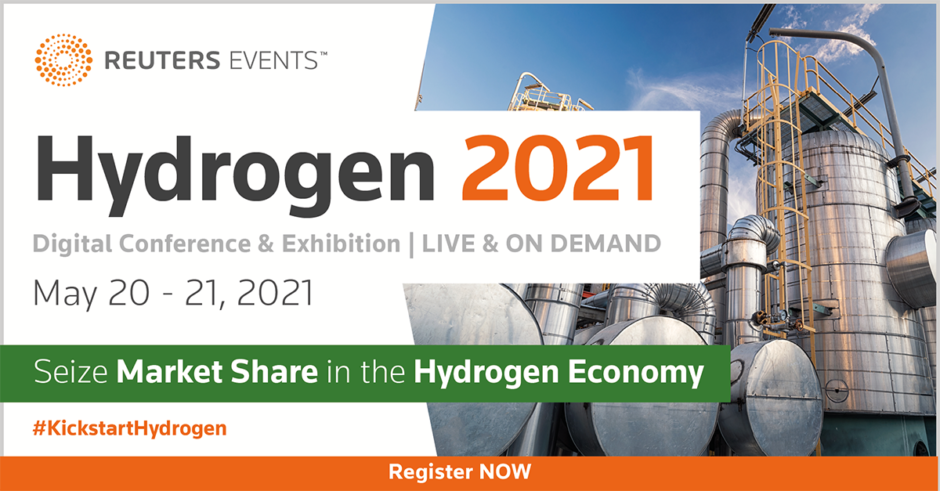 Government and private sector announcements have made it clear; this time hydrogen is here to stay. With no shortage of end users, the Hydrogen Council sees a potential $2.5 trillion market for hydrogen and fuel cell equipment by 2050.
However, cost and capacity remain an obstacle. For hydrogen to define the energy landscape now is the time to build the business framework to produce at scale.
Reuters Events Hydrogen 2021 (May 20-21) will connect key industry stakeholders with the critical information and connections they need for expansion. Over two days and in the run up to the event, we will unravel government support, deep dive into existing projects, hear from the value chain and build the hydrogen business model.
The conference is the meeting place for producers, the value chain, end use sectors, government officials and regulators across the hydrogen economy. We will set the bar for the future of measuring growth, scalability, decarbonization, and establish new types internal collaboration to build the build economy.
With thanks to our sponsors and partners: Mitsubishi Power, Thyssenkrupp, Siemens Energy, Cummins, Northland Power, Vinson & Elkins, Chiyoda Corporation, Heliogen, and the Green Hydrogen Coalition.
Join 3000 attendees at the online event from Reuters Events on May 20 and 21.
Recommended for you

Reuters Events launches Hydrogen North America 2022