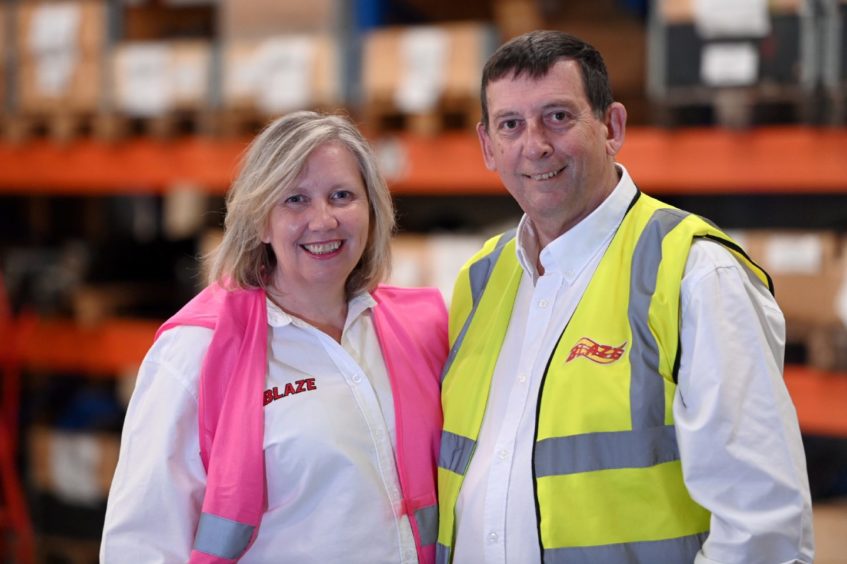 "You could say we're a small family business in Laurencekirk," says Ann Johnson of Blaze Manufacturing, "but we've always punched above our weight on the global stage."
Having diversified into new markets, and now with Balmoral Group in its corner, Blaze has arguably moved up a weight class for 2021.
The business, which specialises in fire detection and prevention systems, still proudly regards oil and gas as its "heritage" and remains front-and-centre of its offering. This is where the company says, "we have learned to be different, to embrace a challenge and fight for success".
However, Blaze is now also deep into a diversification programme, establishing itself as a "genuine challenger" to the incumbents in the industrial and commercial, renewables and power, and nuclear sectors.
Blaze has already completed three large-scale fire protection and detection projects in the offshore renewables sector, with customers including Orsted, Petrofac and Engie, supplied fire systems for the Glencore Mutanda mine in the Congo, and provided safety solutions to industrial and commercial clients including the NHS.
Blaze has also supported a tier one contractor in its newest market, nuclear, whilst securing new projects in downstream oil and gas and offshore wind in Europe and the Far East.
Commercial director Ann, who heads up Blaze with managing director and husband Howard, said, after the year that was 2020, they're "back in the game".
"We're growing again, the excitement here is ridiculous," she said.
"We diversified into renewables, defence, and industrial and  we've completed some really big contracts, major accident hazard work as well, we've got some nice case studies.
"Significant growth was expected last year but, because of the pandemic, all the capital projects that we bid on were pushed to the right and they're only now coming to fruition. So this year we are anticipating some exciting developments.
"In fact, as we go to press, we have just secured a major win in downstream oil and gas and are in final negotiations on a series of contracts, which could prove game-changing for Blaze."
All in all, not bad for a firm that started out from a garden shed in 2006.
"To start with, it was a summer house," Ann quickly corrects, "which needs a really good paint actually."
Howard parries: "I don't think that needs to go into the article."
Previously the general manager at Tyco, Howard went on to become a contractor but it lacked the cut and thrust of having to seek out opportunities and develop solutions and, in true entrepreneurial spirit, Blaze was established with co-founder Paul Rawling in 2006.
They built the business up from an initial run of contracts including working in India on the  Jamnagar project, one of the world's largest oil refineries, and an LNG regasification site on Teesside.
Paul then spent more than a decade in the Far East and  is now back as commercial manager of the business, bringing many positive experiences of running major  international  projects.
"He's back and he's so proud of all that we've achieved in the time that he was away, and that's the loveliest thing," Ann said. "Like us Paul has strong ambitions and ideas of how we can deliver, grow and sustain our business plans."
Back on their feet, Ann and Howard are candid about how recent years have meant rolling with the punches.
Balmoral Group acquired 70% of the business at the end of 2019, ensuring job security and real prospects for growth which seemed unattainable in the downturn.
This has helped insulate Blaze from some of the pressures that have hit others in the industry , particularly those that were still reeling from the previous downturn.
Simply put, Howard said Blaze "could not have survived the oil and gas downturn, Brexit and Covid without Balmoral's help."
Fortuitous as that may be, Balmoral's backing came before the pandemic and as a result of the Johnsons realising that, in order to grow, they needed to find the right partner.
Blaze now sits "very comfortably" within Balmoral Group, with the resources to "bid for considerably higher value projects".
Now secure, the company has a growth plan and is back in the game, both Howard and Ann continue to make sure there's time to support the wider industry and local community.
Blaze is on the Youth Enterprise Scotland board, while Ann is vice president of Association of Scottish Business Women.
The pair are also involved in initiatives with the Confederation of British Industry, Opportunity North East, OGUK and EIC.
Ann said: "We've had so many good things happen at Blaze. Too many to mention, and met amazing people along the journey and we want that for other people too."
Recommended for you

Big Oil braces for climate votes as investor pressure mounts