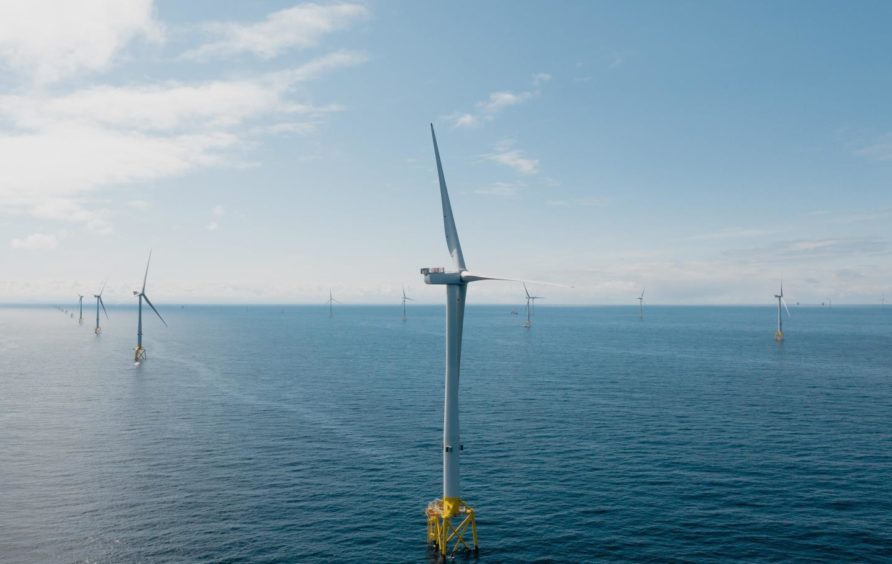 Saturday June 4 marked an important day for Moray East, Scotland's biggest wind farm which is currently under construction, 22 miles from the Banffshire coast in the Moray Firth.
On that day, the first power was exported from the wind farm to the National Grid – and onward to homes and businesses across the land.
Phased construction techniques mean that although the wind farm is still being built (just over half of the 100 turbines have been installed) it is possible to generate power from the turbines which have been commissioned while the remainder are installed.
Production of power is the culmination of more than a decade of effort. In 2009, when the facility was first proposed, commercial-scale generation of power in deeper waters, distant from shore was a vision and an aspiration. The UK led the world in offshore wind generation, but turbines had been built close to shore in water depths of less than 10m. Working in water depths of 50m and more have opened major new areas of the UK's waters for low-carbon energy development. Our use of cutting-edge technology has reduced costs significantly –most currently operational wind farms produce power at £140/MWhr compared with £57.50/MWhr at Moray East.
Over the last 10 years we have developed relationships with businesses and communities across Scotland , particularly in the north east. Our commitment to the Moray Firth is long term. We take windfarms from concept through construction to operation, and our new operations and maintenance base in Fraserburgh will provide high quality local employment for the operational lifespan of the windfarm.
But the 950MW Moray East facility is just the first. In 2018 we secured planning consent for a facility of a similar scale, the Moray West Offshore Windfarm, and we will compete in the UK Government's next Contract for Difference auction at the end of this year to secure the contract which will enable Moray West to sell its power and thus to become a financially viable project which can proceed to construction, and join its sister project, delivering power for Scotland before the middle of the decade.
The Scottish Government's ScotWind process, which is currently underway, is making the first new sites available for offshore wind development in over 10 years. As an established and trusted developer, with its UK headquarters in Edinburgh and local office in Fraserburgh, Ocean Winds looks forward to bringing forward proposals for various Scottish sites. These will include proposals to enable the Moray Firth to continue its energy transition from offshore oil to offshore wind. Long term development of the Moray Firth as a focus for offshore wind will enable sustainable supply chain growth and expansion with a development of the skills and expertise which will be in world-wide demand as offshore wind emerges as a key foundation of global energy decarbonisation.