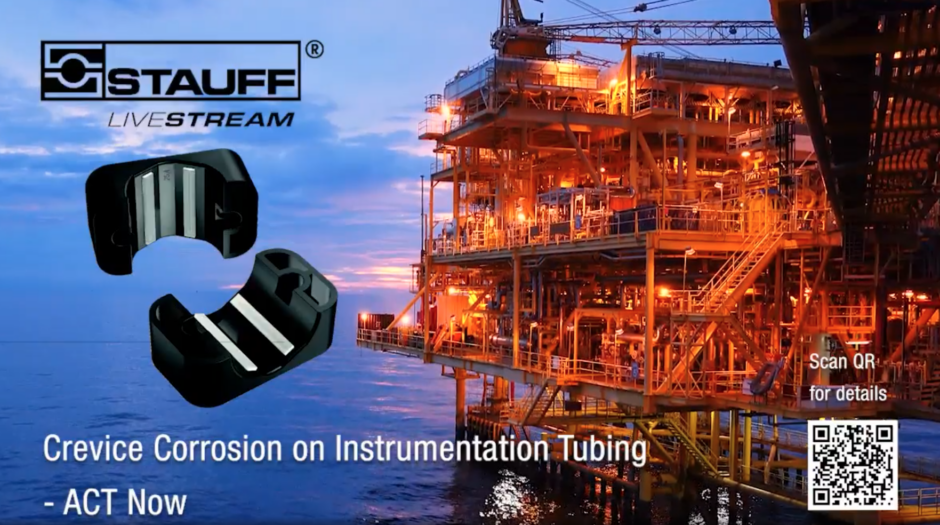 STAUFF, the global manufacturer and supplier of precision fluid power products for mechanical, industrial and plant engineering will once again be taking to the digital studio to present a dedicated livestream on Thursday, 8 July 2021.
A panel of international application specialists and independent industry experts will discuss and make exclusive information available regarding:
· The essential basics and harmful effects of crevice corrosion forming at conventional pipe supports on stainless steel pipework
· Why choosing better quality or higher-grade tube does not solve the problem – a common misunderstanding
· How the special design and material features of STAUFF ACT Clamps help to reduce the formation of crevice corrosion at pipe supports in offshore and other corrosive environments
· The impressive performance of STAUFF ACT Clamps compared to conventional solutions available in the market
· Specific application examples for STAUFF ACT Clamps
The livestream is primarily aimed at professionals in the Offshore and Onshore Oil & Gas industry covering the following areas:
· Plant, system and equipment designers Front End Engineering and Design (FEED) Engineering, Procurement, and Construction (EPC)
· Plant owners and operators Professionals involved in the creation of plant standards and equipment specifications as well as in the fit-for-purpose selection of pipework components Asset Integrity Managers Safety and Environmental Officers Professionals dealing with Through Life Support (TLS) considerations
A registration process to gain access to the event is open to all and can be found at here.
The organising team recommend that if viewers are not able tune in for the live programme, they should complete the registration process to gain access to watch a recording of the broadcast at their leisure.
The featured product, STAUFF ACT (Anti Corrosion Technology) Clamping Solutions, and the full portfolio of STAUFF products are available to purchase on the STAUFF Digital Platform at www.stauff.co.uk