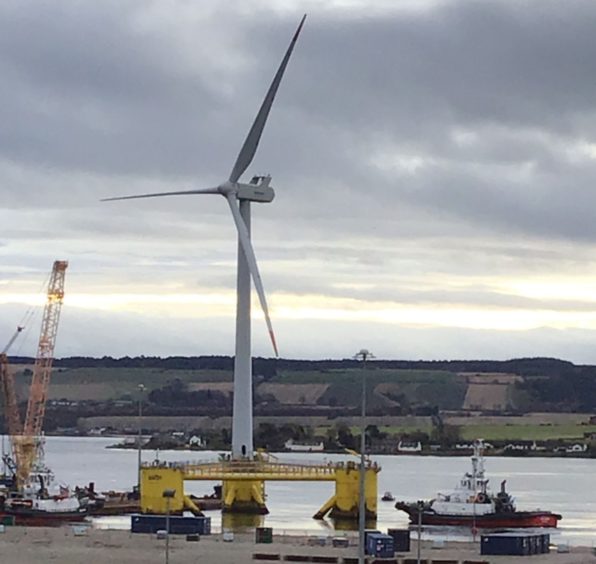 With their strong Scottish track record, Ocean Winds and Aker Offshore Wind have great ambitions to develop floating offshore wind in Scotland.
After their massive Moray East offshore wind farm off the north-east coast of Scotland produced its first power following a decade of development, Ocean Winds fortified its long-term commitment to Scotland with the announcement that it had formally joined forces with offshore-engineering giant Aker to deliver the next generation of floating offshore wind generation.
With its 50-year history and heritage in the North Sea oil industry, Aker ideally complements Ocean Winds as a partner. In the UK, Ocean Winds has developed the 950MW Moray East wind farm (Scotland's largest) from concept in 2009 to a power-producing reality in 2021. Globally, Ocean Winds is one of the world's leading offshore wind companies. It was established specifically to develop wind generation at sea by Engie and EDPR, who themselves own and operate a major portfolio of solar, wind and hydro generation facilities across the world.
Energy further offshore
"Getting energy from the wind at sea is a challenging, multi-billion-pound endeavour. Success is making low-carbon energy available at low cost; it depends upon a scale that is global. To get the best from Scotland's world-leading renewable resources, we need to attract the world's best engineering enterprises. The OW-Aker partnership brings the best of the world to Scotland," said Dan Finch, managing director of Ocean Winds UK.
The UK has led the world in the deployment of offshore wind generation – the first facilities were close to shore in shallow water. As a pioneering technology, their power costs were high. Moray East has been a game changer – commercialising development further from shore and in deeper water – reducing prices from 15p/kWhr to 5.7p/kWhr, enabled by steel jacket foundation technology borrowed from the oil and gas sector.
The next step for offshore wind development also looks to oil and gas, and the use of floating technology to enable development in waters too deep for fixed foundations.
A heritage from Scotland
Established in Norway 180 years ago, the Aker group is a global, deep water and floating engineering legend, employing 38,000 people across 20 countries. Aker has had an extensive presence in Scotland since the 1980s and has been a driver of maritime and industrial development, building ships, designing, constructing and servicing offshore installations from Glasgow to Aberdeen, on Scottish isles, in ports and in the ocean. From the heyday of steamships to designing the world's largest floating oil and gas structures and delivering ground-breaking subsea innovation, Aker has led the engineering advances which have safely and reliably overcome the challenges of obtaining energy from the North Sea. In 2020, Aker established Aker Offshore Wind so its maritime experience and expertise could be fully applied to the transition to low-carbon energy.
"In partnering with OW, we will combine our experiences, technology and competencies to scale and industrialise perhaps the most attractive renewable energy source there is. Leveraging technology and our strong and enduring relationship with the Scottish supply chain industry, we plan to deliver a project sustainably, minimising the impact on the environment, fisheries and marine life," said Sian Lloyd-Rees, MD of Aker Offshore Wind UK.
The combination of Aker's expertise in the North Sea, together with Ocean Wind's experience in reliably delivering electricity generation assets, makes this an ideal partnership for opportunities for floating offshore energy generation which the Scottish Government is making available through ScotWind – the process which will allocate sea-bed leases for renewable energy development.