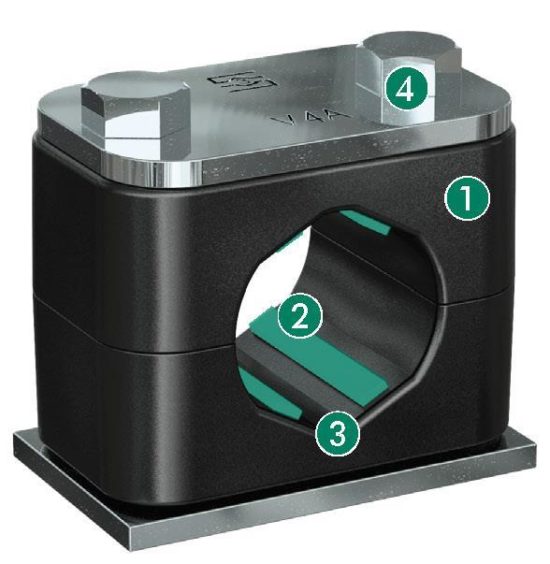 Stainless steel pipework on oil and gas platform and processing plants is used over a wide range of temperature, flow and pressure conditions, e.g. for process instrumentation and sensing, as well as for chemical inhibition, hydraulic or utility and other fluid power lines.
Typically, the tubing material selected for these particular applications is AISI 316 stainless steel, although in more recent times other tube materials have been utilised to try and counteract the offshore corrosion issue.
In all major offshore oil and gas regions – including the Gulf of Mexico, the North Sea, the Gulf of Guinea and the South China Sea – a great deal of research has been carried out into the issue of corrosion of AISI 316 stainless steel pipework and the costly, time-consuming problems with regard to maintenance processes.
Crevice Corrosion
This prevalent issue within oil and gas industry tends to occur in shielded areas such as crevices, formed under gaskets, washers, fastener heads, insulating material, surface deposits, loose coatings, threads and lap joints.
Pipe clamps made of plastic in particular have also been prone to inducing crevice corrosion in the past, because the plastic deforms around the tubing and creates even tighter crevices.
Crevice corrosion is always initiated by changes in the local chemistry within the shielded area, usually associated with a stagnant solution at micro-environmental level:
• Trapped seawater becomes stagnant
• Depletion of inhibitor and oxygen
• A shift to acid conditions
• Build-up of aggressive ion species (such as sodium chloride in seawater)
• Accelerated corrosion process
Crevice corrosion can have serious and adverse consequences eventually leading to perforation of tubing walls and the escape of highly flammable and hazardous fluids and chemicals.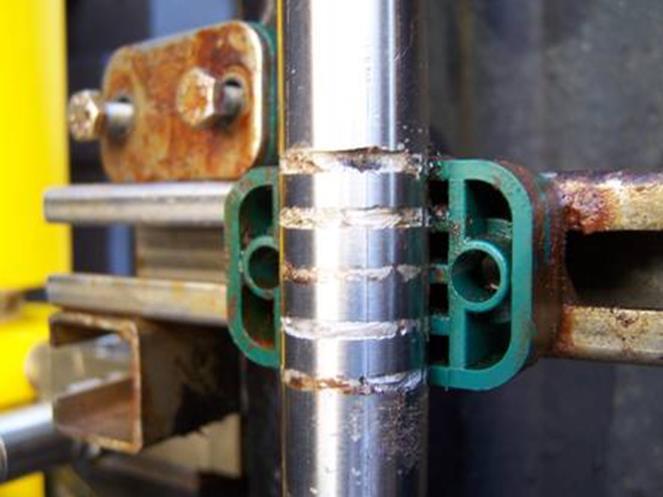 Material Selection
The selection of suitable materials and the use of robust design and safe construction practices are mandatory, even if crevices are sometimes difficult or even impossible to avoid in tubing installations when using regular types of tubing supports and clamps.
This is where STAUFF ACT Clamps come into play …
Main Features
Efficient prevention of crevice corrosion under Pipe Clamps on stainless steel pipework with middle and long-term cost savings due to extended service and maintenance intervals
Construction based on STAUFF Clamps
Design based on Original STAUFF Clamps according to DIN 3015, Parts 1 and 3 (Standard Series and Twin Series), the tried and tested industry standard for several decades.
Installation time reduction (compared to alternative designs) Independent Testing and Approval
Salt spray tests according to ASTM B117 applied in controlled laboratory environments
• Long-term field tested on a rig in the Dutch sector of the North Sea
•  Tests results independently assessed by Centre for Corrosion Technology at Sheffield Hallam University
•  Fully detailed, independent test reports available on request. Innovative design and materials
•  Material and design in compliance with section 7.3 (Tubing Installation) of the Norwegian offshore standard Norsok Z-010 (Revision 3, published in October 2000), API RP 552 and NACE SP 0108-2008 (section 13)
1.      Clamp body made of flame-retardant PP-V0 plastic material; tested and V0 classified according to UL 94
2.      Integrated ACE anti-corrosion elastomer strips avoid the accumulation of seawater between clamp body and pipe
3.      Drainage channels aid the dispersal of seawater (self-draining) Efficient Prevention of Crevice Corrosion under Pipe Clamps on Stainless Steel Pipework Middle- and Long-Term Cost Savings due to Extended Service and Maintenance Intervals Main Features
4.      ACT Mounting Hardware is made of Stainless Steel V4A (Material Code: W55)
•  High UV stability of the clamp body material; resistant against seawater, rain and oil
• Suitable for continuous exposure to temperatures from -25 °C to +80 °C (from -13 °F to +176 °F)
• To be used in sub-sea and top-side environments; alleviating the requirement for two different products
Further details of this proven product can be found at www.stauff.co.uk