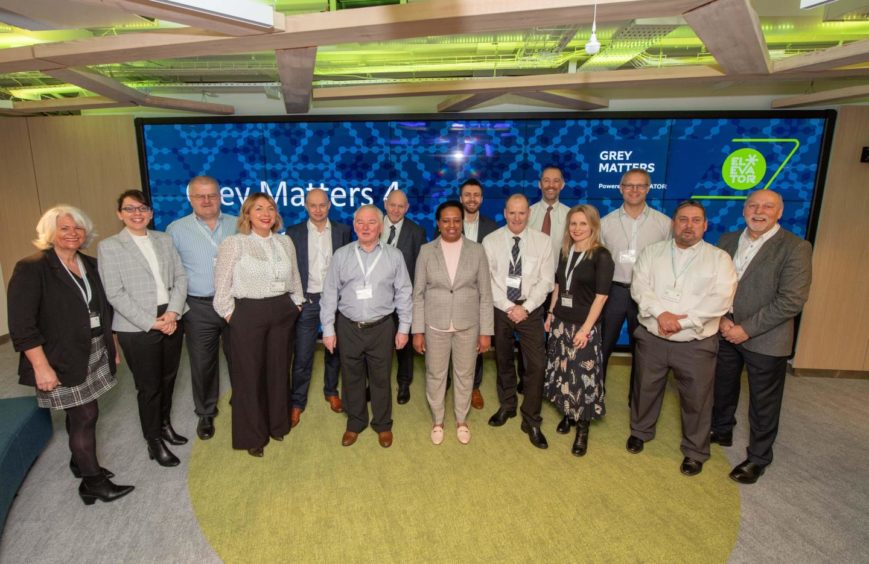 "The opportunities to make a difference, to be involved in something that becomes a legacy…as you get older you realise those opportunities are not every day."
Kirsten Pasturel of ZeGen was not looking to start a business when she joined the fourth Grey Matters cohort, but deems the experience "invaluable".
The company creation programme from Elevator, which launched in 2017, could publish its own book of success stories at this rate, many of which come from people who were initially reluctant about joining the programme.
Many others didn't have a business idea, simply an "itch to scratch" as they sought out a new challenge.
"The start-up space is unlike any other working environment" said Kirsten, who spend 20 years in the oil and gas industry and whose new business focuses on geothermal energy.
"If you're in that space, Grey Matters in an invaluable programme to surround yourself with what you need", she added.
Grey Matters has helped create 27 new ventures since the programme first launched.
Kay Drummond, who has built up a successful career in newspapers and corporate communications, decided to join for personal development and to harness the network of expertise the programme affords.
"I didn't know what to expect from Grey Matters, to be honest", she said, "but what we experienced was just an amazing network of experts, advisors and knowledge."
Kay, who like many others did not join the programme with a business idea, is now involved with a spin out from a Scottish university related to a health technology designed for remote monitoring of respiratory patients.
"All of that came out of Grey Matters", she said.
"If you didn't have a business idea, what you had was an ecosystem, a mass of advice you could really tap into and start shaping stuff."
That network, Kay points out, is one she has continued to utilise once her cohort had completed.
As everyone on the roundtable attests, the programme is not just about those who have a "groundbreaking" concept, it's also about those people with the right business skills to make them a reality.
Recycl8 is a team that met on Grey Matters, which works to transform incinerator ash – often destined for landfill – into a low-carbon additive for concrete manufacture.
Its new technology is expected to help concrete manufacturers reduce their carbon footprint and achieve climate targets.
Yvonne Walker has years of HR and resourcing experience which she brought to bear to support the team.
She said: "I started this journey a little bit reluctantly, but I was pushed by John (Harris) and I am so glad I went through this.
"I think some people will be apprehensive thinking 'well I don't have a groundbreaking idea', but we can really help articulate that idea and help get it out there."
Neil Gordon is CEO of Sentinel Subsea, developer of an "alarm" tool for when abandoned oil and gas wells leak, which the firm hopes will become a global industry standard.
Part of the value of Grey Matters for him was using the programme to scope out his team.
He said: "It was a 6-8-12 week job interview, you're never going to get the chance anywhere else to get to know people so well before you decide you're going to go on with them.
"That, to me, was a very important process of getting to know who you're going to go off on this adventure with."
All of these businesses are "future proofed" as Elevator's Energy Director John Harris attests, and he's proud of the programme's hand in helping bring them together.
The next step for Grey Matters will be a new cohort for the energy sector for north-east Scotland, while simultaneously recruiting for a Scotland-wide aerospace cohort, many aspects of which will be ran together.
"Quite frankly I think something really exciting is going to emerge by bringing together people from the aerospace and energy industries, with some cross-fertilisation of those communities.
"I worked 40 years in the oil industry. It's an amazing place, but nothing has been as rewarding in any way as working with these people. It's not about us, it's about seeing the change in people.
"Some people that approach here have had some significant problems, dealing with redundancy is not an easy thing, being without purpose is not an easy thing, and some people come with a bit of baggage. But seeing them go through that process and at the end of it stand on the stage and knock it out of the park is beyond rewarding."
For more information, visit: https://www.elevatoruk.com/accelerators/grey-matters/