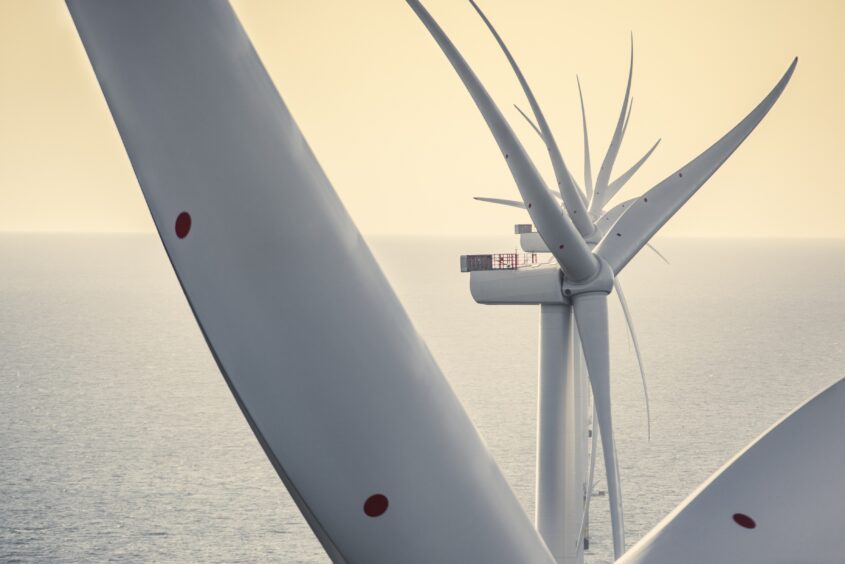 There are just a couple of weeks left for businesses to register their interest in the innovative offshore corporate purchase power agreement (cPPA) from Seagreen Wind Energy.
Seagreen, soon to be Scotland's largest offshore wind farm, is currently offering an energy contract between an organisation and itself. cPPAs are an increasingly common way for companies to procure their energy supplies and have enabled a swifter transition to renewable energy procurement.
Under the terms of the contract, the organisation agrees to buy some or all of its electricity directly from a renewable energy generator, such as a wind farm. This approach differs from the traditional arrangement in which the organisation would simply buy electricity from licensed electricity suppliers.
Why a Seagreen offshore cPPA?
A Seagreen offshore cPPA is bringing something new to the energy marketplace. Its terms are less than half the typical cPPA length of 10 years or more, providing buyers with an alternative option to standard longer-term cPPAs and allowing them to secure low-carbon energy generation in one easy, greener purchase.
Seagreen's offshore cPPAs offer an alternative to traditional cPPAs for many businesses, enabling them to buy renewable energy directly from an offshore wind farm. With a five-year contract length, it offers organisations a balance of contract duration flexibility with surety of supply.
Thanks to Seagreen's innovative offshore cPPA offering, energy-intensive companies can share in the displacement of around 2m tonnes of CO2 emissions per annum,* and help meet their own environmental goals and sustainability commitments as part of their decarbonisation strategies.
Businesses can purchase energy in blocks of 20MW or 100GWh per annum as part of the Seagreen offshore cPPA. The cPPA is short-term and provides price certainty to ensure businesses are protected against price volatility in the energy market, while also offering stable and consistent energy supply from what will be Scotland's largest offshore wind farm, backed by two major energy players – SSE Renewables and TotalEnergies.
Already under construction
Seagreen Offshore Wind Farm is already being built and will be operational in 2023. When completed it will be able to produce enough low-carbon electricity to power 1.6m homes, or the equivalent of almost every home and business in Edinburgh and Glasgow combined.**
The £3bn joint venture project will have 114 10MW turbines in the deep waters 27km off the coast of Angus in the North Sea and will become the world's deepest fixed-bottom offshore wind farm.
SSE Renewables is leading the development and construction of the joint venture project, supported by TotalEnergies, and will operate Seagreen on completion.
Secure your business's green credentials
Businesses are coming under increasing scrutiny from key stakeholder groups regarding their environmental sustainability credentials. A Seagreen offshore cPPA will help energy-intensive companies to meet their decarbonisation goals and ESG commitments by 2023, with one green energy contract.
Organisations buying renewable energy directly via a Seagreen offshore cPPA will bolster their green credentials with their employees, customers and other stakeholders, while also making a significant contribution to Scotland's net-zero ambition by 2045 and the UK's ambition to deliver 40GW of offshore wind by 2030.
Your business can play a part helping to deliver a new zero future and also hit its own green energy targets with ease and speed.
What next?
Any business interested in the Seagreen offshore cPPA, should register now before the application process closes at the end of September.
For more information and to register visit https://www.seagreenwindenergy.com/power-purchase-agreement
*CO2 Savings – over 2m tonnes. 1075 x 0.584 (BEIS load factor) x 8760 (hrs in a yr) / 1000 (convert MWh to GWh) = 5,499.5 x 446 tonnes = 2,452,789 tonnes of carbon emissions saved. Seagreen will displace over 2 million tonnes of carbon dioxide from electricity generated by fossil fuels every year – similar to removing more than a third of all of Scotland's annual car emissions and making a significant contribution to Scotland's net-zero ambition by 2045.
**1.62 million homes powered per annum based on Typical Domestic Consumption Values (Medium Electricity Profile Class 1, 2,900kWh per household; OFGEM, January 2020), typical 50% wind load factor, and projected installed capacity of up to 1.1GW. Two-thirds of homes in Scotland based on Household Estimates Scotland 2019 (National Records of Scotland, June 2020). Quoted 2.23m t/CO2 reductions per annum based on expected annual output against average 446 t/CO2 per GWh (BEIS Digest of UK Energy Statistics, July 2020). 2019 Domestic/Non-Domestic Consumption of Glasgow and Edinburgh = 4,927GWh. (Regional and Local Authority Electricity Consumption as per Gov UK website, December 2020)
https://www.gov.uk/government/statistical-data-sets/regional-and-local-authority-electricity-consumption-statistics
Recommended for you

'Unfavourable' weather hits wind power production at SSE